Originally published May, 2010.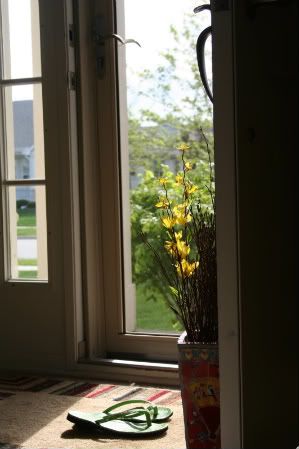 Years ago in my twenties -- another lifetime, another me almost -- I spent summer weekend house-sitting for the family of a professor in Milwaukee, Wisconsin. Tucked into the corner of a busy, thriving urban neighborhood, theirs was Craftsman-style home, offering the welcoming big-breasted hug of a deep front porch that made me wish I had a swing and a glass of lemonade and a few free hours on hand. A house with a big front porch does that to me, a girl who grew up with two grandmothers who had considerable front porches of their own (take that however you want to.)
This home burrowed into my heart the moment I lay eyes on it, and it has never really left me - I visit it in my mind and make a slow, careful measuring-up walk-through on days when I'm scrounging around to remember what exactly it is that I've purposed to make of my family's life together in our own home.
I lived there the weekend long in a hazy golden dream, borne up out of my own young, stranded, stranger-filled existence and into this family's cozy, scrubbed-worn-and-warm life. I don't know, even now, exactly where I was or how I got there, but when I left that heart-place I knew one day I had to go back there and own that life, that simple warmth, that vibrant togetherness, just right, for myself.
I needed the free-spirited kids that slept in those quilt-covered beds, needed the golden retriever named Annie whose thick leather leash felt like another hand in my own as we walked. I needed the vibrantly-dull hardwood floors with window-squares of spilled sunlight and the old humming fridge in the kitchen with pictures of a beaming wedding couple and blue-painted handprints and crayon rainbows and
I heart Mommy
taped and magneted on the front and both sides. I needed half a loaf of raisin bread from the bakery on the corner, and fresh cucumbers and basil from the little plot out back. I needed the professor and his wife's bedroom with shades pulled halfway down over wide-open windows and sheers lifted by the breeze and talls stacks of books on each nightstand, his, hers,
theirs
. A pair of reading glasses waited on her side. A solid old alarm clock held down his - practical, sturdy, ticking out loud this man-of-the-house's ready, intelligent strength and protection.
I needed the peace of the quiet family room, wrapped in the sleepy shadows of afternoon, the fireplace of bricks and stone, the rocking chair in a corner with threadbare wool cushions and arms smooth and glowing with the patina of grandmothers' palms and babies' feet. I needed the stillness of the streetlights in the evening, their halos in the warm night air spreading faded green down over the deep night blue of the neighbors' front lawns as the scent of peonies quietly meandered through the screen doors waft by waft. I needed the history and permanence of a tiled old bathroom and clawfooted tub and even the good-natured under-performance of the old water heater that made a steaming hot bath impossible, but cheerfully offered up copious amounts of warm-enough.
I needed, even then, the husband who knew the wife's strengths and weaknesses and respected her, even admired her (as my mind gathered somehow from the warmth of their bedroom, the intimate heart of their life together). But oh, he could predict her struggles and effortlessly recognize her joys and sorrows in the curve of her cheek, and he would cover her heart like one of those soft, heavy quilts on the kids' bed just at the moment she needed him to. And I longed to be the wife who tucked her children into those beds and clicked off the dim hall light, then went to her husband and quietly laughed with him, looked deep into his eyes and breathed who he was inside, trusted and believed in him, and steadfastly carried his dreams tangled up and confused with hers inside her soul, just as their fingers looked when she noticed them entwined together in church or on the deep sofa or as they walked upstairs to bed, the two of them.
This is what I
needed
.
Nearly twenty years later, I am
home
.
And I have nothing at all that was in that house, except
everything
.
Like the FriedOkra Facebook page.
Subscribe.
Get my updates in your in-box by subscribing via email using the link on my right sidebar.
Find me on Twitter and Instagram. There, as anywhere, I'm simply 'FriedOkra.'