This past weekend, as I sat at my desk editing this post, Bean sidled up beside me and read a few lines on the screen. She's always been an over-my-shoulder reader, but I don't think she's really ever paid much attention to my blog. This time, though, because the post on the screen had her name in it, she reached out and stopped my manic scrolling and frantic deleting/re-typing and asked me to print the entire post so she could read it.

So I did. She came back a few minutes later and asked, "Mom, can I have more please?" (Oh, the thrill of her wanting to read more! It will stay with me for a very long time.)

As luck would have it, I'd just been going through the archives over at 5 Minutes for Parenting, slowly copying those posts (there are over 100 of them, this could take a while) and storing them here on FriedOkra, and I happened to have this long overdue thank-you note I wrote to Bean during Peabody's babyhood handy for her.

Many of the commenters on the original post sweetly pointed out that one day Bean would read the letter and be touched by it. And they were so right. Ten minutes after I handed her the printed copy, she came running back to me with it in her hand, sobbing, and threw her arms around my neck. I held her for awhile and then pulled her away slightly to look into her eyes.

"Baby what's wrong? Why are you crying?"

"They're happy tears," she choked out.

"You just got a glimpse of how much I love you. How crazy-much you mean to me, my sweet baby," I hugged her and wiped away my own tears.

And she quietly nodded into my shoulder.

Here's the post originally published December 15, 2008: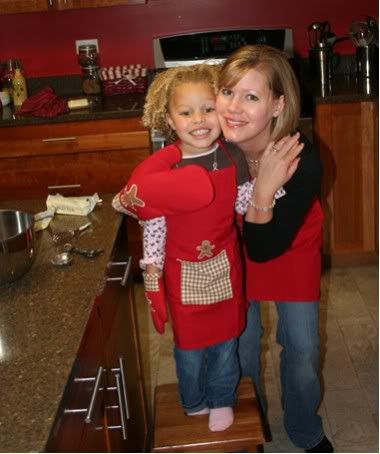 Dear Bean,
You and I went to the grocery store and made cookies together today. Just an ordinary trip to the grocery store and a simple little mix and bake project for Mama and Bean. No big deal.
It's funny though. I'm finally beginning to come out of the mother-of-a-newborn fog I've been in for 4 months, and in the gradual clearing I can see how scarce the moments like those we spent together today have been since Peabody was born. And how much they mean to me, and to you.
Bean, you amaze me. I worried before Peabody was born that you'd be hurt by his "intrusion" in our relationship – that having to share me with him would be too hard on you, and I'd see you sad and lonely, which would have broken my heart. Instead, you've lovingly embraced your brother's presence in our lives for the blessing that it is, and you've quelled all of my fears as to what another child would do to the bond you and I have had since YOUR newborn days. You've been my constant sidekick since the day we brought our little baby home from the hospital, always helpful, always enthusiastic and generous, offering your toys to entertain him, your Teddy and blanket to help comfort him, your medicine to make him feel better when he had a cold.
But more than that, you've been so sensitive – sensitive way beyond anything I'd expect from an adult, much less a four-year-old – to me and to my feelings. In moments when I've sunk into the hopelessness every new mother feels when her baby won't be soothed, you've been there to pat me on the back and say, "Mama, sometimes babies just cry. It's not your fault. He'll be okay." In moments when I've been exhausted, dead on my feet and empty to my core, you've sat beside me, your tiny arm thrown around my shoulders, and said, "He'll just keep getting older day by day, Mama, and he'll get easier to handle, I promise."
There are the times you've made me laugh outloud, too. Like the time you came into the room and your brother looked up at you and squealed and laughed. You trotted past me as I stood there watching him, crowing over your shoulder, "Man, that kid SURE DOES LOVE ME!" Or the time you said, "Poor little Peabody's so sick. He's been frowing up all day long. I bet if we gave him some of my yummy Tylenol he'd feel better in a JIPPY!" Oh Bean, how many times you've saved me from humorlessness – a punishment worse than death, in our household.
But mostly you've helped me just by forgiving me, no matter how snippy or short I've been, no matter how many (thousands and thousands, I'm sure) times I've scolded, "Bean, BE QUIET, DO NOT WAKE UP YOUR BROTHER!" When I allow myself to contemplate all the hours you've sat bored, or hungry, or tired, or just lonely, waiting for me to feed Peabody, or put him to sleep, I feel so disappointed in myself for letting you down, for allowing you suffer, for putting anyone else's needs ahead of yours, and yet YOU never seem to hold it against me. You are quick to defend me when I put myself down, quick to tell Daddy to BE NICE TO MAMA, and always so willing to accept every bit of love and attention I can finally give you, no matter how many times I've had to put you off.
And even that, in its own way, is heartbreaking to me, yet I am so deeply thankful. For the beautiful girl who looked up at me today with her eyes sparkling when I pulled out our new matching gingerbread aprons and oven mitts and suggested we bake cookies, and exclaimed, "Mama, you are THE BEST SANTA CLAUS EVER!"
I'm thankful for you, my beloved daughter, who in her acceptance of and unconditional love for me, despite my obvious shortcomings and blundering humanity, makes it easier to forgive myself, and start each new moment we spend together with hope that I can one day grow to be good enough to deserve the heart of such an amazing little girl.
Thank you for being you, my first sweet baby. I love you.
Mama
------------------------
I do a lot of fretting and stewing over my writing and "where I wish I could be" with this old blog of mine, but you know what? If I never write another thing in my life, never publish another post here or anywhere else, never thrill over another reader comment, never bask in another word of praise or bit of accolade, I will forever be grateful to God for prompting me to start a blog, even if it was just to lead me to write this ONE letter -- one that my daughter can hold in her hand the rest of her life and know, for sure, no matter what, that she is absolutely wonderfully perfect in my eyes and that I completely adore her.