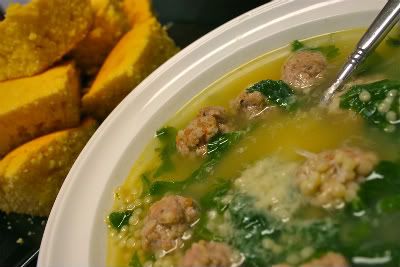 So about 4 months ago, I got this summary from my credit card company that broke our expenditures down by category.
(And what does that have to do with Italian Wedding soup, you might ask? Follow along with me and we'll get there. I promise.)
Breakdown
is exactly the right phrase, here, because when I got a load of the dollar amount in the
Restaurant
category, I broke down and bawled like a baby puppy on the first night home with its new family, cooped up in a crate in the laundry room. We were eating out a LOT. Almost EVERY meal, every weekend. During the week, we mostly ate at home, but those two days a week of carefree, flit-from-fine-dining-establishment-to-fine-dining-establishment-eating-a-hole-in-the-bank-account weekends were costing us BUCKETS of money. Ridiculous, crazy, what-were-we-
thinking
PILES of dough. I showed it to Al and he took one look and commenced to crying alongside me like another baby puppy in another crate in another laundry room.
We agreed. This was STUPIDLY unnecessary spending.
Thus was born the
We Need to Eat at Home on The Weekends Movement
(such a clever title for a movement, don't you think?) here in the FriedOkra household. And thus was born Soupy Sunday -- the day I make a gigantic pot of some kind of soup for the four of us to eat that day, and for some combination of several of us to eat for lunch during the week.
We all LOVE Soupy Sunday. Sunday is our dedicated family day, anyway. With very few exceptions, we try to stick close to home on Sundays and just relax and enjoy our home and one another, which is the kind of day that lends itself to the sometimes slow but always-cozy process of soup-making. I thought I'd share a new favorite soup of mine with y'all, and also provide links to several more soup recipes that've pleased the palates of the entire FriedOkra family.
Italian Wedding Soup
Ingredients:
3 qts. chicken stock (find my
homemade stock recipe here
)
1 lb. ground turkey or chicken (or even pork would work fine)
1 cup Italian seasoned dry bread crumbs
3 Tbsp. grated parmesan cheese
2 Tbsp. grated onion
2 cloves fresh garlic, minced
1/2 tsp salt
1 egg
1 bunch (roughly 4 cups chopped) mustard greens, spinach or kale, washed and cut into 1" squares (roughly - I ain't picky!)
1 cup Acini di Pepi pasta (small grain-like pearls of pasta. You could also use orzo,
of corzo!
)
Freshly grated parmesan
Directions:
Heat stock to a boil in a large stockpot. Meanwhile, mix together with your hands the ground meat, bread crumbs, 3 Tbsp. cheese, onion, garlic, salt and egg. Form meat mixture into tiny meatballs about 3/4" in diameter (or smaller, if you have the patience for it!) and drop gently into boiling stock. Add the pasta and stir gently. Cook for 5 minutes. Add chopped greens and continue to cook for another 5 or 6 minutes or until pasta is soft.
Ladle into bowls and serve with grated parmesan as a garnish. A green salad and some sliced yeast bread or cornbread make this a light but plenty-filling lunch or supper.
A few of my other soup recipes you might enjoy:
Chicken Marsala Soup
Wisconsin Beer Cheese Soup
Vegetable Beef Soup
Tortellini and Sausage Soup
Three Excellent Chili Recipes
Y'all can subscribe to FriedOkra's feed here.