This boy, y'all.
He's this perfect combination of
I-really-want-to-sell-you-to-the-gypsies
and
I-oogie-woogie-squidgy-widgy-lovey-wuvvy-schmuvvy you
.
Did we not all see this coming while I was pregnant with him?
He is STUPID-CUTE (I mean, he's not stupid. He's so cute that it's stupid. And it makes me stupid how cute he is), like OHMYHEART-cute, but also?
Grrrrrrrrrrrrrrr....
Oh forget it. You know what I mean.
What?
Oh. Let me clarify
Peabody
, not Al.
(Although ...)
Anyway as I've mentioned, I'm a bit busy this week so I don't have time to write a proper post, but I thought I'd post a few recent pictures of this boy. So you can see what I'm dealin' with here.
I also HAFTA tell you about some of the ADORABLE things Peabody's been saying, now that he's decided that he really,
rilly
likes to talk. A LOT. (OHMYEARS!)
My top five favorite things that Peabody says right now:
Lik, Mama! Uh lahler totter!
(Look, Mama, a water tower!)
Mama, et cooooooode ow dere!
(Mama, it's cold out there!) (When he says this, he hugs himself really tight and shivers.)
I giggit! I giggit ninnonay um da yer-yidder-yader!
(I'll get it! I'll get the lemonade from the refrigerator!)
Daddo mp jiiiiiiive uh pupple Cheet! NOOOOOOOW!
(Peabody wants to drive the purple Jeep! Now!)
Daddeeee HOOOOOO! Daddee HOOOOO!
(Daddy's home!) (I'm guessing you can imagine why I love hearing this one so much!)
And
lik, Mama! Pitchers mp Dado!
An attack of the giggles last Sunday: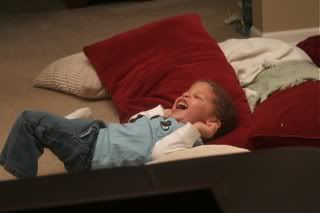 Ha-ha- HA HA HA!!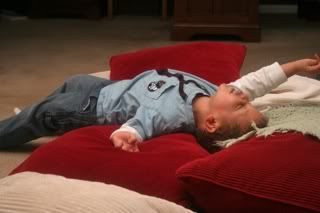 Oooooh me oh my, that's just soooo hilarious, Dad!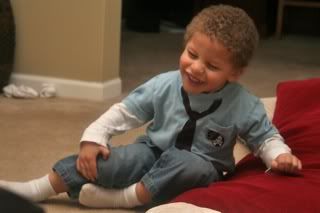 Hee hee heee... I can't (gasp) stop (gasp) laughin'!
And he was willing to pose
briefly
this morning when Mama interrupted his relaxing post-bus-run episode of
Nynono Cheen
(Dinosaur Train):
CHEESE? YES I'D LOVE SOME CHEESE! WHERE'S THE CHEEEEEEEEEESE??? GIMME SOME CHEEEESE!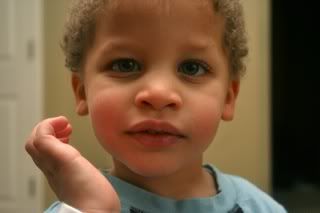 Wait, what? Oh. You want me to SAY
cheese
?
Well alright then.
CHEEEEEEEESE.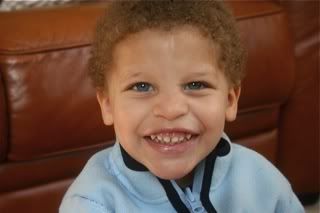 OKAY! GETTING TIRED OF THIS NOW!
CHEEEEEEEEEEEEEESE
.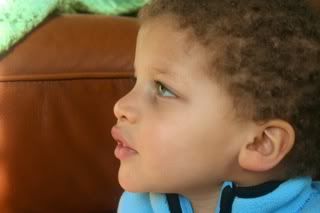 Alrighty then. Since there's no actual cheese involved here, I think I'll get back to
Nynono Cheen
now. Will that be all, Mom? Kthxbai!
Y'all can subscribe to FriedOkra's feed here.