I seriously had to work the summer-into-fall angle pretty hard this week because WOW has it been hot here! Up in the 80s a few days and never any lower during the day than about 76! That's fairly unusual for Chicago this time of year.
So I tried pairing some typically summery things with light cotton sweaters, heavier leather belts and less summery shoes, except the one day I wore sandals. All in all I liked these looks and felt comfortable in them, and I loved that I mostly used clothes I've had for awhile, just put together differently. I guess that's a neat thing about transitional weather - you really get to pick from several sections of the closet, in combinations that wouldn't work at any other time.
Wednesday - Errands/Mom Stuff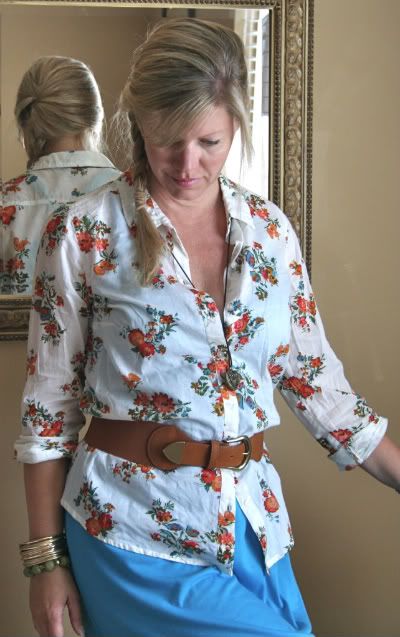 Turquoise braided t-back sundress - Maurice's
Floral shirt - Old Navy (on sale last week in-store)
Belt - DSW
Heart pendant on leather strap/gold bangles - Old Navy
Sandals - Naturalizer, forever ago (DSW)
Green wooden beaded bracelet, Movado ESQ watch
Purse - Rosetti - (DSW)

----------------




Thursday - Cleaning (not in this outfit!) and more errands






Grey silk ruffle top - T. J. Maxx
Yellow cardi - Old Navy
Jeans - Lucky Brand
Shoes - Brown pumps with silver-tone buckeye embellishment - Unisa (DSW)
Wooden beaded necklace and leopard print scarf around waist of top - DIY projects (ME!)
Silver chain necklace - Ann Taylor Loft
Purse - Payless

-------------



Friday - Picnic, Apple Picking






Black polka dot silk top - Isaac Mizrahi for Target
Capri jeans - Velvet Heart (T. J. Maxx)
Gray Sneaks - Converse (DSW)
Pink scarf, finger-crocheted into a necklace (having to get creative with neck-wear as I'm allergic to EVERYTHING and it gets worse as I get older. This is also why I don't wear eye-shadow anymore... sad face!) - gift from my sister, years ago
Pink straw purse - Payless

--------------



Saturday - Out to lunch and errands with Al and the kids, playing outside






Gray ruffled t-shirt - Talbot's
Black chunky knit sweater with stitch embellishments (cotton) - LOFT
Denim shorts - Merona (Target)
Silver flats - Chinese Laundry (DSW)
Black leather belt - Calvin Klein (T. J. Maxx)
Black onyx-look bracelet and black bangles - Old Navy
Black onyx-look necklace - New York and Co.

-------------



Sunday - Baking apple slices (recipe tomorrow? Or Friday?), neighborhood BBQ






White peasant top with embroidery - thrifted
Gray cami underneath - Old Navy
Jeans - Lucky Brand
Black leather belt - Calvin Klein (T. J. Maxx)
Black patent loafers - Nickels (DSW)
Bangles, black bracelet - Old Navy
Pearl/silver-toned bracelet - Payless
Purse - Brook Brothers
Scarf - Ann Taylor

----------

Monday - Playing in the park and picking out pumpkins at the pumpkin patch (more pics later)




Black/white cotton twill sun dress - Maurice's
Coral/orange tee with gold embellishments - ? - T. J. Maxx
Green scarf - Target
Black sling-back espadrilles - Naturalizer - Famous Footwear
Jade necklace - gift from Al
Gold bangles - Old Navy

-------------



Tuesday - Breakfast date with Al


(He takes a morning off the second Tuesday of each month while Peabody is in school so we get a few hours of time together during the daytime. You know, when I'm actually AWAKE.)




Turquoise jersey v-neck dress with yellow/rhinestone embellishment (not shown) - Victoria's Secret
Argyle short-sleeved cardi - New York and Co.
Dirty bucks - Bass (On sale in the boy's department at Macy's, years and years ago)
Diamond cross necklace - gift from Al
Silver-tone chain necklace - LOFT
Silver-tone, rhinestone headband - Goody (WalMart)
Purse - Brooks Brothers


So, which were your favorites?
I'll be linking this post to
What I Wore Wednesday
which is hosted by
The Pleated Poppy
. Thanks for all of the great comments on
last week's WIWW post
. This is actually fun and a good challenge for me, and I loved hearing that some of you found it interesting and helpful in your own quests to create great new looks from your own closets! xo
Y'all can subscribe to FriedOkra's feed here.