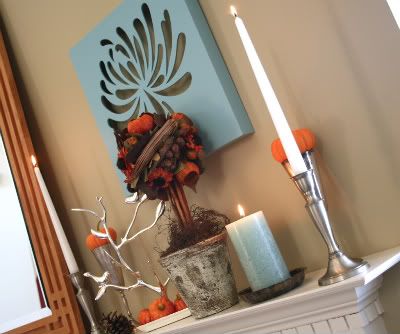 I have a deep and abiding fondness for fall, don't y'all?
And pumpkins, especially. I seriously heart pumpkins, as
I have mentioned before
. And I seriously heart decorating with them, all orange and happy and warm. I think I may have subconsciously chosen the color scheme in my house to make the perfect backdrop for pumpkins and leaves and stuff, because I don't think our house looks much better than when it's all decked out in its autumnal finery.
I just wanted to pop in and show you my new Fall mantle scheme. I'd gotten inspiration for this idea awhile back while actually searching for Christmas mantle ideas -- I saw one that included fresh greenery and berries and grapevine with old, tarnished silver, and though I liked it, something about the tarnished silver didn't work for me for Christmas. It wasn't quite bright and beautiful enough for me. But I liked the rustic, almost spooky feel of it for Halloween in particular, although I'm not much of a spooky girl on the whole.
Who-oa, love is kinda crazy with a spooky little girl like me... Wamp bampamp bampampbammmm...
Name that tune, y'all.
Sorry! Anyway, the tarnished silver (mixed here with just a bit of pewter - the candlesticks ...) seemed like a quaint hat-tip to spooky without getting horrible or supernatural, which are the aspects of Halloween I don't much love. It also seemed like a quaint hat tip to displaying some silver without having to get all clean-y or polish-y. And that's a hat tip I can fully embrace. In fact, I'll go so far as to say it's not a hat tip at all, it's a deep, grateful low bow at the waist.
Amen.
Tarnish =
Gooooood!
My mantle is standard length - it spans the distance across the fireplace in our family room - but I've cleverly taken up about half of that distance with a huge framed mirror that adds light to the room and has the added value of providing a view of whatever is transpiring on the upstairs balcony above me when I'm sitting on the sofa in there enjoying the fire. So this leaves me (quite happily) with only half of the mantle to actually display stuff on, which works for me, because the thought of adorning seven or eight feet of mantle makes me get a little trembly.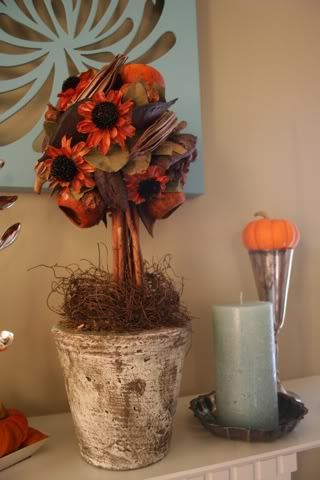 Look closely! What do you see?
I got this potted topiary the year after we moved up here from Target, I believe. I fell in love with the colors, but the part that sent me (and still sends me) over the moon ... can you see? Look closely! YES! Yes, my sweet Southern friends! Those long, brown ribbed things are dried okra pods. OKRA! IN A FLORAL ARRANGEMENT!
Hallelujah and Dinah wontcha blow your horn!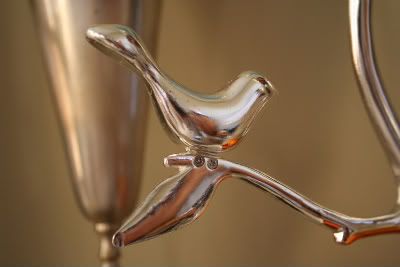 (Annoyed chirp!) I have screws in my feet!
The silver-toned tree with birds came from Homegoods this spring. No leaves, right? So definitely Fall-like. We'll call the little birds ravens, even though they are clearly much too gentle and good-natured to be ravens. I'm kicking around the idea of adorning the tree with some draping Spanish moss.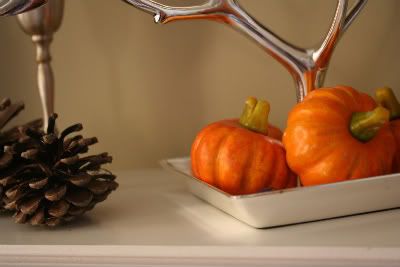 Plastumpkins!
The pumpkins at the base of the tree are actually plastic.
SHHHHHHHHHHH!
I got those at Jo-Ann about a thousand years ago. Good thing they're plastic, huh? And my sweet Peabody insists on carefully and painstakingly (and occasionally life-wastingly) selecting one perfect pine cone every time we go for a walk around our neighborhood. He was kind enough to share the ones on the mantle, because he understood Mama's perfectionistic need to pull a bit of the brown from the okra topiary into the mix below. Peabody also selected the two real and also perfect pumpkins topping the silver champagne flutes, too. He is clearly very gifted in this area.
I'm looking at this all of a sudden and you know what? The white tapers may actually also need to be some other color, possibly grey, but I just can't come to a decision that clicks deep inside my soul, so for now, white it is.
And that's the fall mantle at FriedOkra manor. Feels
right
to have okra there. Talk about clickin' deep inside my soul, y'all.
Y'all can subscribe to FriedOkra's feed here.