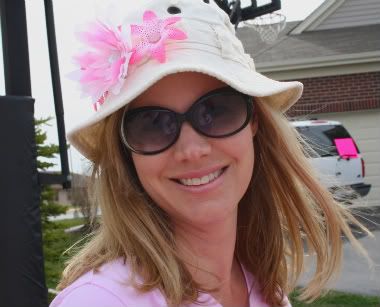 Yep, I'm doing it again,
just like I said I would
- I'm all signed up to walk in the 2011 Susan G. Komen 3-Day for the Cure here in Chicago, August 5-7.
I'll also be working as part of the Crew for the Arizona 3-Day in November.
Who's coming with me?
Cancer has become even more personal for me this year, and I am determined to come at it hard from every angle, and to bring all my friends!
I was completely overwhelmed by the support you all gave me last year. During my efforts to gather contributions, it seems like everyone I talked to had a personal connection to breast cancer, whether they'd lost a Mom or sister or best friend to the disease or just dearly loved a survivor and were thankful to still have her with them.
I'm part of the latter group, having watched
my sweet, crazy friend Meagan fight and win a tough battle with the disease in early 2010
and then amaze us by joining Team Cure or Bust just two days before the 3-Day started and then
holding hands with us as our team of 16 walked into the closing ceremonies together
. Meagan is my first inspiration for walking.
I'm of the belief that advances in breast cancer research naturally lead to advances in diagnosing, treating and ending all other types of cancer. As many of you know, my family's been hit hard over the past 2 years with this disease, as my Mom was diagnosed with bladder cancer in September of 2009 and just this week my 8 year old nephew Owen
began his own battle with leukemia
, which is a cancer of the blood and bone marrow. I am dedicating my 2011 walk and my fundraising efforts to my Mom and our sweet Owen.
If you'd like to contribute this year to a very important cause, and to know that you're doing something real and powerful to help bring an end to a disease that I guarantee in some way lurks behind every beautiful smile you ever encounter, please consider contributing to the Susan G. Komen Foundation TODAY. I've placed a SGK "Help Me Meet My Goal" button on my right side bar to make it easy.
Thanks for all of your support. I'm incredibly lucky to have people like you in my life. If you or someone you know might be interested in walking this year, let me know! There's plenty of room for everyone on our team.
Y'all can subscribe to FriedOkra's feed here.