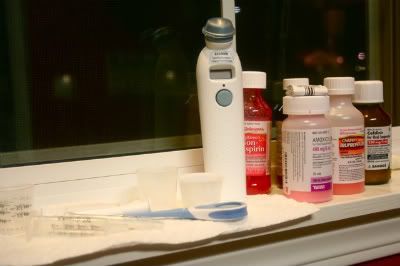 PRIMAL SCRE-E-E-E-E-EAM!
Enough!
I cannot get my children well! This is the windowsill where all the medicines and medicine cups and thermometers and droppers continue to pile up as we fight off one common childhood illness after another. I'm trying very hard to maintain my perspective because of course I know that
things could be very much worse
.
Sigh.
And ... I was going to say
But ...
and then whine for awhile. (I'll admit it, I feel extra-spectacularly whiny inside!)
But ... instead, I'll stop short. Consciously control my quickly-downward-spiraling thought-patterns.
(Vigorously hoists up sagging Megan-spirit, tugging - quite fabulous, by the way - bootstraps.)
Things could be very much worse.
This is my kitchen windowsill, not a window ledge at a children's hospital. These are just over- the-counter pain remedies and some antibiotics, not chemo drugs or scary anesthetics to quiet my babies' bodies for some invasive procedure or another. My children, sick though they were, lay (fairly) peacefully upstairs in their own beds last night, tucked in warmly and cozily by their Dad and me. We didn't even have to climb over side rails or fight through any tubes or wires or IVs to kiss and hug them
Goodnight.
And we'll all sleep here in our own beds again tonight, them in theirs, and Al and I together in ours.
Yeah. Now that? That's
Enough
.
Y'all can subscribe to FriedOkra's feed here.