So, I've been MIA for awhile.
You will hug me first before I start talking, yes?
Aaaah.
Thank you
. Can't seem to get enough hugs these days.
So. Now I will dig right in.
After a week or so of my 8 year old nephew not feeling well, last Saturday my sister took him to the hospital. Upon examining him and diagnosing congestive heart failure, doctors sent him via helicopter to a nearby children's hospital for treatment and further evaluation. After draining fluid from his lungs and around his heart and getting him stabilized and comfortable, doctors set about the task of discovering what was behind these symptoms.
After two days of testing, doctors told my sister and brother-in-law that my nephew has Texas Precursor T-cell ALL (Acute Lymphocytic Leukemia), which is a genetic form of cancer that effects the blood and/or bone marrow, and that has led to the formation of a large mass in his chest that involves his heart, lungs and windpipe.
Treatment began yesterday with the installation of a port in the little guy's chest, and the administration of the first round of chemo drugs. Our boy is in good spirits and acting like his normal self, according to his Mom and Dad. He's eating, watching movies, reading, and joking around with the nursing staff and he's had a few visitors, even.
We'd love to have your prayers for our boy's comfort and healing, and strength and peace for his whole family including the grandparents on both sides, and especially my other nieces and nephews, along with wisdom for Owen's doctors and nurses.
I'm probably not going to be talking much about my nephew's condition and treatment here on the blog in order to respect my sister's family's privacy, but I know you guys will pray with us even if you don't know every particular every day.
Here's who you'll be praying for and thinking about.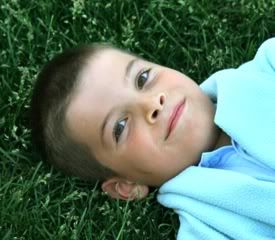 We are all hanging in there. My sister and brother-in-law are tired and overwhelmed but thankful to have a diagnosis and a plan of attack. My Mom can't go be with them because she just had back surgery, as you'll recall. I know this frustrates and saddens her, and I'm certain my Dad is aching with a similar feeling of helplessness and grief. Al says he has never been so sad in his life, but he's doing beautiful job of just BEING AL for me, which is exactly what I need. I haven't said too much to Bean about her cousin, but I do plan on filling her in on some simple details so that she can begin to share in helping keep his spirits up.
As for me? People keep asking me, "How are YOU?" Even my sister, bless her heart, asked me that. And the answer is?
I. DON'T. KNOW
.
And I really don't CARE how I'm doing, if that makes any sense at all.
I'm staying busy. I'm praying. I'm doing what I can do from here, even though I'd much rather be there. My big prayer, besides to ask for healing for my nephew, is that God will help me do whatever I can do to alleviate some of the burden and hurt and worry and fear from my sister and brother-in-law's shoulders. Oh, and I've also prayed that God would divide my cells and make two of me, one to stay and take care of my family, and one to go help take care of my sister's, but so far, He's not done that. I think He may have thought I was kidding. GOD? NOT KIDDING!
But He has been so faithful in providing many good, loving family, friends, and neighbors to do what needs to be done for them, so I'm letting Him get by with that for now.
Honestly? This is the first time I've thought about how I am. I guess I'm trying hard not to dig too deeply into my own mind right now, because what good does that do anyone?
I am POSITIVE that my nephew is right where he needs to be, getting exactly the right treatments and care, and that he will FULLY RECOVER from this disease. I truly believe that. (You believe it along with me, okay?) I HATE what he'll go through to get there, and I can't even think about my sister and how this must all feel to her -- watching her child go through this -- without falling completely apart. I both love and hate how easily I can relate and go there with her in my own mind. A rare blessing-curse of motherhood and sisterhood, I guess.
And I know that I've told y'all over and over again what amazingly wonderful friends and neighbors I have been blessed with, but I have to say once again that the women I've come to know over my lifetime, whether I've known them since childhood or just met them a few years ago, are absolute
angels
. They are rallying around all of us, even though most of them have NEVER EVEN MET MY SISTER or her family, and I can't even express the gratitude I feel for everything they are doing/have done/are planning to do for them. (And me.) If you are one of these people in my life, let me tell you now, I love you and admire you appreciate you more than you will ever know, my heart is too, too full, and I will never be able to put it into words. EVEN ME! NOT ENOUGH WORDS!
That's all I have for now. Thanks for listening, my friends!
Y'all can subscribe to FriedOkra's feed here.