Made muffins for my kids' breakfast this morning, with plenty of the teeny home-baked Mama-kisses left over for them to eat next week while I'm gone.
I said ... WHILE I'M
GONE
. (Quake!)
Yes. I'm leaving my chiddren and my precious
honey-wunny-bunny-cakes
to go down to the native-land and take care of my Mom who's havin' back surgery on Monday.
(Much, much more quake!)
They'll be fine. She'll be fine.
And I?
Will cook.
I've been cooking for my four-day absence here for oh... seven days? There's enough home-made goodness in my fridge and freezer right now to feed about 908 people for four days. But the good news is that, except to thaw and reheat stuff, I won't have to set foot in my kitchen again until March.
2012.
And when I get to Mom's? Won't have my suitcase up to my room before HER oven'll be fired up and mixing bowls and whisks and mandoline blades'll be flyin' around like gnats on a July afternoon in Doraville.
'Cause that's how I roll, up in here, my people. If I'ma abandon you, I'ma do it leavin' you standing on the front porch holding an Igloo cooler the size of a stretch Hummer, and it'll be groaning uncomfortably under the burden of all things braised, basted, baked and battered. And if I'ma take care of you in your convalescence, you better be ready to do some serious chowin'. (Unless you have stomach flu, in which case, I, personally, am not giving you anything to eat, ever again. Period. I hate cleaning up my own cooking after it's been partially digested. Allow me this one little idiosyncracy*.)
(*Name that hilarious new sit-com.)
Cooking calms m'nerves. Keeps me from FREAKIN' RIGHT OUT, y'all.
And then there's this:
Food = Love
But I did not come here to tell you about my love-'em-with-the-oven disorder. I came to tell y'all how to make these cute little goodies.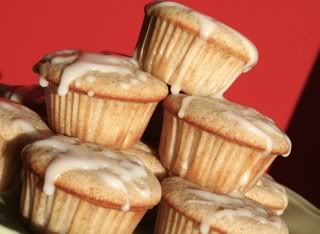 Cinnamon Mini-Muffins
Oven 375°
1 stick salted butter, softened
1/2 cup granulated sugar
1 large egg
1/2 tsp. vanilla extract (plus a few drops for the icing)
1/2 tsp. ground cinnamon (heaping, please - it's really more like 3/4 tsp. cinnamon)
1 cup all-purpose flour
1/2 tsp. baking powder
1/2 cup plus 2 tsp. milk, divided
1/3 cup confectioner's sugar
Using a whisk (you could use your mixer, but you don't have to, and if I don't have to? I don't. Do you?) cream butter and sugar together. Add egg and continue whisking until smooth. Stir in vanilla. In a separate bowl with a clean whisk or a fork, combine the flour, cinnamon and baking powder. Add half of this mixture to the wet ingredients and stir just to mix. Add 1/4 cup of the milk. Mix. Add remaining dry ingredients and another 1/4 cup milk and mix just until everything is smooth and combined.
Place muffin papers in a mini-muffin tin. Fill cups with muffin batter. Bake at 375° for 13-15 minutes.
For glaze, mix together 1/3 cup confectioner's sugar, a few drops vanilla extract and milk, one teaspoon at a time, until the glaze is about the consistency of Elmer's School Glue. (YUMMY, huh?) Remove muffins from oven and onto a rack to cool. Drizzle the glaze over the muffins from the tip of a spoon while they're still warm.
Makes 18 mini muffins.
-----------------------------------------
Hmmmm.... I guess I just loved on y'all a little, too, now didn't I?
Y'all can subscribe to FriedOkra's feed here.