First, thank you dear sweet friends for going there so supportively with me when I had to get all "heal the world... make it a better pla-a-a-ace " for a day or two. And it's not that I'm not all "heal the world" anymore, it's that I've got a more pressing concern right now which is
OHMYGRANNY
, these small critters need to get up outta here and off me for a little while.
SHEW
. Lawsy mercy, it's times like these I thank God I came to my senses a few moments after Peabody was born and kicked my plans to homeschool to the proverbial curb. I know y'all know I love
these varmints
my adorable, angelic children, so I'm not even gonna go there with a preamble-ish, qualifying clause. I'm just going to lay it out there, bare and unadorned: IT IS TIME FOR SCHOOL TO START BACK. Because if I have to go potty with a kid on my lap and a kid sitting on my feet just one more time? If I have to stretch my arm around not one but TWO pajama-clad houligans to get my coffee mug to my mouth of a morning, I'm going to STRIKE MIDNIGHT and tiny little birds are gonna shoot outta my eye sockets on springs squawking CUCKOO! CUCKOO!
When I was a kid, my parents used to play the old vinyl record of Nat King Cole's Christmas album and he'd be singin' "It's Beginning to Look A Lot Like Christmas" and the line that goes, "... and Moms and Dads can hardly wait for school to start again!"'d come on, and I'd be all sensitive and get my feelings hurt. And now I'm all grown up and have kids of my own and I bought Nat King Cole's Christmas album on iTunes and when I hear that line I think, "I coulda totally WRITTEN that particular bar of music."
NAT KING COLE YOU GET OUT MY BRAIN!
And now, to deflect the "bad mother" death-rays all pointed in my direction, I'll show you pictures of the fabulous tea party we had here yesterday for Bean and her friends and their American Girl dolls. Inside, I may be pulling my hair out, but outwardly? Y'all can rest assured I'm still June Cleaver with a big old floppy Martha Stewart hand-woven, meticulously-tied bow secured tightly around my neck!
Oh. Did that sound a little bit crazy?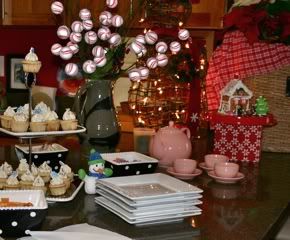 I'd dreamed up the tea party idea before Christmas when I had a hunch ol' Santa was bringing Bean her new doll, Lily. Did y'all ever read
A Doll's Christmas
by Tasha Tudor? Sweetest. Book. EVER. It was one of my very favorite stories as a little girl, and in it, the main characters, two little girls about Bean's age and their dolls, Sethany Ann and Nicey Melinda, host a big Christmas party for all of their cousins and friends. It's darling. I wanted to recreate a bit of the magic that story holds for Bean and her friends.
I also thought it might hold the additional benefit of keeping us all from killing each other.
'Course our tea-party had a modern twist - I sent out the invitations via eVite and the RSVPs came back via email on my phone. I think that whole concept would've blown Sethany Ann and Nicey Melinda right outta their freshly-starched pinafores, but other than that, we kept it simple and home-made just like it was way back when.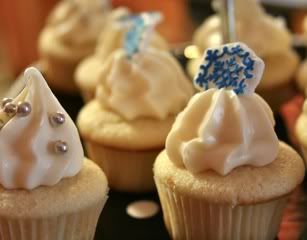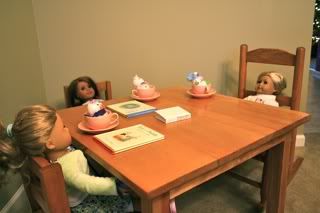 Miley, Rosie and Lily discussed literature over their tea. The big girls discussed

The Sweet Life of Zack and Cody.



We drank tea (pink lemonade) out of my twenty-sumpm-year-old pink tea pot and tea cups (the dolls used tiny cups and saucers and the girls got bigger ones), we ate cupcakes and gum drops and party mix. Then we got out the glue and felt and beads and scissors (or as Peabody calls them, S
HI-SHERS!
), and we made snowmen. The big girls made big snowmen out of foam balls, and the dolls made their own diminutive frosty creations, with a bit of help, using small white pom-poms.
The lovely Lily with her snowbaby.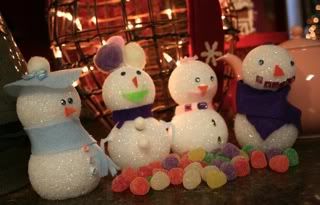 They look like they're about to burst into an a capella version of

The Candy Man

. Who can take a rainbow ...
And after the girls all left with their dolls and their snowmen, I cleaned up, and as I wiped counters and picked sticky plastic jewels out of carpet and vacuumed up party mix and cupcake crumbs, my darling child looked at me and said, "I'm bo-o-o-ored! What are we doing next, MOM?"
Preach it, Nat!
(And Happy New Year, y'all!)
Y'all can subscribe to FriedOkra's feed here.