I have a little early Christmas present for y'all. Last night while Al was out having some sort of business dinner with uppity-ups, I sat here in front of this computer and finally figured out how to dump the Disqus comments I've been using for way too long that everyone hates including me but I couldn't figure out how to get rid of 'em.
Turns out it was ridiculously easy. And now it's done. Back to good old Blogger comments again, and I'm feelin' like Dorothy. Oh, I had complaints before the cyclone, but now?
There's NO PLACE LIKE HOME.
So if you'd all but given up commenting because IT WAS TOO HARD, (it was!), now you can do it with relative ease.
And please do!
Anyway.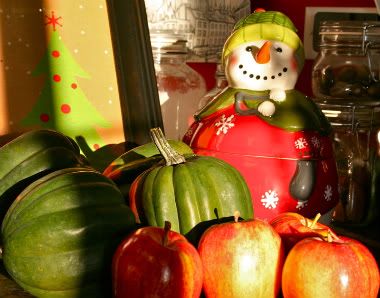 Remember those Sanity Tuesday lunches? Well, my turn to hostess rolled around again, and since we're all up in December and mistletoe and ho-ho-ho and Herbie-doesn't-like-to-make-toysiness, I decided I wanted to do something special for the ladies. Simple, quick and light (
wink
), but ...
special
.
The Lunch Menu
Miniature Chicken Pot Pies in Pastry Cups (recipe below)
Apple Pie Acorn Squash
(Click for the recipe.)
& Christmas Ambrosia (recipe below)
I'd already made
Herbes de Provence Chicken
last week and had a full quart of chicken, veggies and juices in the freezer and ready to go, so I thawed that overnight Monday night and woke up Tuesday morning ready to cook. Now I'm gonna let y'all in on a little secret here. When I went to bed Monday night, the entire first story of FriedOkra Manor was strewn with toys. It looked like the full cast of The First Christmas had fled Bethlehem and ended up somewhere in Tennessee for a NASCAR race. We had HotWheels cars and Fisher-Price nativity characters spread from the back door to the family room, various other toys filing in alongside them like they'd taken one look at the excited faces of baby Jesus, his parents and the host of wise-folk and angels and quick-dropped what they were doin' to follow them off to Nashville. There was a little wooden train and a bunch of track there, too, and for a minute I wondered why they didn't just all hop on board and get where they were goin', but then I heard Joseph gently tell Mary that there was no room left in the sleeper cars.
So I had cleaning to do and nary a moment to waste. Good news? I was able to have this lunch completely prepared except for baking the pastry cups in a matter of about 30 minutes. Possibly less, because I stopped a million times to take y'all some pictures.
Rachael Ray, you watch your back, girl.
And then I cleaned for two hours. I didn't take any pictures of that part. Are you disappointed?
Back to the FUN part.
My first step was to cut the squash in half and scrape out all the seeds and pulp, which I did. Did I say "fun part?" Acorn squash is TOUGH, people. I 'bout gave up mid-cut on squash #3. But turns out, I'm tougher than any squash on the block. Not by much, though.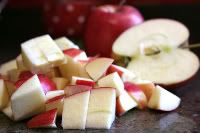 I diced the apples and sprinkled on cinnamon, fresh nutmeg and brown sugar and topped it all off with plenty of butter.
("Light."
Hee hee hee
.)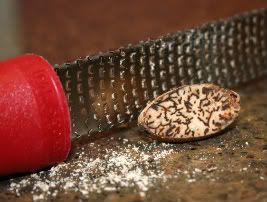 Mmmmm. Fresh nutmeg.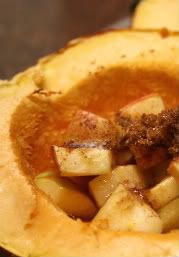 All done and ready for the oven!
Next I turned my attention to the Christmas ambrosia. All this is is one fresh pineapple, peeled, cored and diced (by yours truly and believe you me, after cuttin' all those acorn squashes, I made QUICK WORK of that pineapple), a can of mandarin orange sections, about ten marachino cherries cut in half, and maybe a quarter of a cup of sweetened, grated coconut. I mixed all those together gently and then put it into the fridge to chill until time for lunch.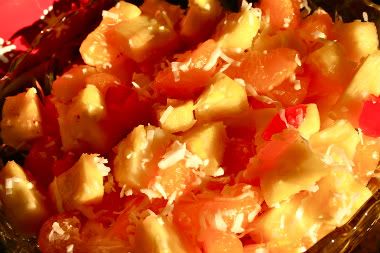 So easy!
And then? It was time to tend to the star of this show, the pot pies.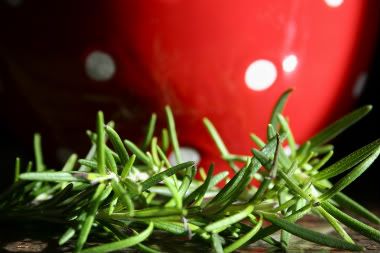 Mini Chicken Pot Pies in Pastry Cups
3 Tbsp. butter
3 Tbsp. flour
1 quart left-over
herbes de Provence chicken
1/4 cup heavy cream
2 pkgs. (6 each) Pepperidge Farm Pastry Cups
rosemary sprigs for garnish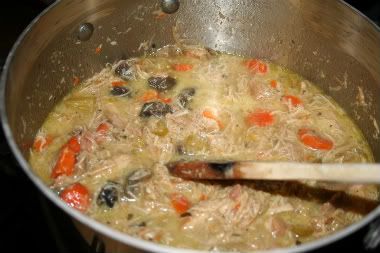 Melt butter over medium-low heat and stir in flour. Blend well to remove lumps and allow to cook, stirring, for a minute. Pour in the quart of chicken and broth and stir well, incorporating roux into the chicken mixture. Raise heat to medium and allow to come to a boil and thicken. Remove from heat and stir in heavy cream, cover and let stand.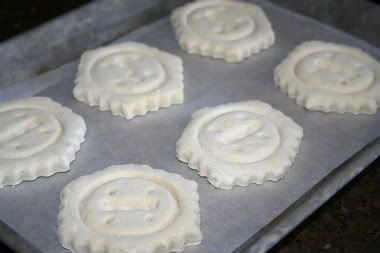 Little discs of pastry dough, waitin' for the oven.
Meanwhile bake pastry cups according to package directions. I always put a trimmed piece of parchment on my baking pan just to be sure the cups don't stick or get too done on the bottom. Once baked, the cups will have a little "lid" attached to their tops. Just carefully pry the lid off and set it aside. Spoon your hot chicken mixture into each cup, stick a little sprig of rosemary into the chicken and then prop a lid on top.
Precious, isn't it?
Y'all can subscribe to FriedOkra's feed here.