(I thought up that title BEFORE Christmas and didn't ever get to write this post until now. I can't think up another one, so we're stuck with it, outdated and past-its-prime or not. It's still true, even if it's a little bit dusty now.)
We snuck off to Florida back before Christmas so Al could attend his graduation YES I SAID
GRADUATION
as in he's DONE (for now anyway, but it IS Al we're talking about so I imagine the DONE-ness won't last long) from Florida Atlantic University.
You know, he got a degree in Forensic Accounting, and that makes him pretty smart, I agree, but you know what makes him look the smartest of all to me? That he figured out to go get that degree at a school located in Florida, warm, sunny, tropical Florida, not 30 miles from where my sister and her family would spontaneously up and move (I know, it didn't FEEL spontaneous to the people involved in the move, did it?) and organized it so he'd graduate in DECEMBER.
In my book that qualifies him for an honorary membership to MENSA, right there.
I have a huge project I'm working on, which if you have spent any time looking at my left hand side bar you might begin to suspect has something to do with breast cancer and pinkness and kitchens and all sorts of other girly, frilly stuff, and it does, and I'll tell you all about that REAL SOON, I promise, but I still have stuff to do before that's all set for The Big Reveal, so for now I'm just gonna show y'all some pictures from the beach trip, which sadly do not include a picture of Al in his cap and gown this time, which is another story for another day, or not, because it really isn't a story so much as a DOH! moment that'd take about 45 minutes to tell you and about 5 seconds for you to determine from it that I am a complete DUFUS. That is if you are not already in full possession of that particular tidbit of information.
PICTURES. From the BEACH.
Peabody likey the beachy.
My kids and my sister's kids. Together. Do I even need to tell you that Bean was in heaven the whole time? And that the second night we were in town I brought some PJs and one set of extra clothes for Bean with us to dinner at Jackie's JUST IN CASE Bean might want to spend the night? (Hahahahaha. Just in case. Hilarious!) and that I got a text from my sister the next morning saying, "Pls bring more clothes for Alex. She says she's staying."
Cousins are one of life's richest blessings, don't y'all think?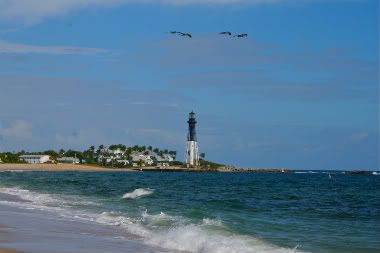 The lighthouse at Lighthouse Point, where we stayed in Florida, which we searched for using the GPS in our car, Google, Google maps and iGPS on our phones, and several local maps to no avail but finally discovered by accident while driving around waiting for Peabody to wake up from a car nap.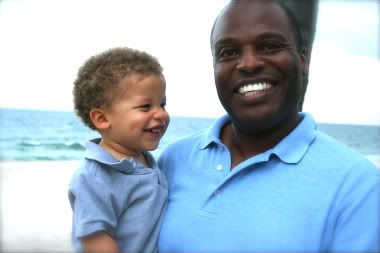 Since Bean had moved in with Aunt Jackie and all the cousins, I had my two boys all to myself and loved it. I wanted to capture what that looked and felt like. I think I did a pretty darn fine job of that here. Even if I did crop off the top of Al's head. Sorry, hon. Didn't hurt
much
, did it?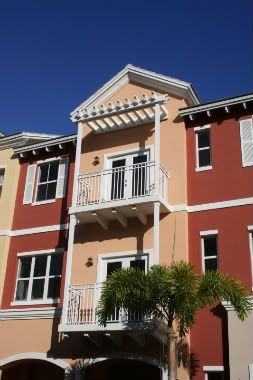 I loved the vivid colors of the townhomes we stayed in against the blue sky. The place was super nice, if not quite right for a family with kids so young. Three stories - three flights of stairs for a certain little boy to attempt to kill himself on - marble floors everywhere and WHITE furniture. OHMYGRANNY. But we all survived and I spot-cleaned the heck out of that place before we left. Oh, and Bean would like me to tell you that there was a HOT TUB. ON THE ROOF. Which was awesome, indeed. Al and I had his graduation AND our sixth anniversary to celebrate while we were there, so we drank some champagne out there in that hot tub and sat and reflected and made goo-goo honey-pot eyes at each other for HOURS until our feet and hands were little prunes.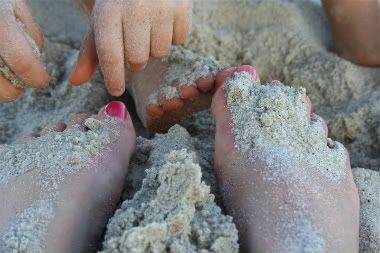 Bean and me burying each other's feet in the sand. I love to capture pictures of our hands and feet together.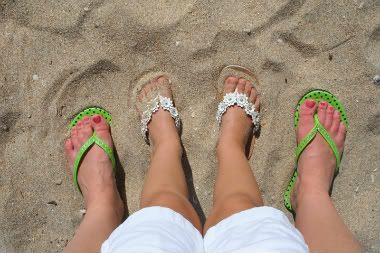 See what I mean?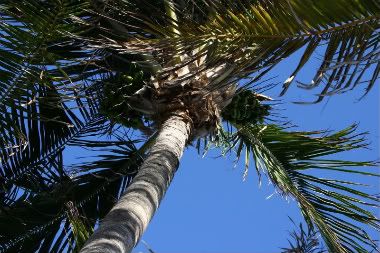 The ubiquitous palm trees overhead shot. Actually it might be a coconut tree now that I look at it. Deerfield Beach-goers do you know which?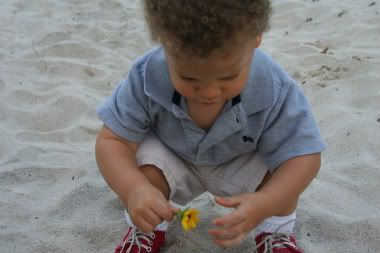 Peabody enjoying the flora of Deerfield Beach. And me, enjoying his red shoes, which make me go all squishy inside. This picture DELIGHTS Mama. It really captures Peabody and toddlerhood beautifully. He is a boy who loves to explore and discover new things.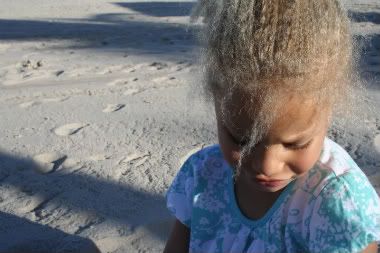 Just my sweet Beanie-girl, diggin' in the sand.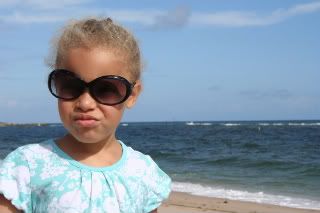 And diggin' on my new shades.
(The new picture up there on the side bar, the one of me cheesin' for the camera while Al pretended to be a FASHAWN photographer, is from our trip as well. When I look at that picture and IGNORE THE HIDEOUS ROOT GROWTH AND OVERALL BAD HAIR ISSUES, I see the woman I wish I were ALL THE TIME. She looks relaxed and happy and like someone who would ignore the SPAM nuggets and strawberry bits all over the kitchen floor and just enjoy the day for what it is. I put that picture up there to remind me: THIS IS THE
YOU
YOU WANT TO BE. PUT DOWN THE MOP, UNFURROW YOUR BROW, AND GO
BE
HER.)