So here it is, y'all.
This year, after two years of sittin' on the bench, cheering on as a group of my neighbors and good friends spent months raising funds, training, and walking in the Susan G. Komen 3-Day for the Cure while I gestated, birthed and cared for my tiny baby Peabody, I'm lacing up my pink New Balances and hittin' the pavement. Sixty miles in three days. I can do this!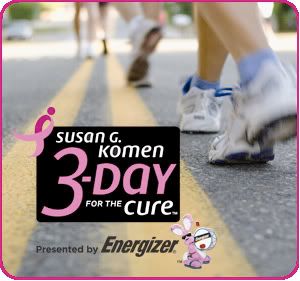 YES MA'AM. I'm participating in this year's 3-Day in Chicago August 6-8, and I can't wait to get walkin'!
This is something I've been wanting to do for over ten years, and good old life has always gotten in the way. This year though? I WILL NOT LET ANYTHING STOP ME. I'm DOING IT. Why? Because I've become more inspired than ever to deliver my own lasting blow to breast cancer as I've watched my sweet, amazingly strong friend and neighbor Meagan fight this disease since her diagnosis in September 2009.
It's for Meagan, her daughter, Skylar, my own Bean and all of the other beautiful women and girls we all love that I'm walking this year. I want to help get Meagan well, and I don't want ANY MORE OF THE WOMEN I LOVE TO GO THROUGH WHAT SHE'S GOING THROUGH RIGHT NOW. EVER. Because even though Meagan is a total trooper and the most positive, hopeful, inspirational person I think I've ever met and she hardly ever lets on how bad things are, I can tell you from where I sit, it STINKS.
In order to participate in the walk, I've agreed to raise at least $2300 in donations. But I have wonderful, generous friends and a supportive family, so I know I can raise even more than that, and have set my personal goal at $3500. I'm going to need help to reach that goal from EVERY SINGLE PERSON I KNOW BOTH INSIDE THE COMPUTER AND OUT!
So. Will you? Can you? I am so terribly bad at asking for ANYTHING from anyone, y'all. I'd rather do it all myself than to trouble another soul for a thing. But this time is different - here's a situation where I have to stick my neck out and ask for sumpm. I need your help. Women all over the world need your help. Women just like you, like me, like our daughters and our Moms and grandmothers and aunts and cousins and our besties and the lady with the cheerful smile at the deli counter who always gives your kids a slice of cheese when you go to buy your smoked ham.
We're all in this together, us gals. (And guys, Dad.)
Please. Will you PLEASE support me as I take an amazing journey in the fight to end breast cancer? You can donate to the Susan G. Komen 3-Day for the Cure in my name by clicking
HERE
. If you are not a fan of on-line transactions, you'll see a link at the bottom of the page for a form you can fill out and mail with a check.
DONATE HERE. CLICKETY CLICK CLICK!
The pink and black 3-Day "I'm walking..." widget on my sidebar over there leads to a donation page, as well, and it will be there. IN PERPETUITY. Until we blow my fundraising goal out of the water next August and we all scream and yell and hoot and holler and jump up and down as we write a big fat check to Susan G. Komen and Co. and BREAST CANCER's ugly wart-covered behind is finally TOAST.
I will be
sososososososooooooo
grateful for absolutely any amount you can contribute. There's no such thing as too much or too little. What matters is getting involved, making a difference, in any way that we can, y'all.
I'm going to be updating y'all from time to time about my fundraising efforts, my team's training progress, special events and other things we're doing as a group to raise nearly $30,000 by August. I'm looking forward to having you along for the ride, and sharing this amazing experience with you!

The Susan G. Komen 3-Day for the Cure is a 60-mile walk over the course of three days. Net proceeds from the Susan G. Komen 3-Day for the Cure™ are invested in breast cancer research and community programs.
Y'all can subscribe to FriedOkra's feed here.