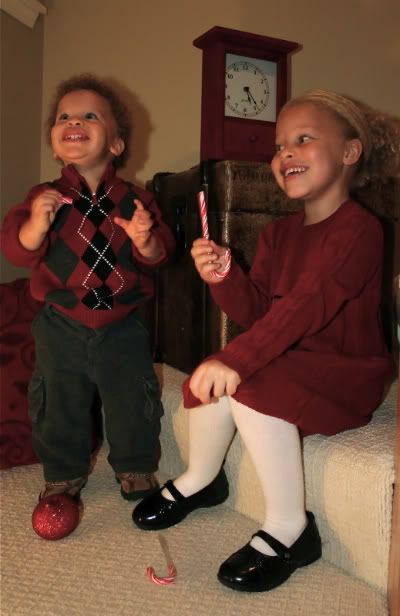 This was probably my favorite shot of the kids from the little amateurish "session" we did one gloomy (weatherwise, not moodwise) afternoon last week. It won't be on the FriedOkra family holiday greeting card because it's all shadowy and weird, but I love how it captures each of the kids in such a perfectly Bean or Peabody way. Peabody looking wide-eyed and smiling with wonder and Bean grinning after saying something slightly profound and hilarious.
Two sweet, childish spirits captured by their nutty Mama who has every lamp in the house stuck and propped all around them so that they're practically blinded by the white-hot humming glow, twenty tangled extension cords running hither, thither and yon, candy canes and shatter-proof ornaments in all of her pockets and hanging off of her belt loops and a scary reindeer hat perched jauntily atop her disheveled head.
It occurred to me about halfway through, as I snapped away with lamps toppling and candy canes cracking and Peabody smiling a mouthful of ornament glitter: They are some mighty good sports, these children of mine.
Merry Week, y'all.
Y'all can subscribe to FriedOkra's feed here.