So Friday, Bee-bop asked me to straighten her hair. Which is much akin to her asking me to extract some of her teeth the old-fashioned way, because this kid would rather have me dig out her one-year molars with a rusty grapefruit spoon than touch her head, for any reason, including putting out a scalp fire or flicking off a rabid tarantula. Not that we've had to test that theory, mind you, I'm just extrapolating based on all of the hissing in-takes of breath and the ghoulish, hell-fire-hot screams I hear when I very gingerly extricate a pony-tail holder from her tangled mane.
As you can imagine, I was less than thrilled to accept this challenge, but she insisted she'd be still and not rupture my eardrums, so I acquiesced with a big, bold asterisk of protest stamped squarely in the middle of my forehead.
It was a bit like ironing a poodle.
We only got as far back as the tops of her ears before her instincts for self-preservation kicked in (
OW! MY HEAD, MY HE-E-EAD, YOU'RE KILLIN' MY HEAD! MAMA, I'M LITERAWY DYIN' HERE!
) but you get the idea, right?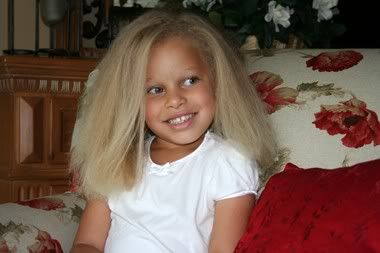 Y'all can subscribe to FriedOkra's feed here.