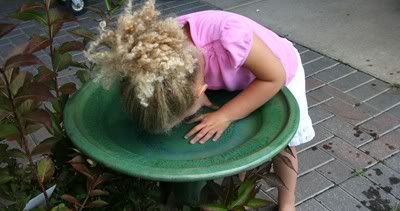 Bean
, I asked,
Can you look at the water for me?

(This child is just her father in puffy sleeves and daisy sandals.)
We trotted around town last Thursday with the camera, trying to capture some shots of the things we'll miss about the good old summertime out here on the prairie. Al and I say often, for these five months out of every year,
Oh! So glorious! We will never-ever move away from here. Never.
And the other seven months we say
nothing
. Because our lips are frozen shut.
Feels like if I could find ways to remind us - I mean really,
really
stir in us the joy and the vitality and the
warmth
a prairie summer brings - all through those long, dark, cold winter days, maybe we'd stay in love with home a bit longer. So I've been out and bought some picture frames and now I'm working on a little photo trip across town (it's a short trip, y'all) under the brilliant sun, catching the colors and the life and the eye-music of this short but perfect season.
I'll hang these bright pictures, like love notes from a summer romance penned passionately to our winter selves, in the spots we'll cozy up into when the snow's waist high and the sky holds nothing but
more and more
, the white and gray above and the white and black below, the groan and shred of the wind the only reminders of movement and life outside our windows.
(Oh my law, I'm giving myself seasonal affective disorder just thinking about it.
Sigh
.)
Vivid sparks of summer's vibrant hues will dance on pale, ash-grey walls, images of hope and renewal to catch and tantalize our sleeping winter eyes.
OHMYGRANNY, I hope it works this year.
Y'all can subscribe to FriedOkra's feed here.