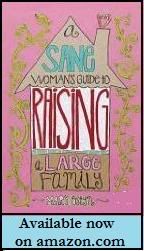 Mary Ostyn of
Owlhaven
is one of my heroes. Do y'all read Mary's
blog
? If you don't, I'd encourage you to hop on over and get to know her. She's the proud mother of ten children from three different countries, and she's one of
those
people. The kind who, the instant your world somehow happens luckily to rub up against hers, makes you want to become a better person. She has a heart of pure gold and parenting skills like you would not believe. She's also an incredibly gifted writer and photographer. And she gardens, cooks and cans. You know. In her spare time.
Land, woman, what CAN'T you do? (Smile.)
When Mary emailed to ask me to read and review her new book,
A Sane Woman's Guide to Raising a Large Family
, I felt so honored! That one of my own mothering and bloggin heroes could possibly view me as qualified to comment upon this little gem packed full of her patient, calming, inspiring voice and her amazing wisdom left me feeling more than a little bewildered.
Nevertheless I jumped at the chance. Although I'm stumbling through life right now with only TWO kids, I happen to know and love several mothers of large and ever-expanding families, and I'm constantly amazed at the perspective and patience and joy they have to share with their fellow mothers, along with no small amount of expert advice. I wish I could get a book written by each one of 'em!
I loved Mary's book. From its adorably-crafted and ever-so-Mary pink cover with the sweet little house on the front, to Mary's oft-times humorous and always encouraging conversational style and her logical selection of important and insightful topics pertinent to the parent of a large family (namely money, space, balance, helping everybody get along with everybody else, and perhaps most importantly giving each child in a large family what he or she needs to feel uniquely special and loved), the book comes alive with Mary's love, wisdom and passion for raising up children into happy, healthy, capable and successful people.
And it's not just a handbook for mothers of great big families, either! I particularly loved Mary's chapter on money, which included ideas on how to trim the family food and clothing budgets, thoughts about financing children's educations and a realistic break-down of how much raising a child costs when you give him what he REALLY needs and spend and save money frugally and wisely.
So I'll be keeping my copy of
A Sane Woman's Guide to Raising a Large Family
as a handy reference. My family might not be large, but I'd sure love my two kids to grow up in as practical, loving and empowering a household as Mary details in the book.
The good news is, Mary sent me an extra copy for one of y'all to win! And any of you can win it - it doesn't matter if you're a mother, a mother wanna-be, a Grandmother, or even a Dad or Grandad! Just leave me a comment including a way to contact you on-line and tell me about the best parenting advice YOU'VE ever heard.
I'll do the drawing Friday morning!
Y'all can subscribe to FriedOkra's feed here.