Ah, yes, the second half of this week has gone muuuuuch better than the first. Bean returned to her normal happy, perky self by Wednesday, thankfully just in the nick of time to head back to school for her First Ever Valentines party. I'd almost literally been holding my breath hoping she'd rally in time to go, as I recall a time from my own childhood when I stayed home sick with strep throat instead of goin' off on the bus with my chums to collect my Valentines, conversation hearts and my absolute favorites, those gummy, chewy red-hot hearts.
Clearly if I still remember it in such vivid detail I must have suffered horribly, and I really didn't want Madame Drama to have to experience such misery.
Also, I have a lot to learn about being the mother of a school-kid. Fortunately, in the
nth hour
, I'd impulsively picked up some little fun-sized bags of m&ms for Bean to give out with her Blues Clues Valentines, thinking,
OH! she'll have a little sumpm extra to put in her friends' bags! She'll be a Valentines Party hero!
But wouldn't you know every single other kid brought a little treat to give out too? Man, not only was Bean not any kind of a hero (although she's the only one who brought m&ms, the best candy on the planet, so we've got that goin' for us) she really only
narrowly
escaped bein' labeled
The Kid with the Cheapest Schmuck of a Mom
in all of Miss Brenda's 4 year-old class.
Valentine providence, I tell you.
Providence
.
I am
totally
on track to be put in the Remedial Mothering class next fall.
-------------
But I did get sumpm right this week! Check out our new
Graco Ipo Twin stroller
. It arrived yesterday and Bean and I had it outta the box and put together in about 20 seconds flat, and then Bean insisted she and Peabody have a little inaugural voyage in it. Around the living room and kitchen. And around. And around. And around.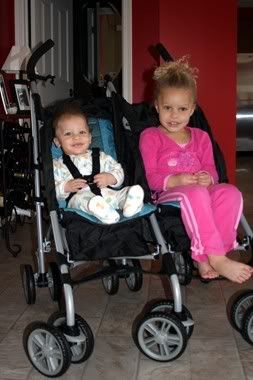 Oh, Mama! I love this stroller. Great quality, handles like a dream, plenty of storage, and it's not too heavy and pushes fine with only one kid in it. If you're looking for a double for twins or for a baby and your older child, take a look at this one. I got it for about 25% off the average retail price at
Amazon.com
.
And with that, I gotta stroll, myself. Y'all have a great Friday!
Y'all can subscribe to FriedOkra's feed here.