Wheeeeeeeeeeee! I'm havin' fun y'all. But it's almost a relief I'm NOT goin' to
Blissdom09
because I'll tell you a little secret. The outfit I'm NOT wearin' the cocktail party Friday night? Would look DREADFUL on me. Well, the top would.
Let me remind you: I live in the suburbs of Chicago. My skin, ALL of my skin, is white, pasty and chalky-dry. Also, I haven't exercised since LAST February. So I'm a little. Um.
Molten-lookin'
. As in, my skin/flab/loosey-goosey muscle-like substances all form a ripply little puddle where ever my clothes try to even impose the very slightest of restriction against its downward flow. I lop over my lop-overs. And it ain't purty. All that taken into consideration, I wouldn't be caught dead in a sleeveless top right now. And y'all should all breathe a sigh of relief that you won't be forced to view me in one.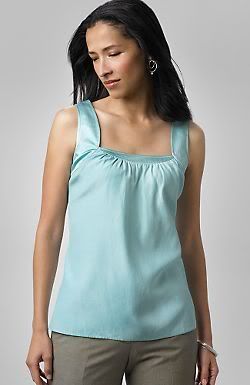 All the same, I am loving the color and styling of this lovely silken top from J.Jill.com. It comes in several colors, but this one really struck my fancy. It reminds me of the Daiquiri Ice ice cream at Baskin Robbins. Man, I loved that stuff. Do they still make it? Anyone?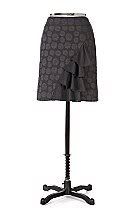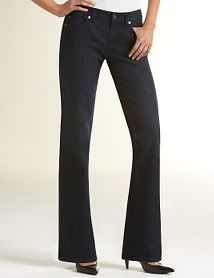 Now a top like that has to have an anchor, so light and airy and ethereal it is. So I'd pair it with this gorgeous ruffled pencil skirt from Anthropologie.com. It's navy. Yes, I said navy. I refuse to wear a black skirt to a cocktail party. Or black pants. It's just too ... standard. HO. HUM. (If you are wearing a black skirt or pants to the cocktail party, YOURS, of course, is not ho-hum. IT'S ALL KINDS OF FABULOUS! ARE YOU KIDDIN' ME, GIRL?)
Now let's say during the day Friday it's revealed to me that the Friday night cocktail party is more of a casual soiree? Well then I'll just ditch my frou-frou pencil skirt and throw on this pair of dark-wash trouser jeans with crystal rivets. Yes,
crystal
, which I found on sale at AnnTaylorLoft.com. That's clever, with the crystals, don't you think? Just the right touch on a dark wash jean to take them from
dressed-up
to
dressed-to-kill
.
More honesty here. I love the idea of a wrap. I do. But I think it's possible I lack the poise and the grace it takes to carry-off a wrap. Me? I'd end up with one end of this beautiful satiny piece of luxury wrapped around a wrist and the other wrapped around an ankle, and in two steps I'd go from elegance to ambulance. Bing, bang, boom, and I'm Blissdom's requisite weekend contribution to the local urgent care facility.
It would
have
to be me y'all. You can't even deny it.
And you also can't wear a wrap if you don't have a stunning, fabulous clutch. Because when you wear a wrap, you've gotta keep your elbows bent gracefully or you just look like you've got on one of those durn plastic salon poncho/cape/thingies and are about to get you some foils in your hair. And what better reason to bend those elbows than to display, to the great amazement of all who will surely surround you, your smart, sassy Fossil clutch from Macys.com?
Jumped by etsy.com again because I'm all about me some handmade beaded jewelry, and this one adds a pop of sparkle and contrast to my outfit. (Other colors available too, and they are all gorgeous!)
OH GIRL! If I weren't a stinkin' suburbanite, livin' out here in the sticks, raising two little kids and never goin' anywhere fancier than the local sushi bar, where a pair of "nice" flip flops'll make people eye you like YOU THINK YOU SUMPM!? Then I would have these shoes. They're Steve Maddens, and I know y'all think you know everything about me by now but I bet you'll still be shocked to know that I LOVE me some Steve Madden shoes. I'm generally into a more classic look, but when it comes to a shoe? OHMYGRANNY give me some ADORNMENT. And some FLAIR. And a pop of unexpected COLOR. Oh yes. Found these at Zappos.com. I could pretty much LIVE on Zappos.com. Give me a tub of Nutella and a browser-windowful of Zappos and I'll leave you in peace the rest of the day.
There you go, neck to toe, Friday night's cocktail party.
I'll have a Jack Daniel's Manhattan, up, two cherries, please.
Cheers, y'all!
(If you haven't seen what I'm NOT wearing during the day Friday at Blissdom09,
you don't wanna miss my Jolly Green Okra coat
.)