For a brief minute back the first or second week of January, I came *thisclose* to gettin' myself all registered up to jet off to Nashville for
Blissdom '09
next weekend. And OH, how excited I was, and just like I do for ANY EVENT, EVER, that will require me to leave the walls of FriedOkra Manor, up to and including takin' Bean to preschool two mornings a week, for which I never even have to get out of my CAR, I began to obsess about what I was gonna wear.
I love me some clothes.
Al abbreviated my plans for attending The Big Do with some, you know,
LOGIC
, and I hastily and bummeredly abandoned them. Oddly, though, I've not stopped obsessing over what to wear. In fact, since I'm NOT going to Blissdom, and I can theoretically shop anywhere I like, spend as much as I want, and throw together as many beautiful, classically-styled outfits as my little heart desires, I've spent (so far) about half a day, all tallied, online cuttin', pastin', URL-in' and arranging my way to my absolute DREAM bloggy conference wardrobe.
If you're going to Blissdom, I hope you have a fantastic time. Hug your own and each other's necks for me and imagine the Okra, on Friday, strolling up to you wearin' the following ensemble.
(You can click on any of the photos below to see more details about or even purchase the item pictured, by the way.)
The classic white cap sleeve turtleneck from Ann Taylor won't require ironing to stay lookin' fresh, and since Day One will involve some airport hoppin', I'm thinkin' that's a good thing.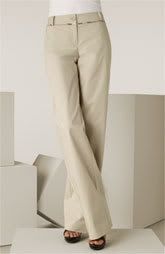 A nice, crisp pair of wideleg trousers. Who can argue with a crisp and classic stone pant in a universally flattering silhouette? Nobody, that's who. Found these at Nordstrom.com. Too expensive, but since I'm spendin' Theoretical Bucks, the sky's the limit, man!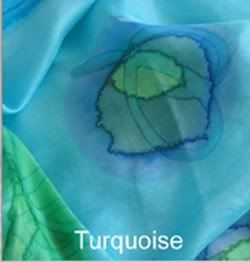 Found this pretty silk scarf through Overstock.com. Did you know turquoise compliments ANY complexion/coloring? Get you sumpm turquoise and try it on and let's compare notes.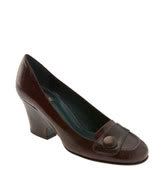 Also from Nordstrom, a pair of almost wedgie-like heels with a cute button feature. I like that they're not too high for the miles I'll walk on Day One, but not too low to mess up the long leg-line I'm sportin' in my widelegs.
I like this watch. I need a new silver watch. Hello Al? Valentine's Day approacheth.
Ahem
. Love you!
And this? The
piece de resistAWNCE
, in my fashion-challenged opinion. I thought this coat up in my head and then had to hunt it down online. Found it at Nordstrom.com and it's not EXACTLY what I dreamt up, but it's close.
Me though? I think I'll wear a size that, you know, FITS MY BODY. I am not keen on the orphan-in-the-too-small-clothes-with-her-4-inch-long-wrists-stickin'-out look, much. Y'all?
I hadda stop by etsy.com for a handbag, because every outfit has to have a conversation-startin' piece and a handmade bag like this generally does the trick. It's maybe a bit too matchy-matchy with the rest of the outfit, but I am digging my green/turquoise theme on Day One so much I can live with matchy-matchy this time.
What do y'all think of Day One's threads? Am I All Up In It, or will I be standin' in a corner alone, rethinkin' my Jolly Green Okra coat by noon-ish?
Y'all can subscribe to FriedOkra's feed here.