I'm havin' fun y'all! I think I could do this for a livin'. Who knew?
So after the fun of Friday night's cocktail and pajama parties, I'm thinkin' we'll all be good enough friends for me to let my hair down a little. So I'm just gonna throw caution to the wind and take a risk or two with my Saturday duds.
My Dad emailed me after I showed you what I'm not wearin' Friday and said he was theoretically concerned I'm gonna freeze my transcendental buns off in Nashville, in early February, in a pair of $225 khakis and short sleeve shirt, so Dad, I'm thinkin' today's outfit's gonna smooth out those worry lines for you.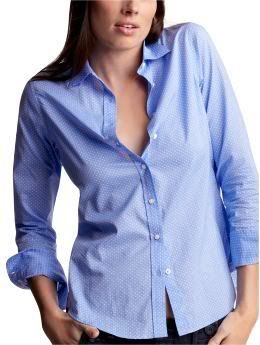 Here's a cute gap.com tailored blue shirt with tiny white polka dots. It's a classic piece, but I like that it's fitted and has a touch of the whimsy to make it feel a bit less samey.
Over the blue shirt, I'm throwin' on this pretty pale yellow v-neck sweater, also from gap.com. I wanted a yellow cashmere sweater, but apparently all the yellow cashmeres made a break for it at sheering time this season. I couldn't find a single yellow cashmere v-neck to save my life, people. But this cotton v-neck's a good piece to take me from late winter to early spring and even, in Chicago, into summer, where the nights stay chilly into July, sometimes.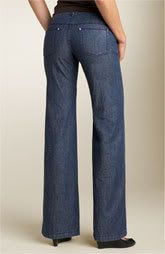 I WISH y'all could see the front of this classic trouser jean. If you click through (on the picture above), you CAN check out another view and see the small, trendy patch pockets with nickle-link detailing. Oh, they are sweet, people. These are from Nordstrom.com, but they're on sale, so the price didn't make me gasp and splutter in shock as if I'd just been drenched in icy, dirty gutter water by a city bus takin' a tight corner.
etsy.com people. Handmade stuff by people like you and me. Real, creative, talented people. This long strand of green glass beads is part of a full set that includes a slightly more intricate bracelet and earrings. Go look. So simple, but so pretty.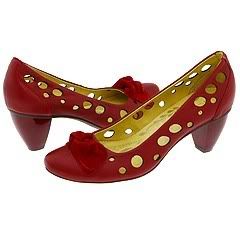 Check the shoe. Hadda go for a red bowed shoe a la Dorothy, because it's Saturday and I'm havin' a blast with y'all and learning a lot at the conference, but by four in the afternoon, I'ma be missing my sweet family and starting to feel a little
no-place-like-homegirlish
. Zappos.com does it again. Gals, they have every shoe my little brain can think up. Go try it. Picture a shoe, any shoe, the PERFECT SHOE, and then go see if you can find it on Zappos.com. Betcha can.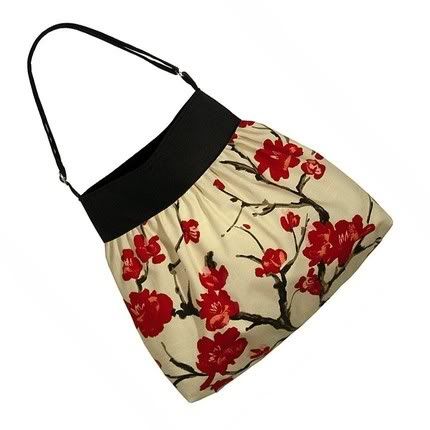 Quit it with the beautiful bags, Janine King Designs at etsy.com! OHMYGRANNY, this one makes me wanna GENUFLECT, doesn't it y'all? What else can I say? This whole outfit is about takin' some wardrobe staples and popping them up with fab accessories, and this bag?
DAWG
, this bag could make my 15-year-old dingy-white waffle-weave bathrobe look like Rodeo Drive. (Granted, I'd need a good leg wax, a pair of sling-backs and some new knees to pull it off, but we're bein' THEORETICAL here.)
And I found a coat. This gorgeous coat. Sortof a rusty/persimmon wool hip-length trench with a self-belt. That's the coat I wanted to wear with this outfit, Dad. You said WOOL, right? So I dutifully looked up a wool coat and found -- perfection. And then, sadly, I lost it. Can't find it anywhere. So y'all just have to imagine that one. RATS.
Hey, are y'all enjoying these clothes posts? Because this is HUGE fun for me, and I'm loving your comments. Should I do more of them in the future or have you had enough? Would y'all,
even those who rarely or never comment
, mind lettin' me know your thoughts on these FriedOkra fashion posts?
Y'all can subscribe to FriedOkra's feed here.