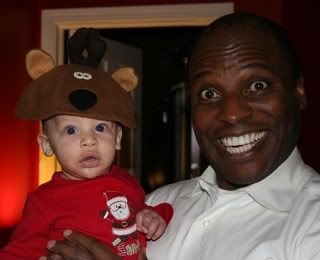 I have cute men in my life. What can I say?
The precious little elf face I will try hard to conjure up in my head the next time I hear the magic phrase
Mama, I'm done, come wipe me!

What I look like in the morning. Except normally I have a travel mug, courtesy of some now defunct mutual fund company, held white-knuckle tight in one hand. The coffee was still perking at the time of this photo, because it was taken so ridiculously early that Santa wasn't even all the way back up the chimney yet.
It is a true testament to the Christmas spirit that I am even upright.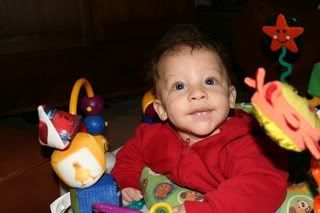 Mr. Peabody spent the morning cooing happily from his saucer, generally with one present or another dangling out of his drooly little mouth.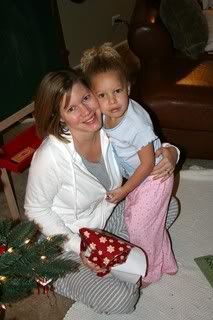 We gave Bean a pink Fisher-Price digital camera.
It was not used to take this picture, but it did inspire the thank-you hug captured herein.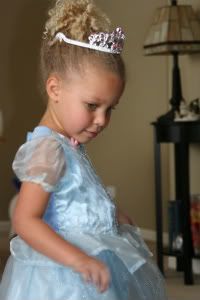 My sister and her family gave Bean a princess dress. The skirt LIGHTS UP when you press a button.
Now that's fashion, people.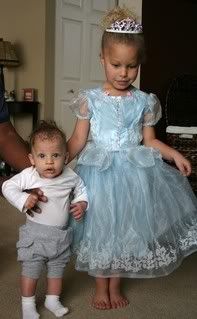 She said, and I quote, "Every princess needs a prince. To kiss her and wake her up."
"Yes, to wake her up," I agreed, "Then the princess says
Thank you for the kiss, Mr. Prince, and now you may go on home.
"
Al laughed knowingly, because that's what I used to do to him back when we were dating.
We had a quiet, peaceful but really fun Christmas here. Al says it was his favorite Christmas EVER. (Okay, yes, he
does
say that every year.) But it WAS really special, being our first with Peabody. I think Bean loved having him with her, and seeing them together made me really look forward to next year, and the next, and so on. I know they're going to enjoy one another so much on special days like Christmas.
Happy sigh
.
For Christmas dinner, I went out on a limb and cooked a ribeye roast, which my mother kindly pointed out on the phone that day, is also known as
prime rib
. Who knew?
I will not lie to y'all, I was nervous about cooking up a piece of meat that cost that much a pound, particularly when I cannot recall the last time I prepared any meat at all that required actual temperature gauging and/or monitoring. Normally I cook meat that's not considered
done
until it has dissolved into a chunky paste on the bottom of my slow-cooker.
And that kind of precision-timing just works better with my current lifestyle, you know?
But I took on the prime rib, with my meat thermometer at the ready, and it came out beautifully. All I did was sprinkle it with garlic salt and pepper, sear it on all four sides and bake it at 325° for about an hour and half. I finished it by deglazing the pan with some merlot which I let reduce a bit before whisking in a pat or two of butter, to make a rich, flavorful sauce that got spooned over the meat at the table.
I also made a
Brownie Swirl Cheesecake
, compliments of the Ghirardelli chocolate people, and let me tell you, in one short ninety minute baking session, I have guaranteed myself another 20 years of happy marriage! Y'all might want to bookmark the recipe, because it is a) easy and b) OUT OF THIS WORLD. And it comes out lookin' quite PRO-FESHNUL, too. Yes indeedy.
And I think a cheesecake recipe is a good note on which to end this post, because if you click over to that recipe, you won't be coming back here anytime soon, that's for sure.
Bye now!
Y'all can subscribe to FriedOkra's feed here.