Can you name that quote?
-----------------
Only a week 'til Christmas y'all.
SWEAT SWEAT SWEAT.
I apologize for all the heavy-on-the-pictures posts lately, but it seems like my brain's a wee mite more occupied than usual this week what with all the bakin' and shoppin' and wrappin' and snowblowin'.
Oh and also, I have apparently, unbeknownst even to myself, started takin' in other people's laundry.
Because all of this surely can't be just ours.
Here's our Christmas tree this year. I have a long-winded and ridiculous story that goes along with the tree, but I'll tell it to you later.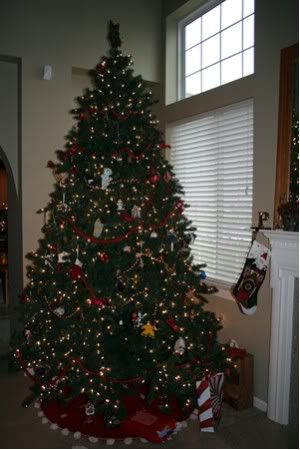 I just decorate our tree with the ornaments we've all collected over the years. For a year or two while I was single and, you know, URBAN or whatever, I did that whole themed-tree thing. But it never felt quite like CHRISTMAS-Christmas without all my mismatched but meaningful decorations. I love how they each evoke a memory, and I treasure how they work together with my plain old strings of wooden beads to make a simple but homey centerpiece in my family room. Maybe one day I'll want a more formal tree. Maybe. But for now, our life here is the furthest thing from formal, so why have a tree that doesn't fit where we are lifewise?
Anyway, here are a few of my favorite ornaments, in no particular order.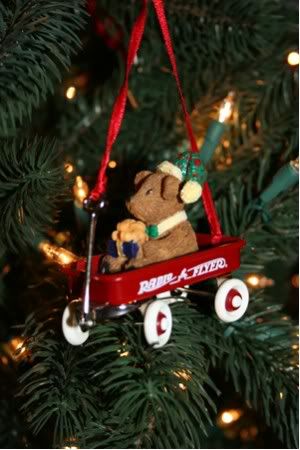 What's Christmas without a Radio Flyer piloted by a gift-bearin' bear?
It's just any other day, is what it is!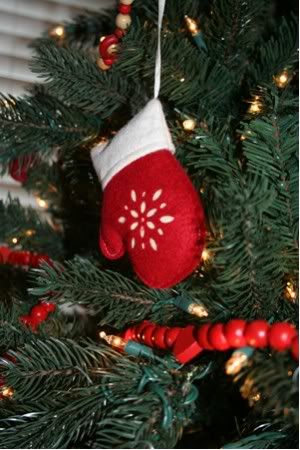 I have two of these sweet little red mittens. They're both lefties. Like all the other sets of mittens in our house seem to end up, for some reason.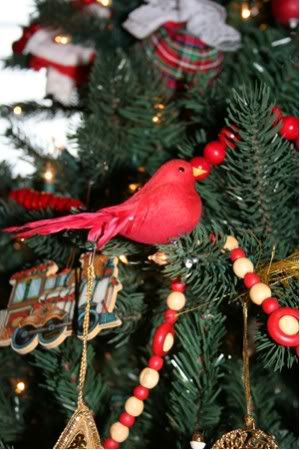 I
made these little cardinals
. I think I have 15 of them. Made 'em before I knew I'd ever live in Illinois, where, as good fortune would have it, the state bird is? Anyone? Anyone?
Yep. The cardinal!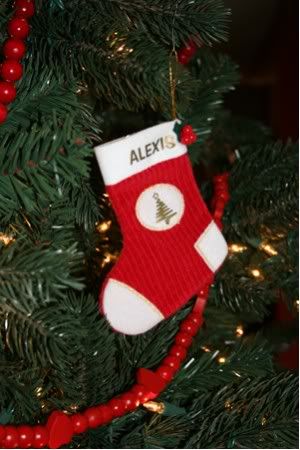 Bean's Sissy and Buddy went out shopping with their Dad on Christmas Eve, back when Bean was a couple of months old, and they came back bearing this little stocking for her, with her name on it. THEY WERE SO PLEASED WITH THEMSELVES. I love to remember the moment they held it up for my inspection, breathless with excitement, and how much it meant to me that they'd wanted to get it for their new baby sister. It's just a little stocking, but it just tugs at my little heartstrings when I look at it.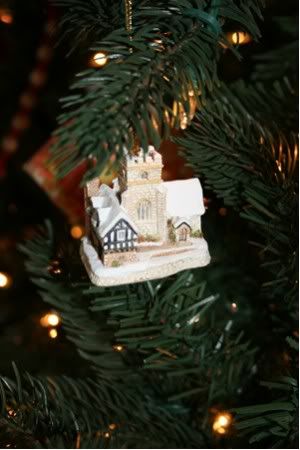 Someday, please Lord, may I live in this little cottage? Please? Oh, how I love me a Tudor. A snowcovered, cozy little Tudor cottage. That ornament? Is my dreamhouse.
And lastly, I wanted to close the proverbial loop and show y'all our little family train, now complete with its caboose, just as the FriedOkra family is complete with OUR little caboose, Mr. Peanutty Nut, sweet baby Mafew.
Thanks for all the lovely compliments about the pictures of our kiddos. I'll post the winning Christmas card photo sometime next week, after I've actually managed to send out the Christmas cards.
SWEAT SWEAT SWEAT!
Y'all can subscribe to FriedOkra's feed here.