So, I took time away from
FamilyFest 2008: The Basement Project
last night to hoof it on down to my friend Melanie's for Bunco night with the girls. Upon my arrival I was BESIEGED (okay that may be a bit of an overstatement) with "WHERE ARE THE PICTURES OF YOUR BASEMENT?" and "WHY AREN'T YOU BLOGGIN' THIS WEEK? WE GO TO YOUR BLOG EVERY DAY AND YOU'RE NOT UPDATING! KINDA GETTIN' TIRED OF THE SWUMP WATER, ALREADY, LADY!"
And?
Ain't nothin' wrong, people. It's just I've got my best friend home all day every day with me and I'M SUCKIN' THE EVERLOVIN' NECTAR OUTTA EVERY MINUTE HE'S HERE. That, and we've been down in the basement up to our armpits in shelving and shop-vacs, colorful foam floor tiles and storage units and TOYS, TOYS, TOYS, TOYS since Sunday afternoon.
When we make up our minds to do sumpm, we DO THAT SUMPM.
Behold the "new" Play Area. (Cue the angelic choir.)
TOYS! All in one place! Downstairs in RAINBOWLAND where they can be played with and distributed to the proverbial four corners without drivin' me OUT OF MY TREE!)
And the new Exercise Area.
What?
Oh. Yes, you're RIGHT. The treadmill isn't even plugged in, which may give you some idea of our commitment level to Exercisin' right about now. But hey, we're gearing back up to it.
Baby steps and all that.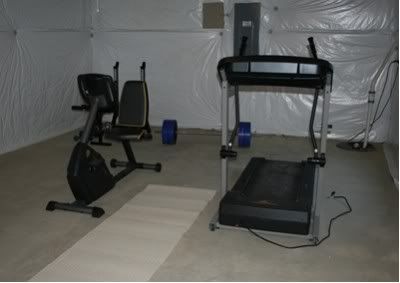 And the Storage Area.
Now I know. I
KNOW
. You're thinking, "Oh. Storage. Yippy." But believe me, people. THIS was the part of this job (besides layin' all those confounded rubber floor tiles which took Al about 24 man-hours and more diagrammin' and geometrifyin' than it took to build the dern
LOUVRE
.) that took the longest and makes our scalps tingle the most when we gaze upon it.
Because no, I didn't get to take any BEFORE pictures thanks to our bit-chomping excitement to get started, but for an imaginary BEFORE view, picture this: Take a stick of dynamite. Light the fuse. Toss the dynamite over there under the shelf with the carseat on top. Go ahead.
Now wait.
KABLOOEY!

Alrighty. Now open your eyes.
What do you see?
All that stuff on those shelves blown and scattered and tossed and covering the floor of the entire basement such that you could NOT negotiate a through-way to the HVAC to change its filter if the entire house was filled floor to ceiling with dust. It was TOTAL UNNAVIGABLE CHAOS. Christmas ornaments co-minglin' with baby sneakers rubbin' elbows with 22-year old grammar textbooks topped off with a sprinkling of craft-and-gift-wrap detritus and 120 lbs. of assorted office supplies.
Oh, it was UGLY. My basement has been a source of shame and humiliation for two years. People'd come into my house and make as if to open my basement door and I'd freeze in panic and BEG them not to descend into that HIDEOUS PIT OF ABOMINATION.
Some people heeded my warning. Some people didn't.
A few have never returned.
But NOW! Now, it's all sorted and stored and neat and tidy and many, many loads of unpictured stuff were dragged up the stairs and out to the curb.
YES MOM! We threw some stuff away!
I know!
Miraculous!
But the BEST thing about the basement - the nicest, most high-tech thing we installed, which will REVOLUTIONIZE basement occupancy for years to come and bring happiness to all, is our FANCY STATE-O-THE-ART PITCHER TUBE AND PIVOTIN' TV STAND that we can swivel to face the exercise area OR the play area, dependin' on which party's winnin' the
Battle of the Brain Rot
that particular day. Check it out, people.
VOILA!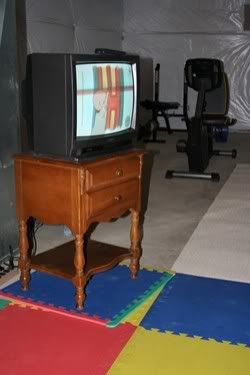 I know. Kinda takes your breath away, doesn't it?
Y'all can subscribe to FriedOkra's feed here.