I'm in trouble with Bean because I made her take her nap instead of going outside to play with the kids, who were across the street whoopin' it up at the time. Now they've gone back inside, so when Bean wakes up, she's going to be FURIOUS WITH MAMA because you know, I went out there and CHASED them, growling and frothy-mouthed, back into their house and told them
NEVER TO COME OUTSIDE AGAIN
because my job, it is to make my daughter's life as boring and miserable as possible.
So as a pre-emptive peace offering, instead of takin' this time to read a good book or take a shower or make up the beds or take a nap, I've been workin' on these: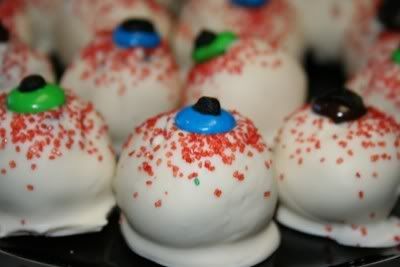 I know!
Eeeeeeeeeeeeeeew!
But
Mmmmmmmmmmmmm.
I'm calling these Oreo Eyeballs. They're a creepy take on the ever-popular Oreo Snowball, also know as Oreo Truffles, and they're pretty easy to make, alhough I will admit that working with almond bark is about as exasperating as plucking your eyebrows with a pair of kitchen tongs. (Not that I've ever tried to pluck my eyebrows with kitchen tongs, mind you. Have you?)
Here's how you do it.
Oreo Eyeballs
Ingredients:
1 18 oz. pkg. Oreo cookies
8 oz. cream cheese, softened
24 oz. vanilla almond bark
M&Ms
Red sugar
black frosting (I bought the kind in a tube.)
Directions:
Process cookies into crumbs in food processor. Add softened cream cheese and process until well-blended. Roll into balls a little bigger than a nickel. (Mine are too big, in my opinion.) Chill for at least an hour, in several small batches.
Melt almond bark in microwave according to package instructions. Remove one small batch of Oreo balls from the fridge and begin carefully dipping them into the almond bark. Allow excess bark to drip back into pot. Carefully plop eyeball onto wax paper and sprinkle liberally with red sugar. Mush a colored M&M into the center of the eyeball. Repeat about 9,000 times until you think if you see another Oreo ball or M&M you'll
BARF
. (Trust me.)
Finally, add black frosting pupils to eyeballs.
Easy, right?
Here's what Bean's gonna see when she wakes up and comes down from her nap.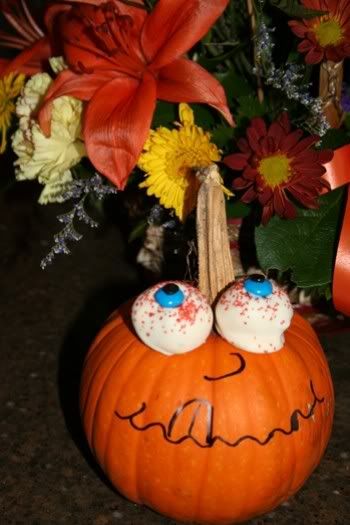 Man, I hope these get me off the hook!
Okay, time to clean up the kitchen. I feel like I'm bein' WATCHED.
Y'all can subscribe to FriedOkra's feed here.