Next time I'm whinin' about how tired and put out I am by these chiddren of mine, y'all send me back here, okay?
Would you LOOK at this boy?
Sometimes I have to grit my teeth to keep from biting him, he's so cute!
Ooof!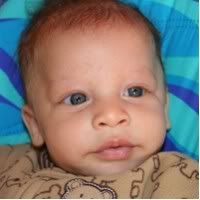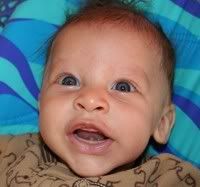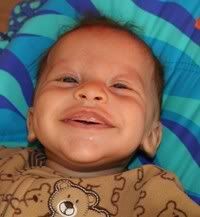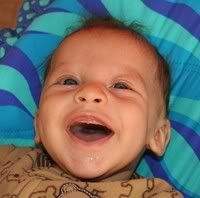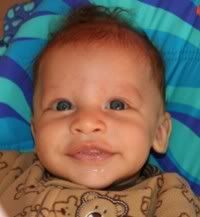 We had a great weekend here, y'all. My husband, bein' the saint that he is, took care of Peabody ALL WEEKEND LONG, so Bean and I got to have some girl time together (we went out to lunch and then shopping, of course!).
As we sat together in a booth (she sat beside me), eatin' our sandwiches and listenin' to some live acoustic guitar music, my heart got all happy and achey and my eyes welled up with tears as I looked over at my sweet, sweet daughter, clearly delighted to be with just little old me, sharing chips and a drink and chatting about nothing in particular.
I looked at her face, her beautiful, sweet face, beaming ear to ear with excitement and fun, and I grabbed that child up close to me and kissed her cheeks. Then her nose. Then her forehead and her chin. And then, as she giggled and wiggled in my arms, I squoze her REALLY REALLY TIGHT for a long time. As long as she'd let me.
"MA-MAAAAA!" she laughingly exclaimed, "What was all THAT for?"
"I just love you so much Bean. I love spending time just the two of us like this. You're the coolest girl I know, and I'm so amazingly lucky that I get to be your Mama." (Choke choke swallow sniffle blink blink.)
"Aawwww! I love you too, Mama. Looks like we must be best friends!"
"Looks like, baby. Looks like." (Sob.)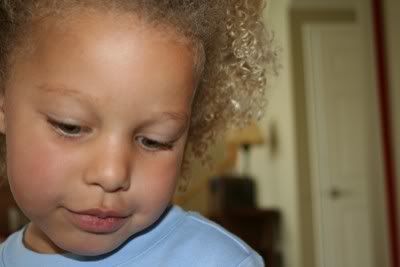 Seriously. These two are the best things that ever happened to me. And their little Daddy makes three.
Above all else, I am so, so grateful for these blessings.
Thank you
Kelly at Love Well
for this reminder:
Summing it all up, friends, I'd say you'll do best by filling your minds and meditating on things true, noble, reputable, authentic, compelling, gracious -- the best, not the worst; the beautiful, not the ugly; things to praise, not things to curse. Put into practice what you learned from me, what you heard and saw and realized. Do that, and God, who makes everything work together, will work you into his most excellent harmonies.
- Philippians 4:8-9, The Message
Y'all can subscribe to FriedOkra's feed here.