Our Big Ol' Preschooler
Her Posse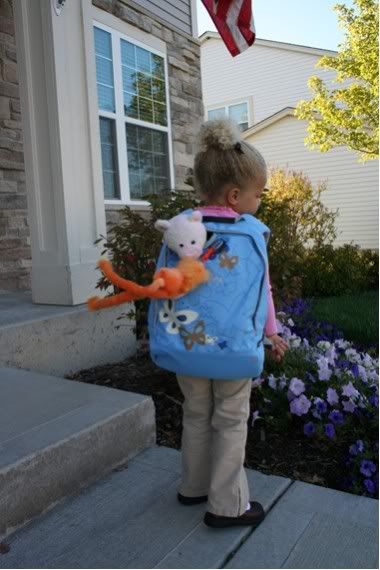 Yes, that's right. My little Beany Bee Bop loaded up her backpack with a change of clothes and her two best furry pals and became a REAL Big Girl today. Daddy, Mr. Peabody and I escorted her into the building, gave her kisses and hugs, and walked away as she happily put her things in her cubby, hung up her coat, and scurried off to play with a VERY (intentionally, I'm sure) non-chalant, "Bye Mom, Bye Dad, Bye Peanut."
I didn't cry. Are y'all proud? Actually, I wasn't even sad. Because even though I still plan to homeschool my little Okrabuds starting in a year or two, this foray into preschool feels right for Bean at this stage in our lives, and I know she's truly going to love it. She needs some time and experiences all her own right now. The only things I felt walking away this morning were giddy excitement for her and a huge sense of pride at how she's grown up and become (acceptably) independent and ready for this, and I've been right there with her throughout the process. And dang y'all, that just feels GOOD.
I can't wait to pick her up and hear all about it. I can't wait to tell her how proud I am of her and HOW STINKIN' MUCH I LOVE HER.
Oops. Did I say I didn't cry?
Guess I called that one a little early.
Sniffle.
In other, smaller milestone news, guess who wore his first little pair of BLUEJEANS yesterday?
Mr. Peabody! And he wore a pair of jeans that didn't fit Bean until she was three months old. My boy? He's GARGANTUAN, people. How did Al and I even MAKE this big, strapping lad?
Anyway all day long I was thinking, "I really should take a picture of the boy in his jeans for the blog!" but DUDE! I was too busy gettin' my
bee-hind
and a slimy little wax paper bag full of my innards handed to me on a silver platter by my chillun to go get the camera. Seriously! If I'd known yesterday was coming I'd have REVELED in last Thursday, because last Thursday was a lighthearted romp on the spring training practice field compared to the grid-iron callibre beatin' I took yesterday. I had my hand on the phone to call Al and BEG him to come home early and save me startin' at about 3:00 PM.
But then I imagined how ludicrous that might sound to a man who works a 65 hour work week wearin' a silly little scrap of fabric tied so tight around his neck he can't swallow right, and I sucked it up.
I may be gettin' kicked upside the head lately, but I do it in the comfort of my favorite jeans and a v-neck sweater, and I can swallow anytime and anyway I want to.
GULP!
Y'all can subscribe to FriedOkra's feed here.