So.
The four days alone with the kiddos last week? 'Bout 50-50. Which, hey! That's not too bad, all things considered, wouldn't you say?
Thursday nearly killed me. Yeah, at one point Thursday I (quite accurately) sensed it'd come down to THEM or ME, and I looked up from the huddle to call in reinforcements from the bench on the ME side and found said bench empty. Frantically scanned the sidelines further to spy my entire team curled up in the fetal position under the Gatorade table, shivering and crying and hiccuping out,
No, Coach, pleeease! Please do not send us back in! We're getting clobbered out there! They're ANIMALS!
Sadly the initial seconds of the first quarter had barely ticked by at the time, and I played the whole rest of the game alone with my jersey pulled up over my head as my only form of protective gear.
Oh, Thursday was one for the history books, indeed.
I can laugh now, but I think that is in large part thanks to the many, many shuddering blows to the head I sustained throughout the course of that particular bummy whuppin'.
The good news is, Thursday also marked the end of Mr. Peabody's fourth week on the outside, so I documented a peaceful moment or two of the day in pictures.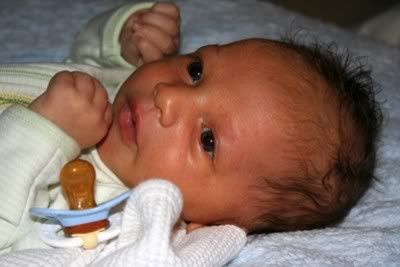 Aunt Jackie says he's looking much more alert this week. He is definitely awake more than he has been.
Yeeeeesh!
But he is THO CUTE! OHMYDOODNESS!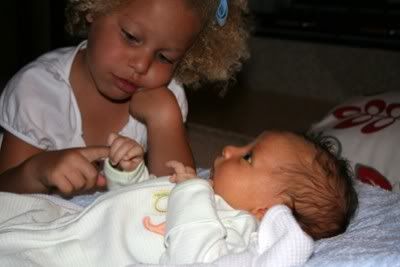 Bean loves her baby brother so much. I am absolutely amazed at her complete acceptance of him. He gives her so much joy already. I KNOW she will be the recipient of his first big gummy smile.
And I wouldn't have it any other way.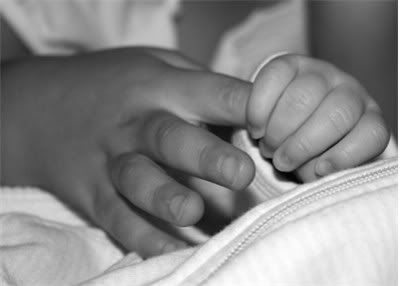 My heart melted into a puddle of butter when I saw this shot.
Today marked the first occasion upon which it fell solely upon my shoulders to get both chillun and myself to a scheduled activity. I've been training for it for a week, shaving minutes off the previous day's time by tweaking this or that in the routine. Today, I am proud to report, we were all up, clean, dressed, shod (except Mr. Peabody) and out the door at 8:45 AM. We walked around the block and came back inside because we didn't actually have to BE anywhere until 10:45. But you see,that left me with two hours worth of margin to make room for the unexpecteds that I fully expected.
Of course you KNOW that the first day I'm called upon to take both small people out and about, juggling the loose three-year-old, diaper bag, carseat, stroller, Peabody, purse and Snugli (because Mr. Peabody doesn't leave home without it, ever, such is his need to be affixed to my front side with his head near the food source at all times), would be the day that, after what has been reported as the worst late-summer dryspell on this part of the prairie in 75 years, the sky would open up and rain like a cow peein' on a flat rock (My Dad taught me that sayin' - is that not some imagery? Whew!) so that my particular three ring circus of getting us all out of the car and later back into the car would take place oh, pretty much completely under water?
Yeah.
Still, we made it on time and soggy or not, everyone behaved beautifully and now we're home and have all had lunch and miracle of miracles both kids are napping and I'm fixin' to to sip a cup of hot tea and have a big ol' happy gloat while I can.
I firmly suspect the opposing team will have studied the film from today's game and'll be prepared to whup me up one side and down the other again tomorrow.
Y'all can subscribe to FriedOkra's feed here.