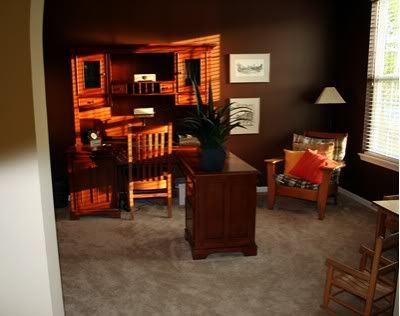 That's our new desk. You remember, the one the Backstreet Boys delivered back in May and were kind enough to teach me
which end of the power cord goes into the wall
while they were here? Yeah, that desk. I'm sitting at that desk right now, typing away on the trusty year-old laptop
Al surprised me with
after the Great HP Implosion of 1997. But I took the picture in the evening yesterday as the sun set to the west, and this morning of course it's gettin' up way too early, just like I am, on the other side of the bed from where it lay down, while the world sleeps around the two of us and the clock on the desk ticks loudly and resolutely toward the start of another summer day on the prairie.
Mornin' world!
I'll be headed out this mornin' for a routine OB appointment that, because of my Advanced Maternal Age (which my doctor pointed out gets charted as "elderly" - OHMYGRANNY I'VE BECOME MY GRANNY)(I laughed at the time but
dang
, y'all, really?
Elderly
, at 40? Haven't the chart-code maker-uppers heard
40's the New 30
etc., etc.?) includes a non-stress test and a sonogram in addition to the good old 36-week internal exam.
You know what always makes me laugh when I go to the OB for an internal exam? Always, because it never fails? That I'm going in with the full knowledge that the doctor's going to make herself quite familiar with all of my South-of-the-waistband anatomy, making full use of stirrups and bright lights and instruments and what have you. There'll be no stone un-turned down there when she gets done, yet Mama always very carefully folds her unmentionables and tucks them surreptitiously under her little pile of outer clothing.
BECAUSE WE WOULD NOT WANT THAT SAME DOCTOR, THE ONE WHO'S ABOUT TO GO SPELUNKING IN OUR HINTERLANDS, TO SEE OUR UNDERPANTS.
Blink.
-----------------
Got a few more pictures for you, just for fun.
Another favorite spot to blog.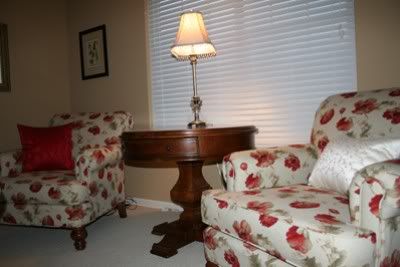 (The new bedroom chairs and infamous table that required the
emergency door-frame-ectomy
to get it in the room.)
And Peanut's little room, almost finished except WHAT TO PUT ON THOSE WALLS, PEOPLE?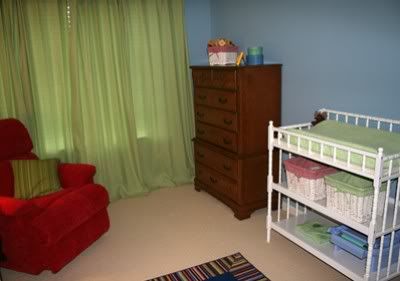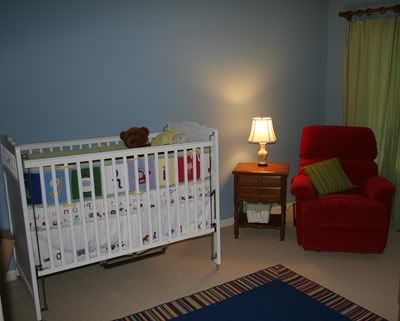 ----------------------
Today's the day my first official Monday post,
Here Stands A Mother on the Edge. Of Everything.
appears on 5 Minutes for Parenting.
I wrote it Saturday, sitting at this desk, as Al sat in the chair over there in the corner reading a textbook. When I got to about the fifth paragraph and began sniffily-snorting and wiping away tears, he looked up.
Are you -- CRYING?
Uh-huh. (Wipe-wipe, eye-fan eye-fan.)
I thought you were blogging!
I aaa-aaa-aaa-aaaaaam.
Well, are you OKAY?
Ye-eee-eees. (Sniffle)
And he shook his head and went back to reading. He read the post later and kept pointing and asking me,
Is THAT the part that made you cry? Oh, wait, no, THIS PART?
I still can't even READ one sentence in the post because it sends me right over the edge. And I WROTE it.
I don't know why I do these things to myself, people. I'm a glutton for punishment, is what I am.