Last week I mentioned I'd be posting an interview with Karen, the designer of
FriedOkra's
new look. It took a little longer'n I thought it would to get it ready, because Karen's been busy with a rush of new design clients and her new on-line radio show,
Behind the Blog
(if you haven't listened yet to the first show featuring Shannon at
Rocks in My Dryer
, put it on your agenda for, like, YESTERDAY) and I've been busy whining, waddling and sweating.
But we both took a time out from our respective busy schedules early this week so we could bring you a little bit of background from me and insight from Karen on the design process in general and some of the specifics of creating the lovely scenery around us.
A little while back I answered a question from the
Reader Mail Bag
about how I started blogging and how I titled
FriedOkra
. The mental process of answering that question kinda started me thinkin' about how I'd like the 2008-2009 version of the blog to look and feel to me, and to y'all. I'd promised myself that if I reached some of my bloggy little goals by July, I'd treat myself and everybody who reads
FriedOkra
to an all new look.
I've blogged here since July 2007, so not even a year yet, but I love this place and I see myself sticking around for many, many bloggiversaries to come. This current FriedOkra feels like a big old wrap-around porch to me, with an old swing painted coat after coat of shiny white, a lazy brigade of rocking chairs, a rag rug or two and cold, sweet tea served in Mason jars with lemon and a sprig of mint.
Yeah, that mental image planted a pretty sturdy little seed in this addled brain of mine. Then I had the daunting task of deciding which of the
talented
blog
designers
I know
and love I should ask to help me coax that seed into a lovely blossom. It was this header design from Karen's own blog (last summer's header, I think) that kept calling me back for a second, and third and fourth, and hundredth look. I loved its clean, fresh, open feel and creativity. She seemed to have captured in that header the exact characteristics I hoped for in
FriedOkra's
new look.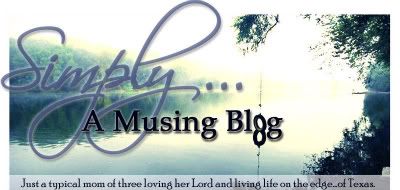 And I may be blonde, and even a little bit slow, but most of the time you don't have to hit Mama over the head with a sledgehammer. I placed my order through
Karen's design site
. The rest, as they say, is history.
I hope y'all enjoy this little conversation:
I'm curious. I came to you with a lot of very strong ideas of what I wanted in the new design.
STRONG
. Did you find that to be a help or a hindrance to your design process? What about your "perfect client?" What would that client already know before she begins working with you, and for what elements of design would you prefer to have full control and creative license?
I find it extremely helpful when the client has ideas about their design, as in your case. It takes a lot of the guesswork out of designing and makes the actual process flow more smoothly than someone who says, "I'm really open – do whatever you want," because without knowing someone, it's sometimes difficult to capture their style or personality without spending a lot of time revision. I try to make sure that I ask very specific open-ended questions so people will describe things they'd like to see. As for the "perfect client" – it would be someone who has an idea about the colors they'd like to see, has already looked at other website to get their ideas about likes/dislikes, and is open to giving up control and letting me design for them. And of course, I prefer to have full control and creative license over everything! But knowing that is not always going to be possible, I always appreciate it when the client is just open to my suggestions when they've given too much direction and I think the design isn't going to look good if I do it their way. Ultimately, I want a happy client, and that's the goal – but my name is going on it too and it's important to have set standards.
I know the photo
we
selected (
ahem
) for
FriedOkra
presented a few challenges for you in terms of making it work as a header. Why were you willing to move forward with that photo and what steps did you take to transform it into the masterpiece it is today?
Ah yes, the photo. I take full responsibility for that one. I chose that photo because at 800 px wide by 1200 px high, it was more than big enough for your header. I was simply thinking I would just crop out the windows and use the swing, but when you made such a fuss over the arched windows and I had already scoured the internet's royalty-free sites and discovered there weren't too many empty porch swings out there, I decided to do whatever it too to make it happen. In all actuality, I felt guilty for showing you the "perfect" photo and then not being able to deliver on it. That's why I went ahead with it.

To transform it, I basically edited it in Photoshop® – lots of cloning and stamping and copying and pasting. The rest are ancient Chinese secrets and I can't tell you or I'd have to kill you.
You took my meandering thoughts about the background pattern and turned them into sheer perfection. I believe I said,
Cornflower blue, purty, but not too busy.
and looky what you did! What was your process and can you tell my readers who've perhaps overlooked a few nifty subtleties about the pattern, and how you customized it so it's just right for
FriedOkra
?
The background was born out of sheer desperation, to be honest. I had tried several purchased backgrounds, but none looked right. So I created it in Photoshop™ and tried to emulate the arch in the window as well as pull in the okra element. It's not quite an okra, but it's close. I was hesitant to for you to see it, because it was nothing like what you described you wanted. But I just took a deep breath and once I put it on, I thought to myself, "there's nothing else that will even come close."
What's your favorite part of the design process for
Mommy blogs
?
The reaction and thanks I get once they see their finished blog. It's a rush for me and makes me feel as though I've actually done something worthwhile. I also love interacting with and meeting new bloggers. I've discovered quite a few new blogging friends since I started designing and I've got way too many blogs in my reader now because of it.
What's YOUR favorite part of the new look here and why?
You're going to laugh, but I'm most pleased with the tabbed navigational menu up at the top. I was tickled that I could do something for you that wasn't like everyone else's. I love how light and airy the new look is. It fits your personality (not saying you're not a person of substance, because we all know that's not the case) and it makes me want to come over and sit in the swing with you and share a glass of lemonade. You were exactly the right kind of client, because you had a vision and were able to communicate it to me so that I could get it on the page, but you were still open to letting me experiment.
Bonus question: Why does my phone never ring except during naptime?
That is the 6 million dollar question, my dear. We may not ever know until Jesus comes back.
Indeed we may not.
Thanks, Karen.