FINAL UPDATE WITH AFTER PICS! 5:22 PM
See below each before shot (from earlier) (down THERE, I mean) for the AFTER SHOTS of each room, except the kids' bathroom, because Dingbat Mama doesn't want to risk re-installation of shower curtain rod. Fears she will mess up pretty new paint, which is the same color as Peanut's room. Besides, Overprotective Daddy would have small coronary were Dingbat Mama to attempt re-installation. Overprotective Daddy thinks Dingbat Mama will be killed one day in a falling-off-side-of-tub accident while she does something to shower curtain. Overprotective Daddy knows Dingbat Mama pretty well, doesn't he?
Will show you that room later, after Overprotective Daddy re-installs shower curtain rod himself as Dingbat Mama stands by with hands folded and feet planted firmly on floor.
------------------------
Update 3:00 PM
Kid in bed exactly at 2:00 PM - I even had time to put her room "back together" before I tucked her in. Love Tom the Painter's willingness to work with a Mama to get the kid her nap.
Lots of inning and outing and to-ing and fro-ing from front door to truck. Think we are wrapping up now. Have written check. Ready for them to SCRAM so I can reorganize my STUFF and take y'all some after shots.
Keep refreshing. Wouldn't it be cool if I could have this whole project signed, sealed, delivahed before kid is up from her nap?
Crosses fingers again.
-------------------------
UPDATE: 2:00 PM
Told Tom the Painter I'm live bloggin' the painting. Blank stare. (Tom apparently not a blogger. No tip for him!)
------------------
UPDATE: 1:20 PM
Looks to be nearly done already. Amazing!
All rooms thumbs up except guest bedroom. That one growing on me. Bold color. Really rilly bold.
Holding breath/crossing fingers.
Kid will be in her "new" room for nap at 2 PM. That is a GOOD, GOOD thing.
---------------------------
UPDATE: 10:24 AM
Color in master bedroom - GREAT!
Bean's room - CHECK!
Guest bedroom - OHMYGRANNY! (Hyperventilates.) It was a risky move.
I'm askeert y'all.

--------------------------
Tom-the-painter (that's what he calls himself when we talk on the phone; I didn't name him myself) and his crew arrived 30 minutes ago and nobody's throwin' up yet. We'll consider that a victory. They've now officially seen the two FriedOkra occupants in residence today healthy, bright-eyed and cheerful, so if we go downhill over time, at least they've got their early-morning memories to cherish, right? And! If we can just make it through today without catching the bug, we'll get to barf in colorful bathrooms, instead of builder-grade white ones!
I'm just tryin' to look on the bright side, here, people.
Since it's Friday and it's summer and y'all are all out havin' fun in the sun and probably won't be relyin' on me to provide you with ACTUAL entertainment, I've decided to LIVE! BLOG! The Upstairs Paintin' Project! The beauty of hiring somebody else to do the painting is that, you know, it'll get done in a reasonable amount of time. No, let me be completely honest here. The actual beauty is that it will get DONE. Period. Mama don't paint unless Nana is here to badger her constantly about it.
(And do most of the work, including washing out the brushes and rollers, who's kiddin' who?)
((Because that part is
almost
as awful and endless as cleaning up purple vomit in the middle of the night.))
Nana's busy doin' her own house right now, so Mama is on her own. So Mama got out her checkbook. BING, BANG, BOOM. Done.
Nana, though, will enjoy the LIVE! BLOGGIN'! of the painting, I know. She's
all up in
a painting/redo project, that one is. And I must say, if this were YOUR blog, and YOU were documenting the painting of your entire upstairs in one little day, I'd probably sittin' here at my computer hittin' refresh every sixteen seconds, because this apple? Did not fall too far from the painting/redo project-lovin' tree, no she did not. HGTV much? Um, yeah. (Hangs head.)
Hope y'all can find a little joy in this as well.
On to The Before Pictures!
Here's the guest bedroom, at the top of the stairs: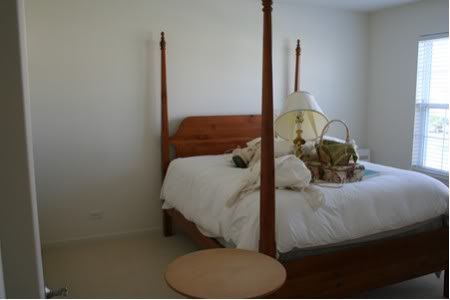 AFTER, wearing Sherwin Williams' "Raindrop"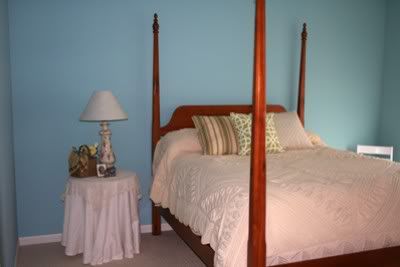 And Bean's room, across the hall: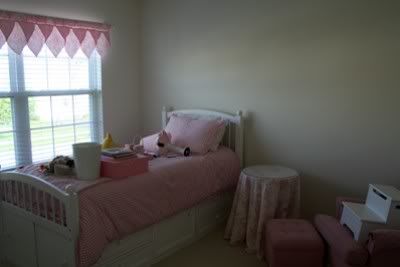 After, wearing Sherwin Williams' "Sandtrap"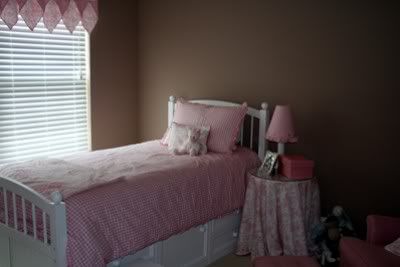 This wall of B's room will be a SPECIAL, BEAN-APPROVED ACCENT COLOR:
AFTER, wearing Sherwin Williams' "Childlike"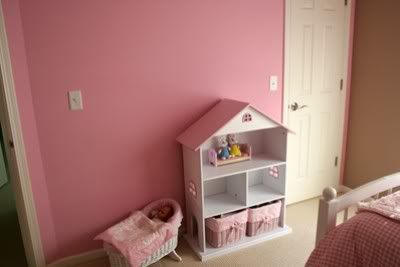 Gratuitous third picture of Bean's room, because it's Just! So! How I Wanted It!

And this will be Peanut's room. I might wait and reveal this one after it's all done. Aunt Joy, do you recognize that furniture? That furniture belonged to my Grandmama and Grandaddy FriedOkra, y'all. I inherited it when I was 23 years old. It's older than I am, and it looks darn good. (Gets plenty of sleep, drinks lots of water and stays out of the sun, I guess.) Never even been refinished, although it could use it. Anybody up to that task? No? Aw, c'mon!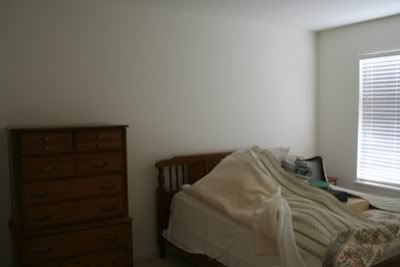 AFTER, wearing Sherwin Williams' "Respite"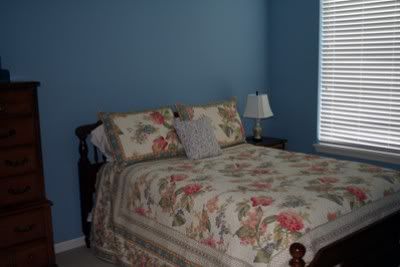 Here's the master bedroom. You can see part of our new table, the one that required doorframe-removal, over there on the right against the window. See it? Good thing I like it in this room, 'cause it ain't goin' anywhere else anytime soon, you know?
After, wearing Sherwin Williams' "Dromedary Camel" (Nope, not kidding!) (Chews cud.) CAMEL, I said.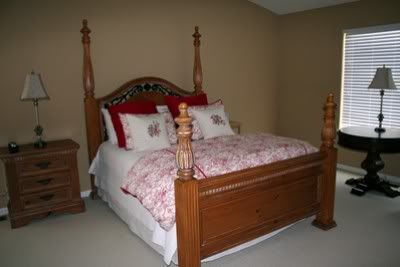 And here, friends, are the bathrooms. I know this is the part you've been waitin' for!
Kids' bathroom:
LATER.

And the master bath: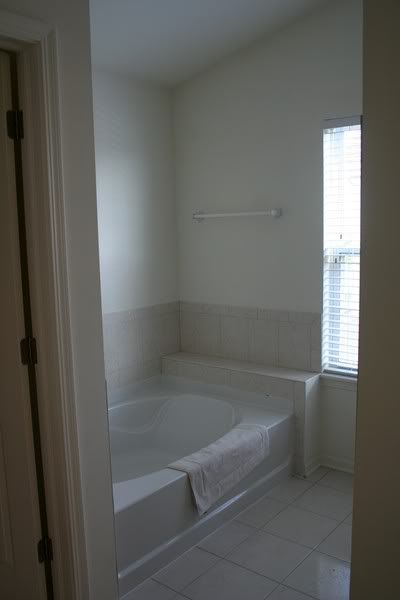 AFTER, once again featured in a lovely shade of Sherwin Williams' "Dromedary Camel":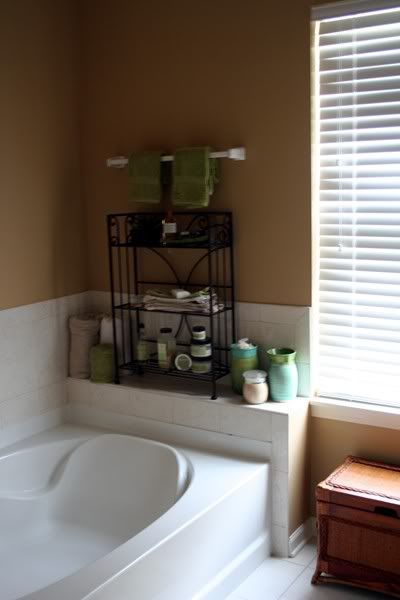 You understand that usually we have STUFF in our rooms, besides all piled up on the beds, right? I took all these shots this morning after I finished clearing everything out. When I do the after shots, I hope to have it all put back in place so you can see the rooms nearly complete, except for wall-stuff, which is another project for another time. I
really
want to do a lot of it myself, and it may well be two years or more before I'm in the right place time-and-energy wise for that. We'll see. Mebbe turn out I make one or two trips to good old Homegoods and call it a day.
I'll be back with updates.
Keep hittin' that refresh button - I know you're all up on 'em pins and needles, people.
WHAT THINK Y'ALL? The guest bedroom (top photos) -- is it too over-the-top?