(Sorry I'm a little later than usual with this one! The second half of the day yesterday kinda got away from me and I'm playing catch-up this morning -- F. O.)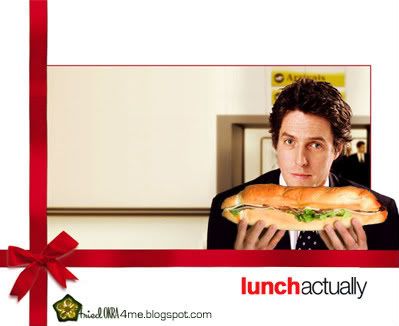 WHEEEEEEEEE! It's sandwich day, y'all, and I woke up hungry. Which is nothing new. But lemme tell you I am PINING for some pumpernickel bread slathered with butter. And the whole week of thinkin' about sandwiches has led me to eat things I from which I might normally demure, like a diner Ruben sandwich Tuesday after my dental appointment and a homemade muffaletta stacked high with ham, salami, cheese and olives yesterday. I can't wait to see your favorite sandwiches and I'm hoping someone will share some authentic regional specialties like po' boys, muffalettas, Louisville Hot Browns, Philly cheesesteaks and the Chicago staple, the Italian beef. If nobody does that one, I have a recipe I'll share sometime soon.
Now sandwiches aren't really a recipe-box staple around here, because they tend to be very "eyeball it" vs. precision-measurement foodstuffs. So in my (loosely-defined) recipes below, you're likely to need to adjust quantities to suit your own tastes. Me, I like my sandwiches gooey and drippy and messy with stuff falling out and mayonnaise, sauce and juices running down my elbows. That's just who I am and I've grown to accept this in myself. Others tend to prefer a sandwich to be drier and more controllable, and that's okay too. So adjust my recipes as you need to get to the perfect State of Goopiness for you. I can live with that.
Classic Summer Damater (Tomato) Sandwich

This sandwich, y'all. OHMYGRANNY. I put it in the Number One spot because it is truly Numero Uno in my opinion. There is no sandwich better than just a plain ol' tomato sandwich, provided, and this point cannot be overstated! that you've got yourself some REAL tomatoes, fresh out of the garden, not the produce department.
Homegrown, ripe red 'maters, right off the vine and still warm from the sunshine
Hellman's Mayonnaise (or Duke's, if you're in the South)
Fresh, stick-to-the-roof-of-your-mouth white bread
Carefully peel the tomatoes and slice them in about 1/2" thick rounds. Spread a goodly coating of mayo on one side of each slice of bread. Stack plenty of tomato slices on one slice of bread and sprinkle liberally with salt and pepper. Slap on the lid.
Open-Faced Soupy Pizza Sandwich (Toddler Pizza)

1 can tomato soup
1 soup can grated cheddar cheese
White bread, toasted
In a small saucepan, heat soup, undiluted until hot. Stir in grated cheese and mix until melted into soup. Spoon soup and cheese sauce over toasted white bread. Cut into small pieces for tiny toddler fingers. (Big kids, including 40 year old kids, love this one, too. Instant comfort food.)
Cucumber Sandwiches
For every day sammies, just use whole bread like you would any other sandwich. For fancy finger sandwiches, use a pretty cookie cutter to shape the bread in fluted circles or flowers, hearts or diamonds, etc. and then proceed with the spreadin'.)
3 oz. cream cheese, softened (the whipped kind works great, too)
1 Tbsp. Ranch dressing mix
2 cucumbers, peeled and sliced very thinly (like see-through thin)
mild flavored wheat bread
dried dill weed (optional)
Mix dressing mix into cream cheese and let stand for an hour or so. Spread a nice layer of the cream cheese on one side both slices of bread. Layer cucumber on top, to about 1/2" thickness. Sprinkle cukes with dill, if desired, and top with lid, cream cheese down. Keep chilled until eating.
Egg Salad Sandwiches
6 hard boiled eggs, peeled and grated
Hellman's Mayonnaise
1 tsp. yellow mustard
2-3 Tbsp. sweet pickle relish, plus 2 tsp. juice from the relish
fresh prepared horseradish
salt and pepper
bread
Mix mayo, mustard, relish and juice, horseradish and salt/pepper into eggs gently. Start with about 1/4 cup of mayo and add more until salad reaches your desired consistency. Spread on bread. Top with lid.
Pimento Cheese Sandwich
I cheated a little. My Mom's recipe and an entirely-too-comprehensive tutorial, with pictures,
here
.
Sausage and Pepper Sandwich
My parents used to make these at home when I was a kid. Don't think I really liked them much until I hit my teenybopper years, but now on occasion I just get a total hankerin' for them. So simple, so bad for you, so so soooooooooo good. The trick is to use really good sausage, of course. And load on the mayo. (She said guiltily.)

1 lb. hot Italian sausage (mild would work fine, too) in casings
1 green bell pepper, diced
1 onion, diced
olive oil
Mayonnaise
baguettes
Brown sausage in 1 Tbsp. oil until done. Remove from pan and set aside. Cook pepper and onion in pan drippings over med-low heat until tender. Slice baguettes in half and toast lightly in broiler. Spread mayonnaise on each side of sliced baguettes. Cut sausage into bite-sized pieces and return to pan with peppers and onions to reheat. Place sausage, peppers and onions on bottom halves of baguettes and top with baguette tops. Slice and serve.
Summer Veggie Sandwich

My mom made these for us in the summer time, when the garden was going CRAZY and we had too much of everything and needed to use it up however we could.
Thin sliced yellow squash
Thin sliced zucchini
Thin sliced onion
Peeled, sliced tomato
baguettes or other hard sandwich rolls
mayonnaise
ground oregano
salt & pepper
Monterrey Jack or Pepper Jack cheese, sliced or grated
Turn on broiler. Layer bottom half of sliced baguettes or sandwich rolls with mayonnaise then fresh veggies and onion. Sprinkle liberally with salt, pepper and oregano. Cover top halves with cheese and leave separate. Place tops and bottoms of sandwiches on oven safe pan and place under broiler until cheese melts and is gooey and golden. Remove from broiler and marry tops to bottoms. Slice and serve. (This is also good with a simple vinaigrette or bottled Italian dressing drizzled over the veggies before broiling.)

Hot Ham & Cheese Roll Sandwich
This one's from the Garden Club Cookbook from my home town, circa 1986, which was illustrated by my long lost Junior High art teacher Ms. Jeanes. Oh how I LURV this cookbook. I'd say it's among my 5 favorites!
2 pkgs. Pepperidge Farms Dinner Rolls (These were originally made on the little tea-rolls by Pepperidge Farms, but my friendly local Pepperidge Farms rep, whom I hassled unmercifully at the supermarket last year around Superbowl Time, says they stopped making those years ago and where have I been? So just get some GOOD dinner rolls that are in a rectangle shape and still all connected together. You'll see why in a minute. Just hold your horses, Gertie.)
8 oz. sliced Swiss cheese
8 oz. thin-sliced deli-ham
1 stick butter, melted
1 1/2 Tbs. poppy seeds
1/2 tsp. Worcestershire sauce
1/2 tsp. prepared mustard
1 Tbs. grated fresh onion
Do not break the rolls apart. Instead, slice them ALL in half together through the center, separating the tops from the bottoms. One huge dinner roll, sliced open. Got me?
Okay now, mix the butter and the next four ingredients together til they're all smooth and saucy. Kinda drizzle about 1/4 of that mixture over the bottom half of your giant roll and spread it around with a knife or a spreader or your clean finger if nobody's looking, then layer on the ham and cheese evenly over the whole thing.
Next, put another 1/4 of the sauce on the inside of the giant top and spread. Plop the giant top atop the ham/cheese on the giant bottom and then pour the remaining sauce over the tops of all the rolls. Wrap in foil, sealing edges. Refridgerate overnight. Prior to serving, bake, still wrapped in foil, for 15 minutes at 350°. Remove from oven, unwrap and slice into individual rolls and serve warm.
The next two recipes are a couple of my favorites from The Coach Factory Cafe, a beautiful little restaurant on the site of The Peace Center for the Performing Arts in downtown Greenville, South Carolina. I got a job doing the desktop publishing and marketing for the Peace Center just out of college at Furman, and on top of rubbin' elbows with famous entertainers on a daily basis, one of the best perks of the job was the occasional lunch in this beautiful old restored three-story brick building where, yes, stage coaches had been built back in the 1800s (if memory serves). I also loved being able to get to know "Chef" and the staff at the restaurant, and watch them create and serve the culinary delights for the Center's patrons and the downtown lunch crowd. If being raised in the South wasn't enough to make me a die-hard foodie, that gig at the Peace Center and those afternoons at the Coach Factory served well to push me right over the edge. The original cafe has long since closed and recreated itself several times, and the three-story building and kitchen now (well, at least the last time I was there) serve as a catering outlet and banquet/party space for Center functions. I'm glad I was there to experience that little cafe - it remains a favorite, even if just in my memories.
Monte Cristo Peanut Butter Strawberry Sandwich
Thick sliced white bread
Peanut butter
sliced fresh strawberries
2 eggs
1 Tbsp. cream or half and half
1/4 tsp. cinnamon
1/4 tsp. vanilla extract
butter
powdered sugar
Spread each slice of bread with a layer of peanut butter. Layer sliced strawberries over the peanut butter on one slice, then top with another peanut-buttered slice. In a shallow bowl, whisk eggs, cream, cinnamon and vanilla together until eggs are well-beaten. Heat butter in a skillet until melted and bubbling. Carefully dip sandwich in egg mixture on both sides and around edges, then drain off excess egg. Place sandwich in skillet and brown on each side as you would French toast. Remove sandwich from skillet and place on serving plate, sprinkle liberally with powdered sugar, slice and serve warm, with gooey peanut butter and strawberry juice oozing out onto plate.
Smoked Turkey Salad Sandwich
1/2 lb. delicatessen smoked turkey, in 1/4" slices
1/2 cup grated fresh zucchini
1/2 cup grated fresh carrot
1/3 cup red onion, finely diced
1/3 to 1/2 cup Mayonnaise
1 tsp honey
Good quality curry powder (yellow)
garlic powder
salt/pepper
hard sandwich roll, pumpernickel or dark wheat bread
Cut turkey slices into julienne strips and then cut strips in one-inch segments. Mix mayo, honey, curry powder, a dash of garlic powder and salt/pepper together. Place turkey, zucchini, carrot and onion in a mixing bowl and pour dressing over. Mix well. Chill. Serve on sandwich rolls or dark bread. I loved alfalfa sprouts on mine. Also makes a nice chilled salad plate, over mixed greens with vinaigrette on the side. Oh, and if you are feeling really adventurous, throw in a handful of raisins - they add sweetness and variety, as well.
Alright, it's your turn! Make me a sandwich, y'all. I'm starved.
Link to your sandwich recipe post below.