Happy Chocolatefest, y'all! I hope everybody ate salad all day yesterday because this post? Is ALREADY going straight to your thighs. Or your hips. Wherever the really good stuff goes on you is right this very minute getting bigger and bigger and BIGGER. But I promise it's all gonna be worth it.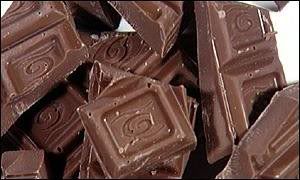 And we can all go out for a long
walk
run when we get done gorging ourselves. Well, y'all can go, anyway. Looks like I'm gonna be stuck here
lickin' out all the bowls
doing the dishes. Ahem.
Hang on tight to your cup of coffee or your glass of ice cold milk, y'all, you're now entering the
Decadent Zone
.
Jell-O™ Peanut Butter Chocolate Parfaits

Some boy made these for me a long time ago. Not the one who kissed me, though. It was easy enough for a boy to make, and it has chocolate and peanut butter in it. What more do I need to say, really?

3 Tbsp. milk
3 Tbsp. peanut butter
1 cup thawed COOL WHIP Whipped Topping
1 pkg. (4-serving size) JELL-O Chocolate Flavor Instant Pudding & Pie Filling

ADD milk gradually to peanut butter in medium bowl, stirring with wire whisk until well blended. Add whipped topping; stir until well blended. Set aside.
PREPARE pudding as directed on package. Spoon half of the pudding evenly into six parfait glasses; top with peanut butter mixture. Cover with remaining pudding.
REFRIGERATE at least 30 min. or until ready to serve. Store any leftover desserts in refrigerator.

Super Easy Saltine Cracker Toffee Bars

My mom makes these for the holidays. They're so darned easy and incredibly delicious. The saltine cracker disappears, really, but lends a nice crunch and a tiny bit of balancing saltiness to the sweet, rich, chocolate-toffee goodness.

1 cup butter
1 cup brown sugar
40 saltine cracker
1 cup chocolate chips
1/2 cup pecan or walnut or almond, coarsely chopped (optional, of course)

Preheat oven to 400 degrees. Line cookie sheet with foil. Place 40 crackers in one layer on cookie sheet. In saucepan on low heat, combine butter and brown sugar. Heat until blended. Boil 3 minutes. Pour mixture evenly over crackers. Sprinkle cracker centers with chocolate chips. Place in oven until chips melt. Sprinkle with chopped nuts. Cut while warm. Store on wax paper.


Oatmeal Chocolate Chip Cookies

I love the texture oatmeal adds to my favorite cookie of all time. To be honest, y'all, I've been known to double up on the chips. The best feature of this recipe, to me, is that the cookie itself has plenty of great flavor, too, whereas many chocolate chip cookies just let the bland cookie be a vehicle for the chocolate chips.

1 cup butter, softened
1 cup packed light brown sugar
1/2 cup white sugar
2 eggs
2 teaspoons pure vanilla extract (plus about another 1/2 tsp unless you use some seriously potent vanilla)
1 1/4 cups all-purpose flour
1/2 teaspoon baking soda
1 teaspoon salt
3 cups quick-cooking oats
1 cup semisweet chocolate chips

Preheat the oven to 325° In a large bowl, cream together the butter, brown sugar, and white sugar until smooth. Beat in eggs one at a time, then stir in vanilla. Combine the flour, baking soda, and salt; stir into the creamed mixture until just blended. Mix in the quick oats and chocolate chips. Drop by heaping spoonfuls onto ungreased baking sheets. Bake for 12 minutes in the preheated oven. For giganticus cookies like I like, make golf-ball sized globs of dough, allowing lots of room between then so they can spread out. Then bake for more like 18 minutes. Allow cookies to cool on baking sheet for 5 minutes before transferring to a wire rack to cool completely.


German Chocolate Turtle Cake

1 boxed German Chocolate cake mix
1 bag caramels
1 stick butter
1 can sweetened condensed milk (reserve 3 Tbsp for frosting)
1 bag chocolate chips
1 cup chopped pecans

Frosting:

4 Tbsp cocoa
3 Tbsp sweetened condensed milk
1 stick softened butter
1 tsp vanilla
1 1/2 cups powdered sugar

Prepare cake according to box instructions. Put 1/2 batter in greased 13 x 9. Bake for 10-15 minutes at 350°. Melt together caramels, butter and condensed milk. Pour over cooked cake. Sprinkle chocolate chips and then pecans over it. Top with remaining cake batter. Bake 15-20minutes. Mix cocoa, remaining condensed milk, butter and vanilla together. Turn off mixer and add powdered sugar. Mix on low speed until well-blended and thick. Cool cake completely and frost.


Chocolate Chip Coffee Cake

1 c. butter
1 c. sugar
3 eggs
1 c. sour cream
2 1/2 c. flour, sifted
3 tsp. baking powder
1 tsp. baking soda
1/4 tsp. salt
1 tsp vanilla

Topping:
1/4 c. sugar
1 tsp. cinnamon
6 oz chocolate chips

Put 1/2 batter in greased tube or bundt pan. Mix together sugar and cinnamon. Sprinkle 1/2 of that mixture over the batter and then 1/2 chocolate chips. Put remaining batter on top of that and then remaining sugar topping and chocolate chips. Bake at 350° for 45 minutes.
This is great served warm with ice cream.


Earthquake Cake

1 c. coconut
1 c. chopped pecans
1 boxed German Chocolate cake mix
1 stick butter
8 oz cream cheese
1 box powdered sugar

Mix up the cake batter according to the package directions. Combine coconut and pecans and place in bottom of greased 13 x 9. Top with cake batter. Melt together butter and cream cheese. Add powdered sugar. Pour over cake. Bake at 350° for 45 minutes. Serve inverted.


Chocolate Icebox Cake
I almost always asked for this to be my birthday cake growing up. If not this, then Key Lime Pie. Either way, you can't really lose. Anyway, this one is sooooooo gooey and sweet, kids just devour it but adults with more discriminating palates may only like a very small portion with a huge cup of coffee to wash it down.
I'm just sayin'.
1 stick butter, softened
6 eggs, separated
2 cups powdered sugar
4 squares melted semi-sweet chocolate
Vanilla wafer cookies
Cool Whip®

Cream eggs, butter and 1 cup sugar together. Pour hot melted chocolate into egg mixture slowly while beating. Beat egg whites until stiff, fold in remaining 1 cup sugar. Fold chocolate and egg white mixtures together. Layer bottom and sides of a round casserole with vanilla wafers, round side out. Carefully spoon in chocolate mixture and smooth top. Chill until set. Top with Cool Whip® or real whipped cream.

Grandmama FriedOkra's Easy and Ridiculously Rich Chocolate Pie
Another one so rich it kinda hangs there on your uvula for awhile before making its way down your throat. But OHMYGRANNY (literally, this time!) this one is so fudgy and cool and mouth-wateringly good that having it hang out in your throat a few extra seconds feels like an honor and a privilege.

1 can Eagle Brand® milk
2 squares semi-sweet chocolate
1/4 cup water
Dash salt
Frozen pie crust (or you can make your own, if you are so inclined), baked and cooled
Whipped topping
Hershey™ bar

Melt chocolate in double boiler. Add milk, water and salt and cook, stirring for 10 minutes over med-low heat. Pour into defrosted, pre-baked pie shell and chill several hours. Top with whipped topping and grated Hershey™ bar shavings.

Chocolate White Chocolate Cheesecake

You didn't think you were gonna get out of here today without a cheesecake recipe, did you?

Crust
2 1/2 cups chocolate wafer crumbs
1/4 cup sugar
1 stick unsalted butter, melted

Filling
2 1/2 lbs. cream cheese
1 3/4 cups sugar
1/4 cup flour
1 tsp. vanilla
5 eggs, plus 2 yolks
8 oz. white chocolate, broken
1/4 cup half-and-half

Glaze
1/2 lb. semi-sweet chocolate chips
1/4 cup light corn syrup
3 Tbsp. water
2 Tbsp. butter

Combine wafer crumbs with sugar. Stir in butter. Press crumbs into bottom and sides of an 11 inch springform pan. Refrigerate crust until ready to use. Preheat oven to 250°.

Cream the cheese with sugar, flour and vanilla. Beat well on low speed, do not whip. Add eggs and yolks slowly, beating well. Add white chocolate pieces and mix well. Mix in half-and-half. Pour filling into crust. Bake for 1 1/4 - 1 3-4 hours, until filling doesn't wiggle if you shake the pan. Let cool for at least 2 hours. Refrigerate overnight before removing from pan.

Pour corn syrup and water into saucepan. Cut butter into small pieces and add to pan. Place over medium heat and stir often until mixture boils. Remove from heat. Immediately add chocolate chips and stir until melted. Beat well with a wire whisk. Pour glaze over cheesecake and spread evenly. Garnish with white and milk chocolate shavings.

-------------------------

Y'all still with me? What'd you think? Enough chocolate for one day, or still craving more?

Huh?

WHAT!? Only nine? Seriously?
Waitaminute. 1, 2, 3, 4, 5, 6, 7, 8, 9 ... Um. Er. Hmm.

Oh. Well, okay, take a look at the list, though. Y'all see what's missing, don't you? There's a huge gaping hole in my chocolaty repertoire. See it? Right in between the cookies and the cakes? Yep. You've found my chocolate dessert Achilles heel, yes indeed you have. (Hangs head in deep, humiliating shame) In all my forty years of feasting on chocolate and loving chocolate and living in my kitchen, I STILL haven't found a decent brownie recipe.

'Tis true.

Someone, for the love of all that is gooey and rich and dense and moist and milk chocolaty, help a girl out. Please.

(But if you don't have a brownie recipe, I still want to see your favorite chocolaty dessert recipe. 'Cause if I can't learn to make good brownies, I'm gonna be needin' somethin' to drown my sorrows in.)