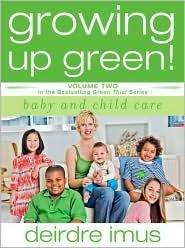 The essential, parent-friendly guide to raising a healthy child in our increasingly toxic environment.


I was SO EXCITED AND TICKLED when a marketing manager from Simon & Schuster emailed to offer me the opportunity to give away some copies of Growing Up Green!, the second volume in Deirdre Imus's bestselling Green This! Series. I know many of y'all are mamas like me and you're always, always, ALWAYS looking for the most up-to-date information out there on how to give your kids the best possible start in this here little world of ours. And many of you have mentioned on your own blogs a desire to point your households and families into a more eco-friendly, natural direction, as well.
That's why I knew this particular book would be a big hit with ya'll, and I couldn't email back "OHMYYESPLEASE! Yes, yes, yes!" fast enough to convey my eager!!! enthusiasm!!!!
In fact I'm still working out the knots I accidentally tied my fingers into, what with all the tripping-over-myself-typing of exclamation points and smiley faces.

I am slowly making my own way through the book, being both educated and challenged as I go. Educated on the dangers of many of own daily child-rearing practices and challenged to try ways ways of caring for Bean (and the rest of us) that are safer, less toxic, and more natural and nurturing, physically. I love the book, but I confess that so far it's been a difficult read for me, not because it isn't well-written, clear, and easily-digested, but because Imus packs so much valuable knowledge and so many practical ideas for change into each progressive chapter that I feel both guilty for what I've BEEN doing and slightly overwhelmed by the amount of change I feel inspired or even mandated to implement here at FriedOkra Manor. Imus gives me much to ponder, both frightening and helpful, based on her own experiences and expertise.

According to the back cover of my copy of the book:

"... Environmental activist and children's advocate Deirdre Imus addresses specific issues faced by children in every age group - from infants to adolescents and beyond. With a focus on preventing rather than treating childhood illnesses, Deirdre concentrates on educating and empowering parents with information such as:

How to make sure your child is vaccinated safely
Which plastic bottles and toys are least toxic
How to lobby for safer school environments and support children's environmental health studies
Advice from leading "green" pediatricians and nationally recognized doctors such as Mehmet C. Oz, M.D.
Chock full of research and advice, Growing Up Green makes it easy for you to introduce your child to the "living green" way of life.
Deirdre Imus is the founder and president of the Deirdre Imus Environmental Center for Pediatric Oncology®, part of the Hackensack University Medical Center (HUMC) in New Jersey. She is also cofounder and codirector of the Imus Cattle Ranch for Kids with Cancer, and the author of the bestselling book The Imus Ranch: Cooking for Kids and Cowboys. "
You want a piece of all this knowledge, now don't you? See? I reckoned you would.
I have THREE copies of Growing Up Green to give away. I'll do a drawing on Friday morning, so y'all leave your pertinent information in the comments of this post to be entered. As long as there's some clear way for me to contact you at your own blog or via email, you'll qualify for the drawing. If you are so inclined, please help me spread the word about this book and the drawing to other parents who might be interested by mentioning this post on your blog, but that is not a requirement for the drawing.


Good luck in the drawing and y'all? Have a great week, okay?