I give you: Auntie Anne's™ Pretzel Dog.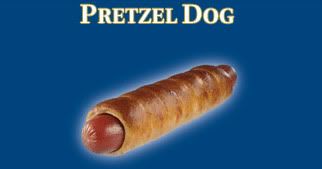 Drooooool. As I just this very morning confided to Michelle at
Scribbit
, I have a particular weakness for all things dough-wrapped right now, and lemme tell you, this here doggy's the ultimate in dough-wrapped, mustard-dipped delights.
DO NOT TRY ONE. Trust me.
I implore you
.
And an endless supply of them are conveniently located right around the corner from
Motherhood Maternity
at my nearby mall, too. (Call me crazy, but I DO NOT BELIEVE FOR A MINUTE that's just some sortof happy coincidence.)
Sigh.
I'm done for, people.
DONE FOR
. I'm gonna be the best-dressed size XL
Gestating Giantesse
on the block.