I'm supposed to be napping right now, because y'all KNOW a Mama's going to need PUH-LENTY O' REST before attempting to make
these
with her 3 year old sous chef, Madame Destructo Smearyfinger Lickabowl.
Ahem.
I do believe I shall endeavor to dye my frosting green before she alights from her chambers, postnappytime.
Ya THINK?
How close to this picture will our finished product turn out, do you reckon?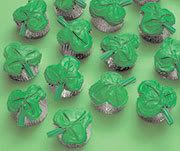 Y'all keep us in your thoughts, will you?
*Shudder.*