I forget these things. I'm old, what can I say?
One of my FAVORITE little fieldtrips to take on these cold, nasty, stir-crazy days of late winter (and early winter, and mid-winter, let me not discriminate!) is the local nursery. Where else can you be inside where it's warm, yet still have the sun over your head and plenty of lush green plants and beautiful, fragrant flowers all around you? With plenty of room to run and skip and explore and bored nursery workers to smile and cheer you on? Darn skippy, the nursery!
And sadly, we hadn't been since before CHRISTMAS! So it was time we hie'd ourselves hither.
Sallied forth, if you will.
And sally we did.
We took our cameras, too. Now that I have my new
Canon Rebel XT
(hotchachaCHA!), Bean gets to use my old
Sony Cybershot
(That's a link to the newer CyberShot. Mine is a big cardboard box with a pinhole in the back. Yeah,
that
old.), and we're both entertained thoroughly when I go into clickity click snappity snap mode. Bean's getting used to the basics of photography and she always LOVES to do exactly what I'm doing, so everybody's happy and well-entertained. That there's what's known as yer win-win, me lovelies.
I'm going to show y'all 19 pictures now. Yes, I am. NINETEEN! And some of them? You will not be able to see a difference in 'em. She's my kid - to me each picture captures another brilliant facet of her glowing, ebullient, delightful self - I understand, though, that you'll be thinking, "Huh. She turned her head a little to the left in that one. Wow." But you'll humor me though, I know you will. You're good people like that. I'll try to caption most of them so you can laugh along with me. I'm not a photographer people, I'm a writer (at heart, I mean, not professionally), so my brain immediately starts captioning pictures before the shutter snaps on them.
And yes, if you read my post earlier this morning, we ARE wearing the same dress today as yesterday. We love this dress! A lot! Note that I coaxed a turtleneck and tights into the equation this morning. Even Mama has a few tricks up her sleeve here and there.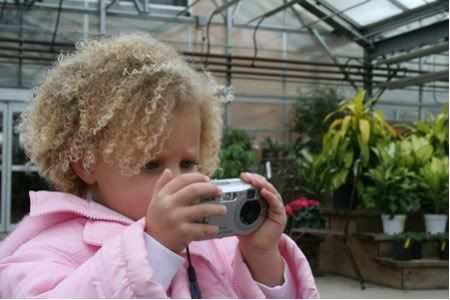 See how confident she is behind the camera? The whole time, however, I am thinking, "Pleasedon'ttrip, pleasedon'ttrip, pleasedon'ttrip." She didn't trip, but she did drop the camera on its head once. On bricks. She picked it up and dusted if off and said
Sorry camera. I was jiss kiddin'. You okay?
And it was.
Whew.
Oh, what a daffodil does to my little Southern heart. I'll bet the daffodils are blooming their heads off down there right now, aren't they?
Wait, no. Don't tell me. I don't wanna know.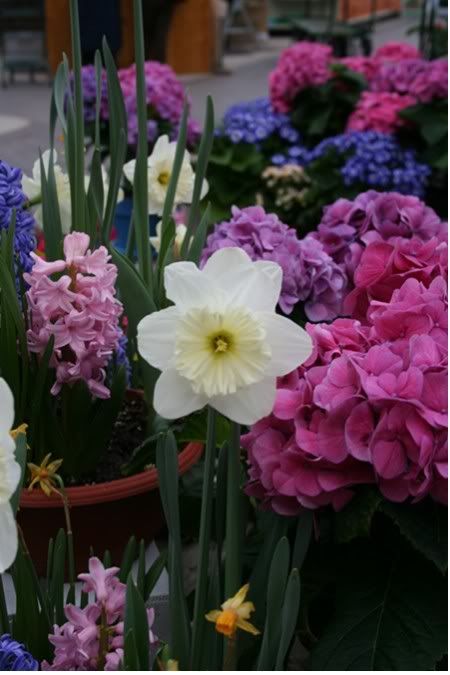 SNIIIIIIIIIIIIIIIIIIIIIIFF.
I don't know what gets into this child sometimes. Seriously. She is full of ...
sump'm
. Look at those cheeks, though. I could kiss those cheeks 'til my lips fell off.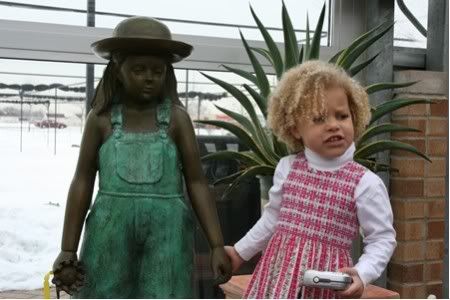 C'mon, wet's go jump inna fountains!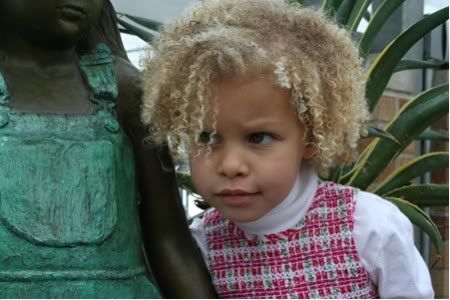 I beg your pardon? You can't go jump inna fountains because you're made of WHAT?Aw, that's too bad.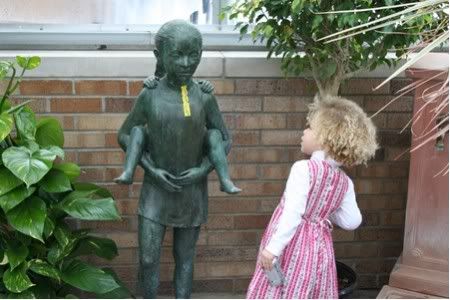 Excuse me, may I take your picture?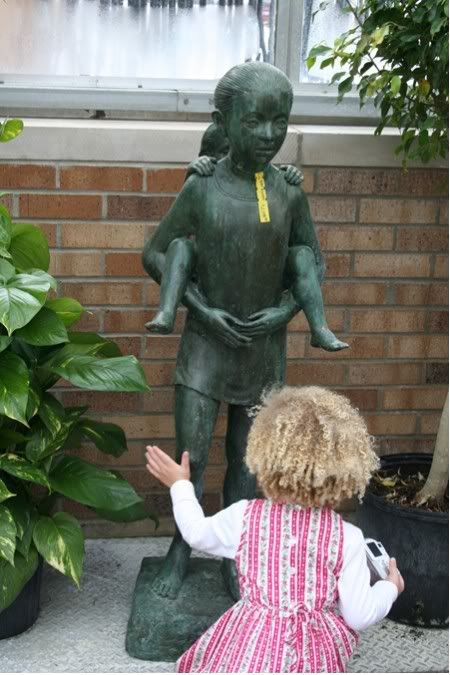 A little to the left, please?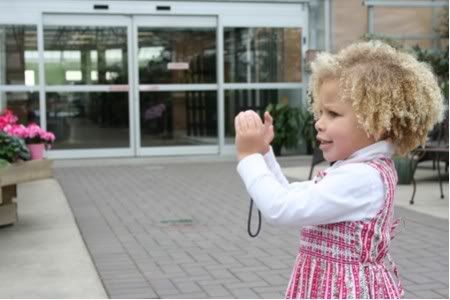 Perfect! Got it! That's one for the album, Gromet!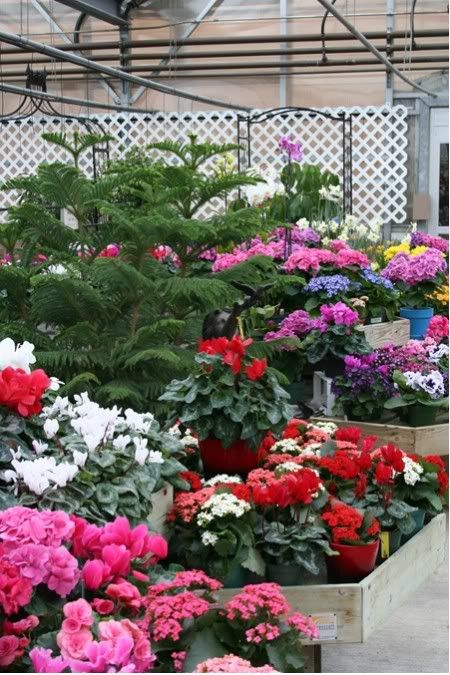 I wish you could SMELL what that greenhouse smelled like. I kept inhaling and inhaling until my eyes were buggin' outta my head. Now I have a headache. But it was worth it. I bet I dream I'm honey bee tonight. Aaaaaaaaaaah. Sweet Nectar, People! Sweet Nectar!
'Course I brought the prettiest flower of them all with me, and I even took her home, too! Hee hee.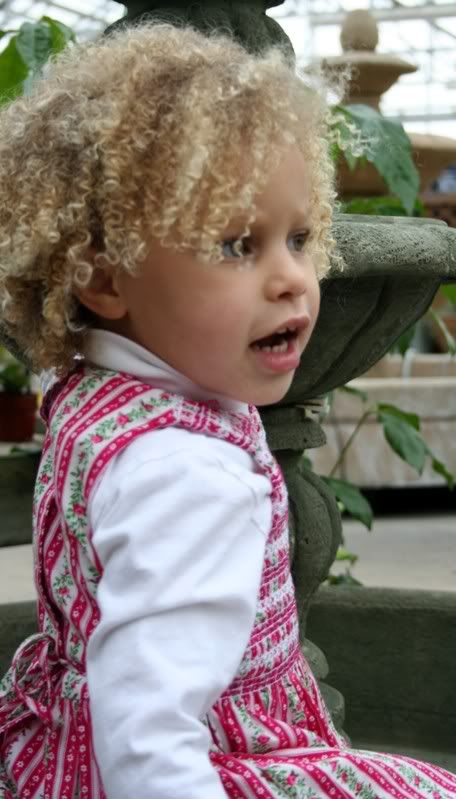 When I grow up I'm gonna be a phitawgwaffer.

Mama, wass a phitawgraffer?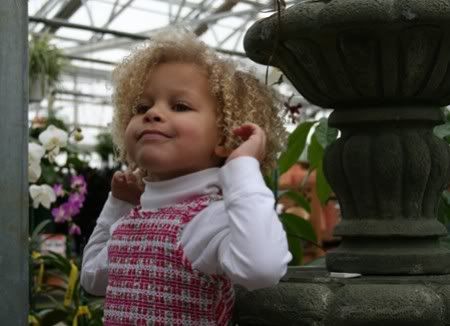 Corey
and
Megan
, I AM bonding with the new camera. I love it. A lot. Like a
rilly, RILLY
lot. Buckets, even.
Are ya'll still with me? That was number - um - fourteen. Hang in there.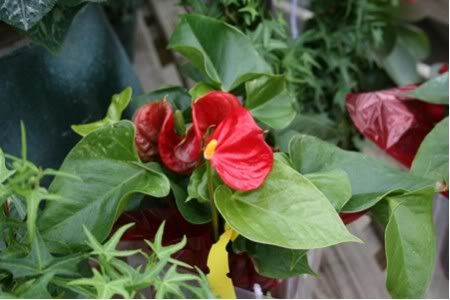 Purty, purty, purty. I see a new lens in my near future.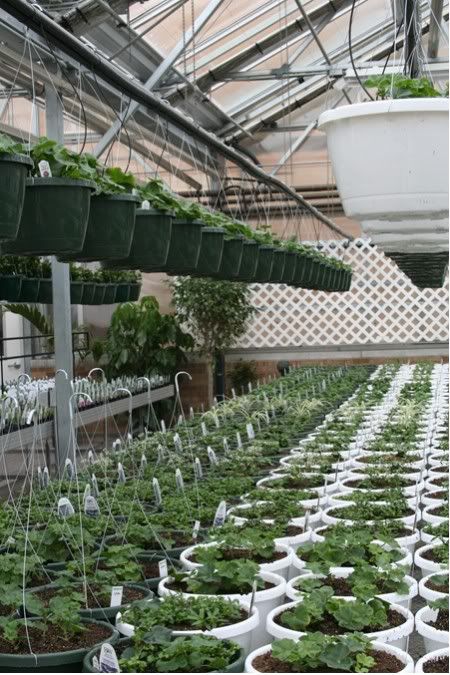 See? Rows and rows of Spring-inna-Making. These are geraniums. I do love me some geraniums. These geraniums are just little tiny babies. That, my friends, is why they call it a
nursery
.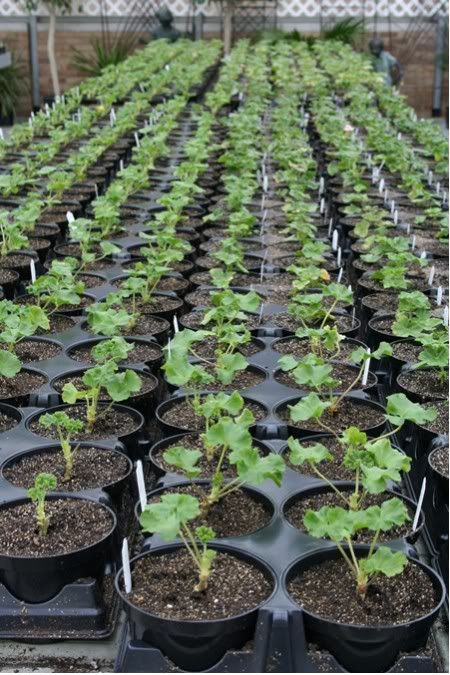 Look! Quintadecatuplets! (See how lucky you were, John & Kate Plus 8?)
Mmmm, I'm jus' gone SIT on the DOCK o' the bay, wastin' ti-i-i-ime.
I just liked these orchids juxtaposed against the steel frame of the greenhouse. There's beauty in both. And symmetry.
Yeah. That's what I thought too. Hokey.
Oy. I'm starting to sound like a
phitawgwaffer
.
Check out your local nursery this time of year. Good times, people, good times.