Oh I just have so much to share! It has been such a whirlwind 24 hours, you can't believe it! Hold on, let me refill my coffee cup and I'll be back to tell you ALL about it!
.
.
.
.
.
.
.
Okay I'm back? Are ya ready for this? Are ya sitting DOWN?
.
.
.
.
.
Yeah. No. Nothing's happened. Still. I knew when I started blogging about
what came in the mail
I was close to the bottom of the barrel, and now? Now I have splinters in my knuckles from the scraping. OH THE SCRAPING. Of the bottom. Of aforementioned barrel.
We finally climbed into the car late yesterday afternoon when Bean got up from a FOUR hour nap (bored much, Bean?) and dragged ourselves to the grocery store, having polished off the
Mexican Spaghettiberry Casserole
leftovers (I got ZERO requests for that recipe, by the way! Wonders that never cease!) for lunch. And as I clumsily and awkwardly fumbled with the belts to her car seat wondering why this all felt so foreign, I realized that people? It's been five, count 'em FIVE days since Bean and I last left our home. Oh, we've been outside in our front yard. And around the neighborhood for our morning walks and afternoon plays, but the last time we were out of Blankington Lakes subdivision was last Sunday when we went to the airport to redeposit the grandparents.
Is that even
healthy
?
I don't know what even makes me DO this hermit thing. Do y'all ever do it? Just shut down for days and then wake up finally and think
Where have I BEEN?
Do you?
But Bean's little classes and playgroups and stuff will all start back the week after next and we'll get back into a routine that requires us to LEAVE THIS HOUSE and DO THINGS, which both of us will LOVE. And I'll plan my second annual Mama Coffee for the neighborhood ladies. And decorate for Fall. OH HOW I DO LOVE ME SOME CORNSTALKS AND HAY BALES AND PUNKINS! And figger out Bean's Halloween costume. Last year she was a dog. Check this out, y'all. My sweet little pupdawg: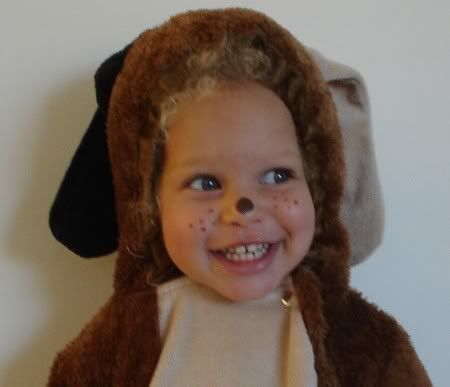 And the year before that, she was a baby Tiger!
I'll show you the picture of her FIRST Halloween, when she was a mere 14 days old, closer to her birthday. If I can find one. You know my hard drive crashed recently and ...
Nope, still can't talk about it without crying. Pray for that hard drive people. When I can tell you why without blubbering like a small child, I will.
ANYWAY. The activity is about to pick up again at Fried Okra Manor and I guess the hibernatin' worked, because I'm ready to pick up again, too.
I think Fall is my Spring. Know what I mean?