Some of y'all
demanded
asked to see a picture of the gingerbread house I've been working on for the past four
years
whoops-I-mean days, and, not one to disappoint a friend, I'm obligingly obliging.
You have to remember as you look at this that it's completely from scratch, and that although I have participated in the making of gingerbread homes for many a year, my level of participation has always been somewhere between interested on-looker and superficial candy-sticker. Such are the privileges of being the "baby" of the family.
Structurally, this bad boy is just about right-on-the-money, which, can I please tell you, is a miracle of loaves-and-fishes proportions because after I'd cut out two sides, eight shutters, a wreath and four window sashes, I had about a teaspoon of dough left to make the front, back and both halves of the roof. And when I finally and very astoundedly rolled out those final pieces, I could literally see directly through them to the speckledies of my granite countertop. These things were like stained glass. Yet I got them all rolled out of a blob of dough no bigger than the tip of my perky little nose and out of the oven and put together with no breakage! You have no idea how good it felt to exhale after 24 hours of constant breath-holding.
I don't have the steadiest hands in the world, particularly after secreting down a pound-and-a-half of assorted gummy, gooey, crunchy, minty and fruity candies (stomach churn stomach churn), so the perfect vision I had in my head prior to beginning the decorating process remains just there - in my head. But then again, I've always rather been an "idea person." Execution, meh, leave it to the grunts, right?
Sigh.
Anyway, there was no kit involved here, which is why this project took so long. On Monday, I made the gingerbread dough. Tuesday I rolled out and cut about half the pieces, yesterday I rolled out and cut the other half of the pieces in the morning and then made royal icing and did the construction plus phase one of the decoration during naptime, and today I finished up the decoration.
I must admit that there's terror in my heart right now as I await the (Oh no there it is! EEEK!) sound of Bean's door opening as she emerges from her boudoir. She's either going to be overjoyed and excited to see the Gingerbread House, or furious she didn't get to help build it.
Tick tock tick tock tick tock...
AND the verdict please?
THANK GOODNESS! She loves it!
But guess how many times she's already asked to lick it?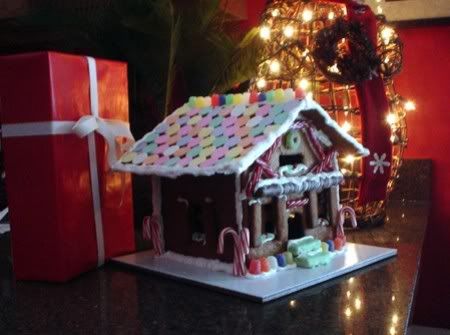 Yikes! I have more to say about this but something tells me my little gingerbread castle needs a sentry!