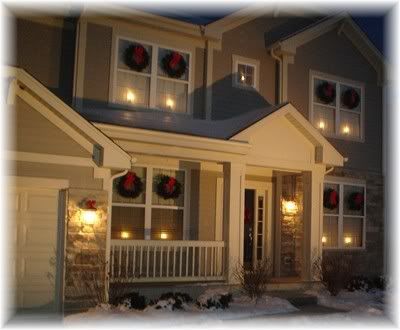 Wel-
come to Fried Okra Manor, Y'all.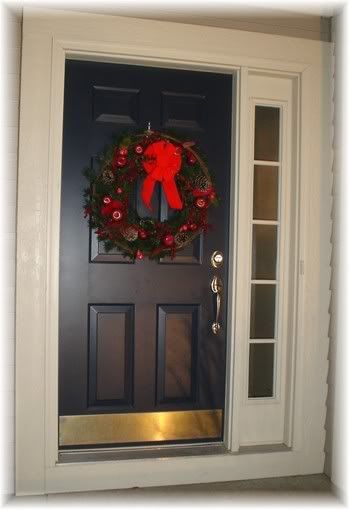 Come on in this house, it's cold out there!
Y'all come into the family room, okay? I'd say "And warm up by the fire," but we don't actually ever burn anything in the fireplace here 'cause in our old house we ended up having to paint the mantle every time we did because it turned the whole thing black as soot. Literally. Also, when we got ready to move and we took all the pictures and stuff off the walls, we discovered that the mantle wasn't the only thing that our fires had turned black. Don't think that particular fireplace was properly ventilated. You know the old saying though,
Once bitten, twice shy.
So, no fire.
You know, an empty fireplace looks kinda bleak, now that I stare at this picture for awhile.
How come things that you never notice in day to day life become so glaringly apparent when you take a picture of 'em?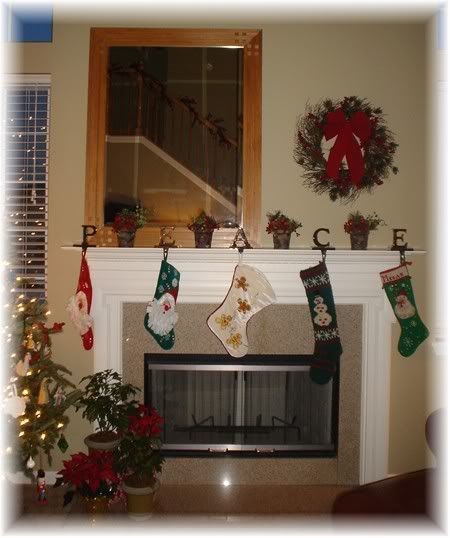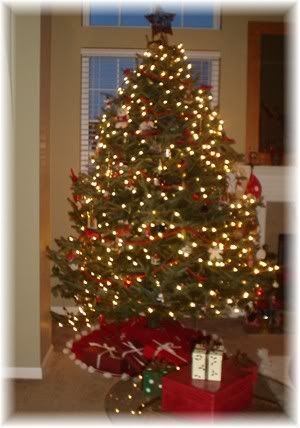 See our tree? It's the tallest one we've had so far. Eight and a half feet of splendid frazier and balsam glory. We got ourselves a new tree stand this year too, which Al says is the best purchase we've made since we got married. He didn't say, "SONUVVABUCK!" one single time this year while he was gettin' 'er up in that stand. Now that, people, is a Christmas miracle.
New skirt, too. I do love me some puffball trim.
Almost as much as I love me some ric-rac, but not quite.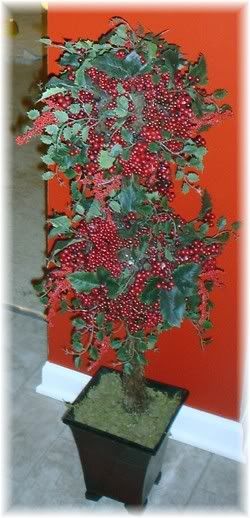 I don't really have a Christmas collection, per se. I DO, however, have a bit of a Christmas
obsession
... er ...
theme
. I really love cranberries. Actually, red berries of any sort. And graveviney, twiggy things. I kinda build my decorations loosely around the idea of bringing the outdoors indoors.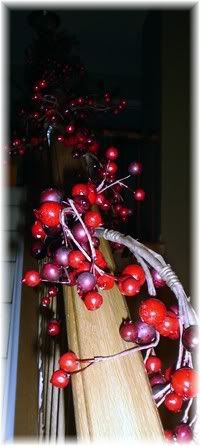 Let's just hope there aren't still any
woodland critters
in what I brought in, shall we? Al has a tremendous sense of humor, but Clark Griswald he is not.
And that is another Christmas miracle, now that I give it some reflection.
Decorating was really extra-special for me this year. This year I feel at home in our new house. It's our second Christmas here, which means we already have some great holiday memories in the bank, and some really sweet budding family traditions. I loved the feelings of familiarity and stability of going to the same little prairie nursery to get our big tree - the one with the little woodburning stove in the store we could warm our tootsies by after we finished making our selection. I loved pulling out my sweet, sparkle-lit grapevine snowman for the kitchen counter. He and his pretty red scarf will be lighting up a jolly corner of the kitchen through February of next year, just as he did last year, because snowmen are for wintertime, not just Christmas.
And last year Bean, Daddy and I all went shopping one Saturday afternoon right before Christmas. At the mall. We're a little crazy like that, yes. In a kiosk there I found the cutest little personalizable ornaments I'd ever lain eyes on. Among the bears and ballerinas and puppies and kitties I spied a little train. And the little train demanded that I take it home.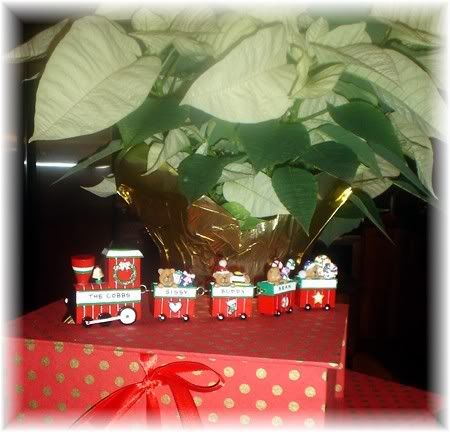 You can't make it out that well in this tiny shot, but the engine of the train says, "The Surnames," and then each consective car says,
Sissy
or
Buddy
or
Bean
. Thing is, while I was standing in line with my engine and my three cars, I just felt this overwhelming sense that I needed to get a fourth car. I reasoned with myself for a few minutes that I did NOT need a fourth car, because we have THREE children, but darn it the feeling I had to HAVE that fourth car wouldn't be denied, so I picked up another and paid for it after the other cars had all been personalized.
The caboose has no name on it this year, as you can see.
But next year.
Next year it will bear the name of our beautiful, sweet, cherished NEW BABY!

Yep. You read that last line right. But let's go on back up and read it again, just for fun, shall we?
NEW. LITTLE. BABY!
Mmmmhmm! The FriedOkra family has an ittybitty pod in the oven. Which has been as much a surprise to us as it probably is to you, unless you subscribe to my blog in Bloglines, in which case, you're not a bit surprised, are you?
Oh, we can talk more about that little bit of happy news later. For now, just sit back, relax and let me serve you a long-time Christmas goodie favorite of my family. My sister calls these the lowliest of the Christmas cookies. But not because they aren't very very delicious!
Pomanders (A Rolled, No-Bake Christmas Cookie)

1 6 oz. pkg semi-sweet chocolate morsels
1/2 cup granulated sugar
1/4 cup light corn syrup
1/4 cup orange juice
1 tsp orange extract or 2 tsp fresh grated orange zest
2 1/2 cups fine vanilla wafer crumbs
1 cup nuts, finely chopped (optional)
Melt chocolate morsels over hot water in double boiler. Blend in sugar, corn syrup and orange juice. Mix nuts and crumbs together, then combine with chocolate until well blended. Form into 1" balls and roll in red and/or green sugar or more finely chopped nuts.
Pomanders need several days of cool storage (I store them in an airtight container out in my garage) in order for their flavors to combine properly. They taste very different on day four vs. just after you've made them. Exercise patience. It will pay a huge dividend in flavor.
--------------------------
Now let's get y'all bundled back up in your coats and mittens so you can go visit another lovely, festive home. Thanks sincerely for stopping by, y'all, and thanks so much to the lovely
BooMama
for hosting this special holiday event for all of us.
Go back to rejoin the tour
here
.