In the past two days, I scratched three MAJOR to-do items off my Operation Holiday schedule and still managed to take two decent afternoon naps.
Which is, bottom line, how we define a successful weekend at FriedOkra Manor.
We prefer a high nap quotient around here.
And I'm ready to show y'all what I've been up to with my
3 lbs. of mother-of-pearl buttons
, too! Are you ready?
I made those darned buttons into Christmas tree ornaments, people. Yes, lawzy, I did!
I've now finished 14 Button Wreath Ornaments for my Bunco ladies, who'll get them this Wednesday at our December Bunco night. We're also doing an Ornament Exchange that evening, so I made an extra little wreath for that, as well. I'll be making 10 to 12 more to give as Christmas gifts to other friends and neighbors, our favorite servers at the diner around the corner, and Bean's KidRock teacher.
This idea came from none other than the Maven of All Things Homemakery, Martha Stewart. Well, or her "people." Because let's be honest: We all know Martha probably didn't string a single button herself. What's really fun is surveying all of my little works of button art and thinking that when you get right down to it, I probably have way more experience at making these ornaments than Martha Stewart herself.
Oh yes, Honey. Compared to Martha, I'm a Button Wreath Making Expert!
(
Blink.)
Here's the
link
for instructions in case, you know, you happen have 3 lbs. of buttons lying around and a whole lot of extra time on your hands and the need for a slew of handmade Christmas tree ornaments. (Though I do also think these would also be mighty cute year round in a pretty guest bedroom, decorating lamps or drawer pulls or what have you.)
(Said the
Expert
.)
My wreaths are a bit more random than Martha's, thanks to the uniqueness of each mother-of-pearl button, in combination with my spontaneous and impetuous nature.
Ahem
. I actually love that about them, and how natural and almost beachy they look as a result. I made a few ornaments with just the mother-of-pearl buttons, and then thanks to my mother's donation of her leftover button collection from all those years of sewing clothes for herself and her two girls, I was able to add various colorful elements and patterns to several others.
These ornaments are SO easy to make, as Martha's instructions would indicate. I'd say each one took a maximum of 15 minutes start to finish, and of course the process got faster and faster as I cranked out more of them and was able develop my own little system.
And I must stress to you, in case you have fallen under some sortof strange delusion to the contrary, that I am SOOOOOO NOT a crafty woman. This was a perfect project for someone like me - who's the epitome of "all thumbs-iness" and completely devoid of anything remotely resembling patience. A kid just a little bit older than Bean could make these wreaths and need virtually no help at all except maybe to bend and cut the wire. So simple!
Okay, let's take us a gander now, shall we?
This is the first ornament I made. It's made from all mother of pearl buttons of varying sizes. I used 20 guage crafting wire, 1/8" satin ribbon for the hanging loop and a sheer, slightly shiny 1/2" ribbon for the bows on all of the ornaments, so there would be some consistency among them even though they're all unique.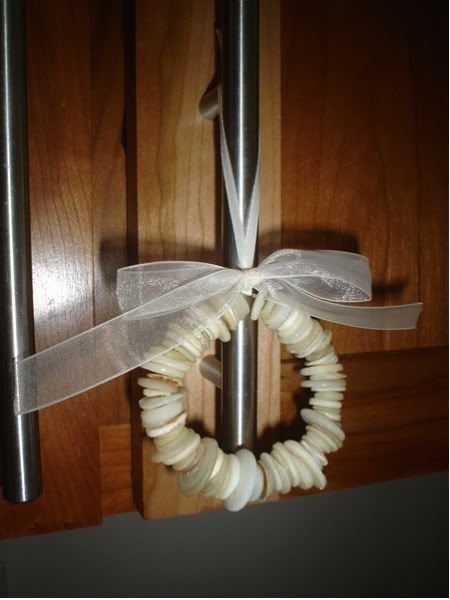 For this next one, I added a turquoise button after each 10th or 12th mother-of-pearl button to create a repetitive pattern and infuse a little color and interest.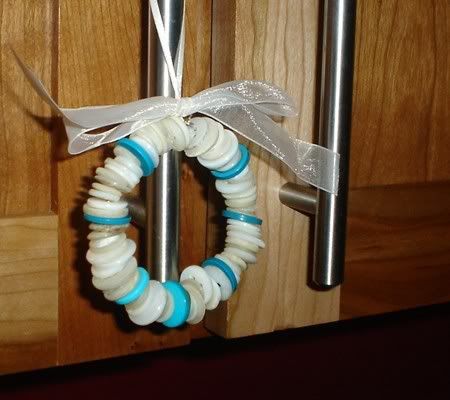 Here I alternated between mother-of-pearl and a variety of brown buttons in a 1:1 ratio.
And for this last one, I created a more traditionally "Christmassy" ornament by adding a touch of red. If you look carefully, you'll see I placed an extra large red button down at the bottom, just to give this one a little extra character.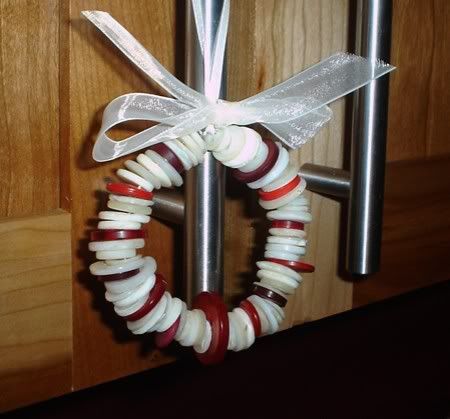 So now all I have left is to wrap all the presents for the immediate family, clean the house, make the food for the Progressive Christmas Party on Saturday, take pictures of the house and post them for
BooMama's Holiday Tour of Homes
(That's less than a week from now, you know. Got your halls decked yet?), bake 8 dozen or so Pecan Sandies and make the snacks and set up the display table for the Christmas Cookie exchange I'm hosting for the neighbhorhood ladies next Tuesday night, make 10 more wreath ornaments and, oh yes, there's that other little baking project I've been working on for a few weeks. That one might get revealed Wednesday at
Karla's Holiday Par-Tay
. On second thought,
Nah.
Too soon.