It's no secret to you that the Mama of a three-year-old transacts a whole bunch of potty-related bidness in front of a very sharp-eyed and inquisitive audience.
One day while we were all in our bathroom together, Al heard Bean ask me if I needed a personal hygiene product, which she mentioned by (slightly altered) name.
Al: (With a mildly shocked and questioning look)
You taught her THAT word?
Me: Well, she ASKED. I didn't know what else to call it! Plus, I figure she might as well learn the right words from the beginning.
Al: (Shakes head in fairly common combination of resignation and dread.)
Risky, Mama.
Six months later (yesterday):
Bean strolls into the kitchen with the white, spring-action bar to the bathroom tissue holder in one hand, waving it wildly.
Me: Whatcha got, baby?
Bean: (Loudly, of course.)
OH, ISS JUSTA PAMPON, MAMA.
Me: (Cracks up.) (Oops!)
Bean:
But diss pampon is all outta bafroom tissue. We needa put some more on it, 'kay?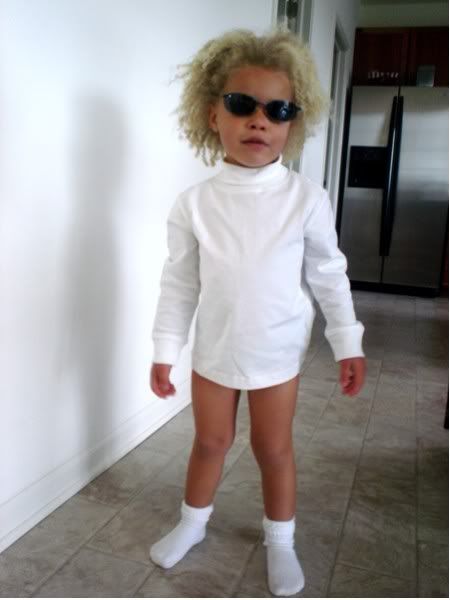 And coincidentally enough (I promise this is not staged!), here's Bean in the process of unbundling after our morning walk yesterday.