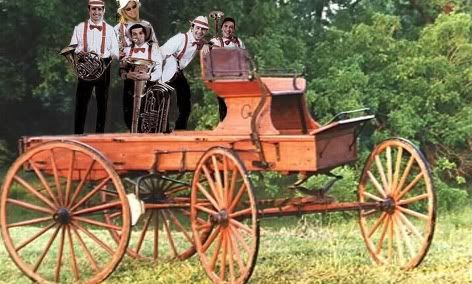 And speaking of bandwagons. (That's me, second from the left.)
In a fiery head-on collision of my two most notable character traits - heavy, molasses-thick procrastination and pronounced
joinerism
that would put even the most highly impressionable lemming to shame - I went ahead and committed myself to posting daily for the entire month of November by signing up for membership in the
NaBloPoMo
blogging community, in the virtual
Nth hour
.
ZOIKS!
So if you come visit me and find nothing but a shopping list, a scrawled long division problem, or a hastily-slapped-together declaration of my undying and slightly unnatural love for fist-sized globs of Nutella® on pretzel rods, you'll know I've stretched my already-threadbare creative fibers to their ultimate breaking point and am now just plugging in random snippets from the worn, crumpled doodlepad I keep in my purse. (To tell the truth, it won't be the first time I've resorted to such.)
But the good news is I've at least got tomorrow's post all planned out already: I'll be announcing the randomly-selected winner of the
cookbook giveaway
AND delighting the rest of you
losers
, er, non-winners with a little surprise to help soothe the sting of defeat.
Don't miss it, y'all!
And come back each and every day thereafter, now, so you can witness my brain slowly unraveling as the month wears on.