I may have mentioned before that I have mild control issues. Ahem.
Which is why about oh, the first 100 times or so that I've attempted gettin' crafty with my Bean, the whole
SHEbang
has ended with her frantically sucking her fingers and begging for
hotmilk
(the magic elixir of tranquility) and me seething, gritting my teeth and vowing that neither of our hands will ever touch
another
object
bearing the names Crayola®, Elmer's®, Prang®, or,
shudder
, Fiskars®. My daughter and I could not craft together. The two of us attempting to make art together was basically Expressionism and Realism duking it out at the kitchen table over a bathroom tissue roll and a purple glue stick. Or Felix and Oscar going head to head in a curmudgeon-off, armed only with a couple ounces of glitter and a yogurt cup full of chartreuse tempera paint.
Because she WILL do things as she sees fit. And I WILL become frustrated that
YOU'VE GOT THE TURKEY'S FEET COMING OUT OF ITS SOLAR PLEXUS, FOR PETE'S SAKE, CHILD!
and attempt to wrestle the project from her eager, determined hands and MAKE IT RIGHT! And within minutes, she's sniffling pitifully as she sits watching me self-righteously amputate and reattach the turkey's feet WHERE THEY BELONG.
Oh there have been such good times for both of us at that crafting table. Such Good Times indeed.
The
let's do a fun kid craft
let's watch Mama's perfectionist tendencies turn a pleasant afternoon activity into 10 years worth of therapy when you're 26
system needed an overhaul. The kid needs to be free to do things the way she wants to do them. She needs instructions, yes, and perhaps visual aids, but she doesn't need
my mother
ooops! I mean HER mother hanging over her and directing every glue blob and marker stroke. And I needed to stop feeling like Sybil everytime we did a craft.
So NOW, when, during naptime, it's time for me to research and prepare for the afternoon's craft, I pull together all of the supplies to do the craft TIMES TWO. That way I get to do the craft step by step EXACTLY THE WAY IT SHOULD BE DONE, and Bean gets to follow along behind me, step by step, watching and learning and STILL NOT DOING IT RIGHT but having a great time and loving spending relaxed, productive, fun learning time with her Mama, not some crazy old anal-retentive bat dressed up in Mama's clothes.
Here's how we made a cute Gingerbread Boy on Monday.
Bean's little stack of supplies (the gingerbread boy is assembled but not glued, so she can see what he'll look like) awaits her creative hand!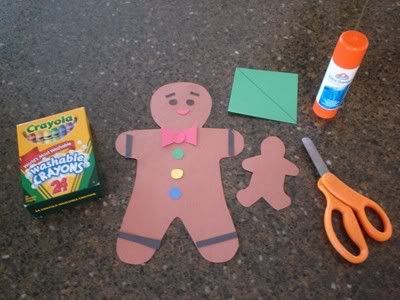 I always try to save one simple cutting task for Bean, because she loves to use her scissors and she's getting pretty good with them! In this craft, she cut along a straight line to make Gingy's green hat.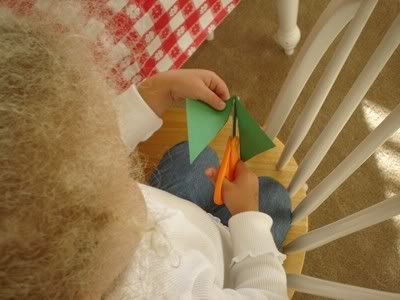 Next she moved on to sticking all Gingy's little parts on, using her glue stick.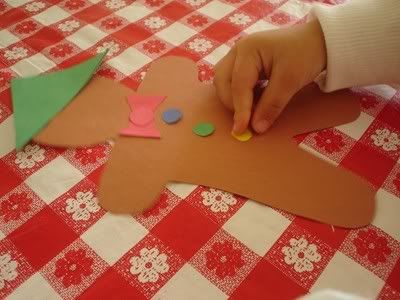 And then we got out the crayons, because no project is complete without a bit of coloring!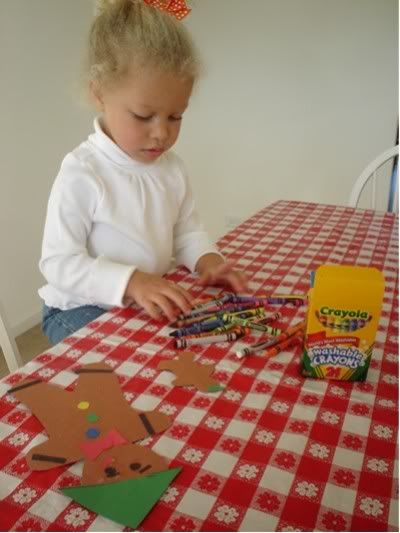 Gingy's baby gets a FACE!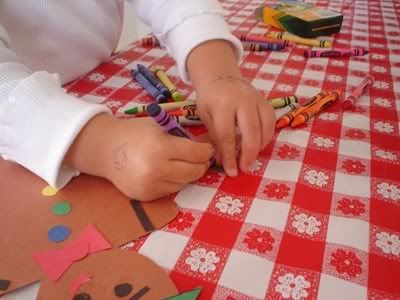 And here's the final product with his beautiful, pleased creator!
You'll find the pattern for Gingy
here
, along with patterns for loads of other cute preschool craft ideas. The whole website, as you'll see, is chock full of fun things to do with your preschooler... I've bookmarked it and I'm there almost every day.
Today we're making Curious George puppets out of bathroom tissue rolls!
Hmmm... I can't wait to see where she puts
HIS
feet!