It's been a very weird few days here. Thanksgiving seems like a month and a half ago, what with the painters, then the virus, then the virus, then more painters, and the stuff, y'all. THE STUFF! We had to move all The Stuff to get the rooms ready for painting. The painters moved The Heavy Stuff, we just moved the Little Frou Frou Stuff. We had to empty out our walk-in pantry and our laundry room. We have an obscene amount of The Stuff in those two places. A really,
rilly
lot of Stuff.
Anyway the painters finished and left at three this afternoon. I've been busy putting all The Stuff back since then.
Insanity.
When you think about it, we humans (Westerners?) are bizarre little creatures. We have these houses, basically intended to shelter us from the elements, but bein' sheltered isn't enough. Oh no, being sheltered's completely forgotten about in our mad rush to fill up the shelter with Stuff. And then, because having shelter and all That Stuff is still not enough, we get this colorful goo and use it to coat the inside of the shelter, because we must also have the right colors surrounding us, and it must coordinate with all of The Stuff. I would be more specific here and maybe I'll readdress this issue when I am less pooped and don't have a toddler standing before me whimpering,
Daddy maked me cry Mama. Look I have drips comin' out my eyes!"
I am grateful to Megan at
SortaCrunchy
who, despite the fact that my life's been completely consumed with barf and paint and a couple other things for the past several days, still has hope I'll write something worth reading and nominated me for some Blogger's Choice Awards for next year. That is a testament to Megan's faith, right there. Thank you sweet Megan! I think you are the awesomest.
Here are some pictures of the paint dryin'. Y'all tell me what you think, but go easy because you know darn well I have to
learn to live with
love that red 'cause it's sho nuff here ta stay.
And did y'all see that comment from my Aunt Joy that said her kitchen and dining room (also brand newly painted) are red and tan? And we never discussed it or anything. My sister's too. And my mom's is black, white and red.
Apple. (Not much space.) Tree.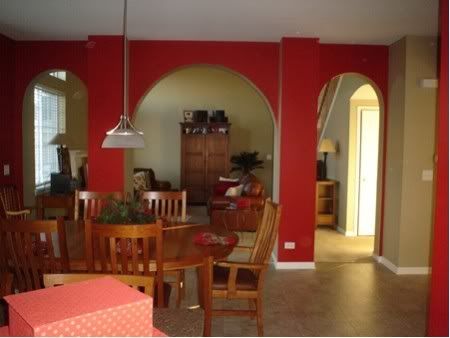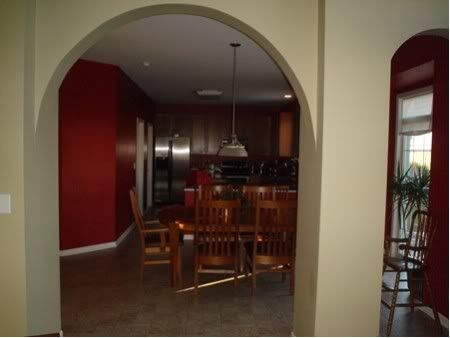 Tomorrow - CONTENT! Unless something else weird involving paint or barf happens between now and then.