UPDATED TO ADD THIS (DISTURBINGLY CROPPED) PHOTO OF THE FINISHED GINGERBREAD MEN:
Bean and I have been busy (and will continue to be busy until sundown and well beyond) making actual real edible (theoretically, anyway) gingerbread men today but
I gotta post
, so I'll make this brief. And
sticky
.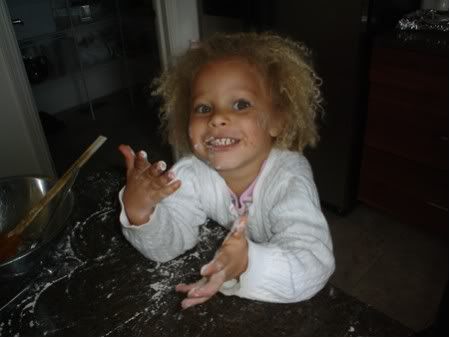 We have the cookie dough made now (which was pronounced
Super Duper Awesome
by my official dough tester!) and it's chilling in the fridge so we can roll it out and cut it into little raisin-eyed dudes the moment she reappears at the bottom of those stairs over there looking nap-bedraggled but ever-so-ready for action. (You undoubtedly know this look.)
In the meantime, I have
another little project
to keep me occupied, thus hopefully preventing me from harkening to the call of the
Larval Gingerbread Boys Choir
, who are singing my name in harmonious wee little voices from the second shelf of the refrigerator.
Over the weekend, I'll post the Red Beans and Rice and Country Brunswick Stew recipes from
The Cookbook
, another chili recipe or two, and a new Pumpkin Crunch recipe I just got from my sister that sounds absolutely ska-rum-sheee-us! Slurp!