OHMYLANTA!
Nicki
and I co-conspired to create, design, produce and host the
Blankington Lakes First Annual Neighborhood Chili Cook-Off
today in Nicki's back yard.
I've been so darned excited about this shindig (Such that I haven't slept more than a couple of winks in 48 hours. Yes,
Seeeriously
.), one that started out last Sunday as a mere email feeling out a few families for interest in such an event, and culminating only a week later, on this beautiful, nippy fall afternoon, in a 10 family, forty-leven person chili-swillin', trash-talkin', cash-prize winnin', s'more-stackin' SmackDown!
Y'all, I'm still sportin' two feetfuls of toe-cicles and my nose looks like a radish, but inside I'm warm as toast 'cause my belly's full of some of the most delicious chili I've ever laid my tongue on AND I got to spend a peaceful Sunday afternoon outside with the gang doin' about 9/10ths of my Top Ten list of the most funnest activities in the whole big blue wide world.
Nicki and I both have fun tales of the Big Event (including information on who won AND puh-lenty of fantastic chili recipes, because I just KNEW y'all were gonna ask for those!) to regale y'all with this week, but for now, just feast your eyes on these 10 simmering Crockpots O' Luv and drool a little. This is just about the ONLY decent picture I have of the whole soiree because
YES, O YES, Ai CAN haz hartbern, but apernuntly ai cant haz FOKISS.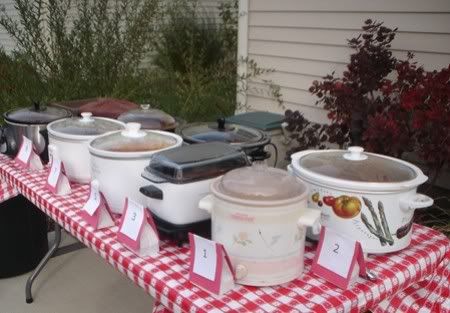 Tum, tum, tum TUM TUUUUUUMS®!