Strategies Currently In Place to Stave Off the Monday-Morning, He's-in-California-Again, and It's-Still-Too-Hot-for-October Bah-lu-ues
1. Wearing my favorite slimming summer pants and usually-saved-for-special-occasions-only polka top top with the curved side-seams that alternately hug and floof where hugging and floofing are most flattering to my particular shape.
2. Attempting to set up several playdates and outings for the week. Oh yeah, and some stuff for Bean, too.
3. Checking
weather.com
hourly to assure myself self cooler weather IS ON THE WAY.
4. Strongly suspecting a few more
damaters
have ripened up beautifully over the hot, sticky weekend and planning drippy, gloppy, delicious home-grown, vine-ripened
damater samwich
for
lunch
dinner. (Decided I should save the trip out to damater vine to inspect and pick said damaters for a moment when immediate late-afternoon-will-this-day-never-end mood lift becomes imperative for safety of mother and child).
5. Listening to Bean singing. Hey! She knows actual words to actual songs from her music class! Who knew?
6. Stealing occasional trips out front door for a critical stare at the pumpkin and haybale display I put together in the front yard, then asking any of you who have talent in this area to tell me what I need to do to fix it. Because it's not quite right, somehow.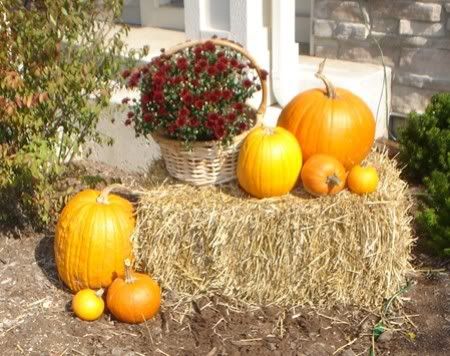 7. Trying to decide what do for Bean's birthday, and when.
Frantically.
Avoiding feeling like a bad mother that I'm just now actively planning
9 days before the big event
!
Avoiding
, I said. Avoid
avoid
avoid.
8. Downloading, cropping, touching up and resizing adorable and VERY. BRILLIANTLY. SUNNY. AND. ORANGE!!! photos from our trip Saturday to buy pumpkins (in the sweltering heat, of course), which I will post sometime later this week on the blog.
9. Remembering the bag of FROZEN BREADED OKRA in the freezer right this very minute, after having forgotten about it for a week or two, and knowing some fried okra will make a stupendous accompiment for that damater samwich I'm having for dinner.
10. Blatantly publishing this
drivel
post just to garner a few empathetic comments from bloggy friends. One of which will probably go a little something like this:
A tomato sandwich for dinner? I thought it would be a SPAM night tonight!
And she'll be exactly right, too, except sadly, I don't have any potatoes or peas and you
simply can't serve SPAM
without mashed potatoes and peas.