My Bloggy Cookbook Giveaway has ended.

If you'd like to hear who won, and see some of the recipes from On Mimomsa Boulevard: Memories, Meals and Blessings, click here and visit the homepage of FriedOkra on Saturdays all throughout the month of November.

Cheers! Megan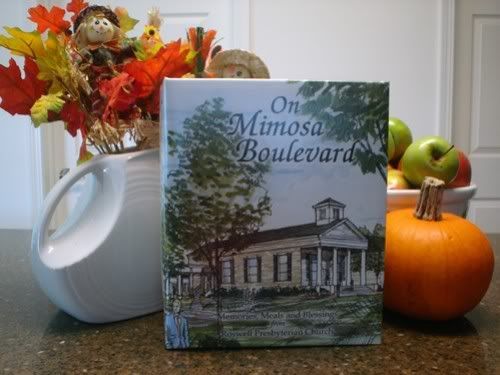 But Heavens to Betsy there's everything else Southern y'all could ever want or need in MY BLOGGY GIVEAWAY, this DEEEELUXE hard-cover church cookbook, On Mimosa Boulevard: Memories, Meals and Blessings, written and compiled by the women of my church "back home" in drought-stricken Georgia, the Roswell Presbyterian Church.
Just feast your eyes on this tasty sampling:

Texas Caviar
Shrimp and Okra Gumbo
Country Brunswick Stew
Georgia Cracker Salad
Vidalia Onion Casserole
Cheesy Grits Casserole
Red Beans & Rice
Shrimp & Grits
Cheese Biscuits
Prized Peach Cobbler
and ...

Wait for it...

Southern Pecan Pie!!!

And along with all that perfectly-assembled authentic Southern Goodness, this beauty of a cookbook also features several recipes contributed by none other than Little Old Me, and by several what I mean is the absolute drop-dead limit of recipes allowable by one Very Enthusiastic Contributor to a single church-lady cookbook, because when you ask Mama to share a few of her favorite recipes, she gleefully thrusts upon you her entire circa 1983 Lucite® card file of lovingly-collected and, well, para-organized index cards, gum wrappers, box tops, check stubs, cocktail napkins and torn-off paper sack corners that bear the knee-weakeningest, tongue-flappingest recipes she's been able to beg off of her Mom, two Grandmamas, big sister, sisters-in-law, sister's sisters-in-law, cousins, Aunts, great aunts, friends, neighbors, co-workers and their spouses, and people-she's-quite-forgotten-but-goodness-didn't-whoever-she-is-make-an-authentic-tasting-Baklava-I-had-to-have-that-one-didn't-I? and says, Oh, Absoluuuuuuutely, I'd love to!

Ahem. When I saw my own name and my cherished recipes IN ACTUAL PRINT and REPRODUCED HUNDREDS, EVEN THOUSANDS OF TIMES, I became very excited. And in my considerable haste to BE SURE I HAD A SPECIAL COOKBOOK FOR ALL THE SPECIAL LADIES IN MY LIFE I may have over-ordered by a just a few. Hundred. Or thereabouts.

But, honey, see I told you I'd find things to do with them! And dear, you do remember we used four of them to prop up the head of our precious child's crib that Christmas when she had her first cold and the new break-thru-technology vaporizer did nothing but dampen the walls and make our whole house smell like a gigantic Vicks® cold lozenge, don't you, sweetheart?

To win your very own copy of On Mimosa Boulevard: Memories, Meals and Blessings, just leave me a comment with a link to your blog or an email address. I'll do the drawing next Saturday, and ship to any US address. (It's HEAVY!)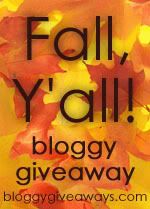 Thanks to Shannon for hosting a
wonderful bloggy giveway bonanza
at
BloggyGiveAways.com.